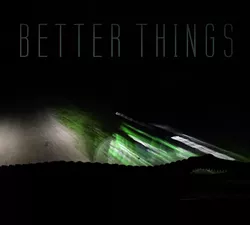 Better Things, Getting Worse
(Self-released, CD digital download)
What happens when emo kids outgrow being mopey? At the brightest end of the spectrum, you get something like New Jersey's Pinegrove. That band's 2016 album, Cardinal, still bristles with emotional urgency but tempers the melodrama with deceptive musical and lyrical sophistication — not to mention healthy doses of winking charm and wry humor. Just a notch or two below, you might find Burlington's Better Things. On their debut album, Getting Worse, the self-described "alt-punk/emo" outfit unabashedly espouses a love for catchy, anthemic hooks — and distortion pedals. But beneath the pop-punk ear candy — hell, it's practically a whole candy store — something more sustainable and healthier is at work.
Better Things have a lot of heart, broken and otherwise, all of which they pour into the 11 tracks on Getting Worse. They gleefully drown the listener in a torrential downpour of overdriven noise. (The album actually begins with a mock alert from the Emergency Weather System in Burlington, warning of all manner of natural calamity.) Taken solely at face value, the album — produced with muscle by Robot Dog Studios' Ryan Cohen — sounds every bit the earnest and faithful product of influences ranging from My Chemical Romance and Jimmy Eat World to Sunny Day Real Estate. Even the title hints at emo anguish.
What elevates Getting Worse from rote dysphoria is the depth and nuance of the band's collective songwriting — Brian LaClair (guitar, vocals), Brad Yandow (guitar, vocals), Quintin Cardinal (bass) and Mark Weber (drums, vocals) all contribute songs. Perhaps as their name implies, Better Things take a cheekier and more optimistic outlook than your average emo band. After all, happiness and good humor are emotions, too, right?
For proof, look no farther than the album's song titles. Opener "Getting Laid in New Hampshire" is an introspective take on one-night stands. "Casanova With a K" is a classic "fuck you" breakup song. "Stick That in Your Juicebox and Sip It" is an anxious coming-of-age confessional.
To be sure, some moments of histrionic sadness stand out — such as in "I Hate You." But even then, Better Things find ways to break from the norm. The swaying "Asphyxia" will choke you up with heartbreak. "This Particular Falling Out" pairs post-punk punch with hairpin math rock turns. "Ex-Files," a song whose lyrics likely give the band its name, transforms breaking up into a rebirth. Here's the last pre-chorus: "And we'll see better things / Trust me, we'll see better days."
Better Things don't shy away from their pop-punk and emo inclinations. Far from it. They fully embrace them — and what emo band couldn't use a hug? But they also achieve a rare feat in using their formative inspirations as a springboard to more creative and personal expression. In local pop-punk, it doesn't get much better than Getting Worse.
Getting Worse by Better Things is available at betterthings.bandcamp.com.