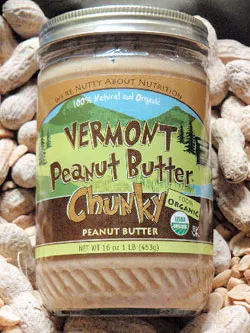 As a dedicated athlete, Chris Kaiser, 38, was tired of chowing down flavorless energy bars and the same old trail mix. So the part-time Vermonter, who owns a financial planning firm in New York, decided to put his business savvy to work. After developing and testing products all winter, Kaiser unveiled a line of preservative-free peanut butters in 10 varieties. He calls his biz Vermont Peanut Butter Co.
Kaiser, whose products come in flavors such as banana-raisin Monkey Business and dark-chocolate Good Karma, says he wanted "to make peanut butter more substantial and more fun. You think you're indulging in a treat because it's chocolate peanut butter, but you're kind of fooling yourself," he adds. "The sugar's low, and there's added protein," referring to whey protein isolate. All the products are approved by Kaiser's friends — and his 6-year-old daughter.
Using a small machine and mostly organic ingredients, Kaiser churns out 60- to 70-jar batches with help from a few pals. "There are days when I've done it for 24 hours straight," he notes. Still, he avers, the sticky stuff is selling so well that he barely has enough to meet his own noshing needs.
The butters are available online and at small stores, and Kaiser is working to spread the word. Last weekend, at the Taste of Stowe festival, he handed out samples and sold jars. When he went to his truck to pick up refills, he noticed several people scarfing the stuff in the parking lot.
But if Whole Foods comes to town, don't expect to see his Champlain Cherry or Mad River Mojo on the shelves. "There are enough general stores and beautiful country stores and co-ops to keep me plenty busy and happy," Kaiser says. He describes Whole Foods as "kind of like the Kmart of healthy foods."