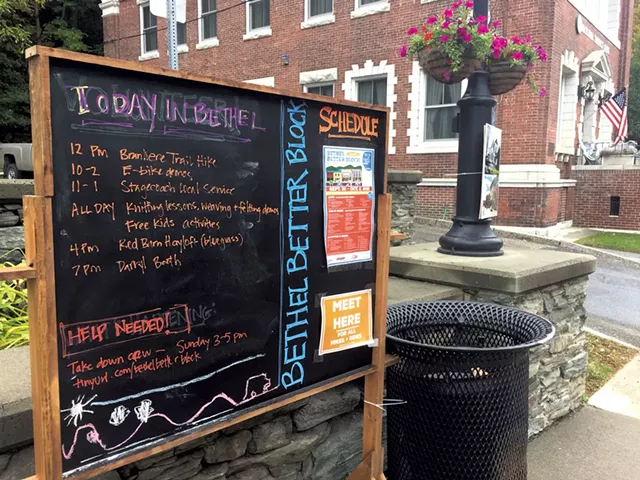 Kirk Kardashian
Some of the activities and attractions at Bethel Better Block
Take a stroll down Main Street in Bethel, and it's easy to see that the town has fallen on hard times. Empty storefronts gaze out at blighted lots and rundown buildings. Pedestrians are scarce. But it wasn't always this way. For decades, Bethel was a prosperous mill town with factories, hotels and restaurants. In the late 1960s and early '70s, it housed many of the workers building Interstate 89 — an era locally known as the "Dodge City days" because of its Wild West feel.
Then came the recessions of the late '70s and early '80s, and Bethel never fully recovered.
Kirk Kardashian
The Blue Lane, a temporary multiuse path down Main Street
Last weekend, the Windsor County town — pop. 2,030 — got a chance to try out a different fate. A ribbon of Main Street was spray-painted blue and became a multiuse lane for human-powered travel. The once-vacant stores were filled with pop-up shops selling books, candy and on-the-spot tailoring. The Bethel Depot, a bar tucked inside the old train station, set up an outdoor beer garden with giant lawn games. An old phone booth was transformed into a Little Free Library.
All this was part of Vermont's first Better Block project. The Better Block movement began in southern Dallas, Texas, in 2010, when community organizer Jason Roberts gave a blighted area a temporary makeover with many of the same features that sprang up recently in Bethel. Since then, the Better Block phenomenon has spread internationally. Roberts' Better Block Foundation offers free materials and fee-based consulting to towns and cities looking to make their neighborhoods more inviting, if only temporarily, as a way to spur longer-term change.
Better Block came to Vermont by way of the state's chapter of AARP. As an advocate for older residents, AARP Vermont focuses on fostering changes in communities that enable members to "age in place," or stay in their homes as long as possible. For Vermont's growing population of seniors, being able to get around independently and connect with the community is often the biggest challenge.
"Transportation and mobility are cornerstones for us," said Kelly Stoddard Poor, AARP Vermont's director of outreach. "What comes along with the Better Block project is an opportunity to reenvision the downtown with more vibrancy."
Kirk Kardashian
The Crazy Gringo Taco Bar, a pop-up restaurant on Main Street
Last spring, AARP Vermont began looking for a town that could use the Better Block treatment. A number of towns applied, but Bethel stood out for its combination of community support for the project and obvious need for renewal.
"We saw this as a moment of opportunity for Bethel, with the vacant storefronts and the old buildings," Stoddard Poor explained. "Maybe we could tip it over the edge and see those changes everyone wants to see. And there were strong partners on the ground, which is essential."
Those partners were members of the Bethel Revitalization Initiative, a group of residents working to improve the town's cultural and business environment. Lifelong Bethel denizen Kirk White cofounded BRI in 2011, after Tropical Storm Irene washed away numerous homes and roads in the town.
"Irene brought a bunch of people out to help one another," said White, 54. "From that, people banded together and made a lot of connections. A number of newer residents felt disempowered to get involved in the town, so we started BRI as a way to bring creative ideas and energy."
BRI is organized as a "do-ocracy," which means that anyone who has the motivation to do something is empowered to take charge and try to get it done.
So far, that formula has worked well. BRI is the driving force behind Bethel University, a learning program that "pops up" in the town every March. It, too, embodies the free-wheeling spirit of BRI: Anyone can offer a class on any subject, and anyone can sign up for the classes for free. Last year, BU offered more than 60 classes, and 800 people showed up from 40 towns around Vermont.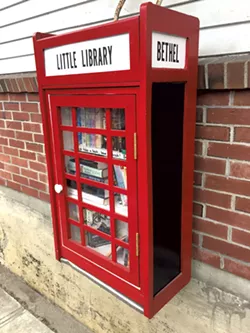 Kirk Kardashian
The Bethel Little Free Library
"In my mind, it's just really changed the narrative, from a community where things were not happening to a community where anything is possible," said Rebecca Sanborn Stone, a BRI member and community-engagement consultant who moved to Bethel eight years ago.
Sanborn Stone and other BRI members worked with AARP Vermont and a representative from the Better Block Foundation to design Bethel's weekend makeover. Improvements to the streetscape were key, since residents had expressed fears of biking along and walking across Main Street, which sees a lot of truck traffic. In response, the organizers created the multiuse path and built a temporary pedestrian island in a crosswalk.
"It's not the most exciting thing," Sanborn Stone said, "but in terms of meaningful change of people's lives and safety, it's pretty important."
The Better Block partners addressed transportation by placing a bus stop for the regional Stagecoach line in the center of town, supplementing the pre-existing stop at a housing development. Meanwhile, the beer garden and pop-up shops gave people a reason to come to town in the first place.
On Sunday morning, a drizzle cleared and bursts of color dotted Main Street in the form of brightly painted benches and the street-café space of the Crazy Gringo Taco Bar. Red and yellow tomatoes heaped on stands at a mini farmers market caught the eye. A merchant offered free hot cider and doughnuts. A demonstration of good cheer overcame the usual dullness of downtown. While it lasted just a few days, the transformation hinted at what Bethel could become if it had a second chance.