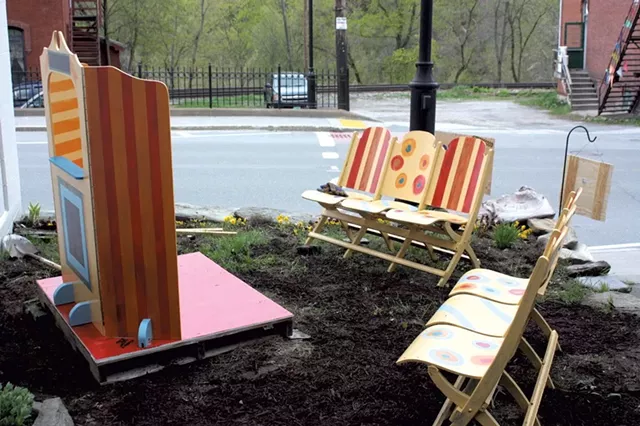 Community Workshop's pop-up theater
When kids engage in imaginative play, they learn to solve problems, be creative and manage conflicts. To create more spaces conducive to this kind of open-ended exploration — especially for kids who live in poverty — the national nonprofit KaBoom! hosts the Play Everywhere Challenge, which awards $1 million each year to 50 proposals from across the country. This year's list of winning projects includes a colorful wooden pop-up theater now occupying a formerly vacant space on Main Street in Bethel. The portable theater can be used for dramatic play, puppet shows, improv and story times, according to project creator Rebecca Sanborn Stone. The theater was designed by Stone's Vermont-based consulting firm, Community Workshop, which specializes in land-use planning and community engagement. Stone said that this summer, places like daycares, libraries, street festivals and farmers markets will be able to borrow the theater free of charge. Community Workshop will also make the construction plans available online — Stone said it would be an easy project for other communities and organizations to replicate. "We're excited to show how play really can be integrated into small and unexpected places," said Stone, "and how beneficial that is to the community."
For more information about Community Workshop's pop-up theater, visit communityworkshopllc.com. To learn more about KaBOOM!, visit kaboom.org.