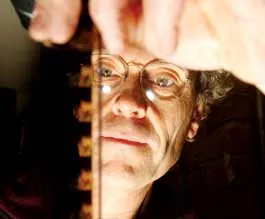 Chris Wood is nursing a double mocha latte at the Capitol Grounds in Montpelier, and he seems to know every hippie, yuppie and crusty farmer who comes into the coffeehouse. Even those who don't greet him tend to take notice. At 6-foot-4, the lean political activist and arts agitator stands out in any crowd. Plus, Vermont Magazine selected him as one of the state's top 20 "movers
and shakers" a few years back. A celebrity in his hometown, he's apparently a humble one with selfless ambitions.
"Central Vermont is as big as I like to get," 55-year-old Wood says of his numerous political, social and artistic endeavors. "Smaller is better. My focus is local. The intimacy seems more real to me."
And his choice of an upscale caffeinated beverage? "I've never had one before," he points out with bemusement.
You could say Wood's cup runneth over: A long-time member of the Vermont Progressive Coalition, he calls himself a "close friend and informal advisor" of Anthony Pollina. Wood also works part-time as a fundraiser and outreach coordinator for the area's Community Land Trust; serves as president of Studio Place Arts, an ambitious cultural facility he helped establish in Barre; remains linked to the capital campaign to secure a new location for Montpelier's homeless Pyralisk Art Center; runs the projector one night a week at the Savoy Theater and puts in an untold number of hours to help coordinate the annual Green Mountain Film Festival, which winds up Sunday.
Politics should be centered on "building community, being with people whose hearts and minds are open and defending those who are the most powerless among us," says Wood, whose idealism tends to be inseparable from the practical ability to make things happen on a day-to-day basis.
"He has a constant to-do list with who knows how many items on it, but always manages to get them all done. And Chris is a synthesizer: He believes that the more collaboration, the better," observes Rick Winston, owner of the Savoy Theater and Wood's pal since the mid-1970s.
"Chris has always been the behind-the-scenes, implementation, detail guy, and the least self-aggrandizing person I've ever met," suggests Ellen David Friedman, an organizer for the Vermont National Educational Association who got to know Wood about 25 years ago "in the movement."
On one recent March afternoon, "the movement" drew him to the press conference where Pollina announced his candidacy for lieutenant governor. Unlike two previous Pollina runs for elected office, this time Wood will not be the campaign manager. In fact, this is a day free of most obligations, and he's headed for the Studio Place Arts darkroom to develop the film in his Nikon. "I'd been wanting to get back into photography for a long time," Wood says of the almost three-decade dry period before his rebirth as a shutterbug earlier this year.
Any defining snapshot of Wood might be a bit blurry. In a state brimming with powerhouse radicals, he's constantly on the go to right society's wrongs. Middle age has not necessarily slowed him down, but, after a family tragedy four years ago, the man with so many plans is now more philosophical and prone to reflection.
"Chris has been the most tireless, unremitting, dawn-till-dawn organizer any of us knew," Friedman notes, "but he's begun to take steps to become more three-dimensional."
Wood acknowledges a penchant for existential yearning. "This world, in a political sense, is foreign to me," he says, "like I was made for somewhere else, some other universe."
---
Wood's childhood universe was Newton, Massachusetts. The path to a life of commitment in Vermont began in a comfortable Republican household as the youngest of three brothers. Wood's mother Mary can trace her WASP roots almost as far back as the Mayflower. His Catholic father, Frederick, was a first-generation American with Ukrainian immigrant parents. Somewhere along the line, the Old World moniker "Yablonsky" was replaced by the less ethnically distinct surname.
After playing basketball in high school and scooping at the town's ice cream store, Wood enrolled in Newton Junior College. "I was not interested in academics at all," he recalls. "It was clear the military was going to grab me because I was a B or C student. So, in 1965, I joined the Navy to avoid being drafted into the Marines. At 19, I hadn't formed any social or political consciousness yet."
He can thank the armed forces for changing that. "The vast majority of enlisted people were anti-war and smoking hashish or grass," Wood recounts with a grin. "It also woke me up. I suddenly couldn't get enough of books. I read Jonathan Kozol's Death at an Early Age, which got me interested in progressive education. I took correspondence courses, even one in the Greek classics."
Assigned to the first in a series of ships, the newly literate teenager might as well have taken a trip through the looking glass. He was about to experience three years of Catch-22, with a little "I Love Lucy" thrown in for good measure. Wood's first tour of duty was aboard the USS Witek, a World War II-vintage vessel with a crew of about 300 and no real command.
"The scene was more "McHale's Navy" than Apocalypse Now," Wood says, continuing the TV and movie analogies. "It was an experimental destroyer. The purpose was to serve Raytheon, Westinghouse and General Electric by testing weapons, their newest toys."
The downside of that arrangement was "an alcoholic captain who occasionally wouldn't show up at all," according to Wood. "When the Red Sox won the pennant, he refused to do any testing until the World Series was over."
His second posting was as the sailor in charge of communications — including running the movie projector — on a large, modern destroyer that "just plain didn't work," he says, adding that the big boat "went dead in the water" while navigating across the Equator.
"We had explosions. Some people were injured," remembers Wood, whose palms suffered rope burns when he tried to respond to an oil fire in the boiler room. "We limped into port in Brazil and spent a month fixing it."
During that period, there were more disasters before the ship returned to the nearest port, in Florida. His final adventure was a patriotic "show the flag" tour aboard the USS Cecil, which "worked and went places," Wood notes. "I saw Africa, the Indian Ocean, the Red Sea and the Persian Gulf."
---
The more worldly Wood somehow found a way to take a little time off from the Navy in 1968 and work, in his hometown, on Eugene McCarthy's presidential bid. "I was 'clean for Gene,'" he says, mimicking the slogan of the Minnesota senator's well-groomed young campaign workers. "That was my first taste of electoral politics."
In 1969 Wood was discharged from the military a year early to resume his studies at Newton Junior College. By then, his brother Daniel was already living in Canada, where he'd gone to avoid the draft.
School was a breeze for the newly motivated Wood, who soared to the top of his class. After graduation in 1970, he wanted to take a year off and travel. But when someone told him about Goddard College, founded on the principles of progressive education, Wood visited the Plainfield campus, applied and was accepted. He spent the summer at Daniel's communal house in Vancouver, then came to Vermont. "I haven't really left since," Wood notes.
The Green Mountain State would prove to be an eye-opener for a guy "from the disconnected, detached suburban life," as Wood describes his upbringing. "Bread and Puppet Theater had just arrived," he remembers, referring to the New York City troupe's early 1970s residency at Goddard before relocating to Glover. "There were all these strange people doing little puppet shows all over campus. I thought, 'Wow, this is really cool.'"
The Navy vet immersed himself in the arts, particularly photography and theater. Wood finished the four-year college in half the time, having been granted credits for his previous studies and "life experience." Then, he ran away with The Two-Penny Circus — the title of a touring show conceived by fellow student Donny Osman, now a Vermont state legislator and director of the Governor's Institute on the Arts.
"My alter ego was Mr. Clack, the master of ceremonies," Wood says of his debut as a professional actor. "It was physical comedy. For two years, we were the most popular company requested by Vermont schools."
This schedule allowed him to spend summers with Bread and Puppet, which Wood decided to join on a full-time basis in 1976. He parted ways with the puppeteers two years later as the anti-nuclear movement beckoned and was arrested during a 1979 demonstration at the Vermont Yankee power plant in Vernon. His second true calling — activism — was born, and with it came a talent for organizing that helped shape the last quarter-century of central Vermont's political and cultural identity.
To support this lifestyle, Wood needed a career that could offer him a paycheck. With Ginny Callan, his significant other at the time, he started the Horn of the Moon Café. The funky but wildly successful vegetarian eatery began on State Street and moved to Langdon two years later.
"Talk about endless hours. We were so idealistic — everybody does everything," Wood says, meaning that the operation was egalitarian rather than hierarchical. "Ginny was the chef. I cooked breakfast, did the grunt work, kept the books and also continued my anti-nuke efforts. Then came the arts again."
---
In typical Chris Wood fashion, his next venture was also all or nothing. While managing the Winooski Valley Food Co-op in Plainfield, he and his colleagues turned the community center on the second floor into a cultural venue that hosted exhibits. His shipboard projectionist skills came back into the picture, as Wood began booking 16mm movies to show in the space. "We went from one night a week to two or three, and eventually expanded to other locations."
The project mushroomed. The Plainfield site became headquarters for the Center for the Arts and Public Issues, a nonprofit that sponsored films, readings, craft fairs and visual arts activities, as well as folk music concerts at Goddard's Haybarn Theater. In 1981, Wood's group merged with and took the name of the existing Onion River Arts Council — still Montpelier's largest performing arts presenter. As Onion River's first paid staff member, Wood ran the organization until 1984. "I was tired and burned out by then," he explains.
But not so much that he could turn down a proposal from Anthony Pollina, who thought "we should run against this guy Jim Jeffords," the incumbent in a race for the U.S. House of Representatives. Wood became campaign manager, albeit reluctantly. "Electoral work is the most unappealing thing in this world of organizing," he surmises. "But I know it has to be done. That's why I've kept jumping back in."
Jeffords was re-elected, but Wood got even busier. "What followed were multitudes of social justice causes," he says about his involvement in issues such as single-payer health care. With Pollina, he launched the family-farm advocacy group Rural Vermont. Another initiative at that time was the push to persuade Vermont officials to divest from apartheid-ridden South Africa. And when Jesse Jackson wanted to be president in 1984 and 1988, Wood tried to help. He went on to foster the left-liberal agenda of the Rainbow Coalition, which hired him as a coordinator in 1985.
When the Savoy Theater recruited him for his projectionist skills during this period, Rick Winston discovered an added bonus: Wood's talent for remaining calm. "One of the best things about working with Chris is that he's hardly ever fazed by crisis," Winston says. "He keeps a cool head."
Meanwhile, Wood sat on several boards: Montpelier's Wood Art Gallery, the Green Mountain Consortium for the Performing Arts, the Vermont Council on the Arts, the Vermont Community Loan Fund.
Few of his community efforts have been lucrative, but Wood was sustained by what he calls "tithing" for almost six years in the 1980s. "I was often given money by individuals to do whatever I was doing, although I never made more than $7000 that way," he explains. "I didn't have health insurance until my late forties. More recently, I cobbled together many small jobs. The Land Trust pays me the first solid wages I've earned in years."
When Pollina signed on as a staff member with newly minted Congressman Bernie Sanders, Wood took a co-director position at Rural Vermont for three years. That coincided with his gig helping design a national magazine, Organic Farmer. In the 1990s, he put his considerable energy into Vermont Consumers Campaign for Health, Vermont Jobs with Justice and the Vermont Community Reinvestment Association.
Wood's enthusiasm for his many altruistic enterprises is most evident when discussing Studio Place Arts, "the most fabulous project that's ever happened in Vermont," as he puts it. With workspaces, classrooms, a gallery and a cafe, it has been housed in the oldest building in downtown Barre since late last year. The structure was saved from demolition by investors who forked over the $29,000 purchase price and donated the place for nonprofit use. Wood is part of the six-person committee that developed the space, extensively renovated thanks to $800,000 from the Central Vermont Community Land Trust, a $250,000 CDBG block grant and $125,000 in historic preservation tax credits.
This achievement, along with Wood's other aesthetic pursuits, seems to represent "the old puppeteer in Chris," Winston theorizes. "Art feeds people. Art, especially if it makes a political statement, is nourishment."
Wood himself looks like he rarely eats. He's a mover and shaker who lives like a modern-day ascetic. Ellen David Friedman suspects that he has been able to give so much of himself because there are few distractions in his life. "Chris never worried about making money, he's not concerned with material things, he doesn't have a family to support and he's austere in his personal tastes. He doesn't believe himself to be a martyr, though. Everything is done out of love and high principles."
But maybe the times are a-changin'. "On one hand, I could not imagine being anything but addicted to the community life I lead," Wood says wistfully. "On the other hand, the more I view that window into my soul, I see transformative steps to an exciting, irresistible place that I do not know yet. It seems to involve art-creation and very distant lands. Two roads…"
---
Wood's forward momentum hit a major detour in the mid-1990s, when his oldest brother David was diagnosed with leukemia. "Our politics were so different; it had always overwhelmed the relationship," Wood says. "He was a nutty conservative, an IBM executive, but his illness brought us closer. It taught me an important lesson: not to judge others before really knowing them."
In a sense, the siblings became one. "I agreed to be a donor because my bone marrow was an extraordinary match with his. My marrow took over and his blood type changed. When he died four years ago, a part of me died with him, quite literally," Wood says, adding that the 58-year-old David had been cured of leukemia but his weakened immune system could not fight off an ordinary virus.
At the same time, Wood's brief marriage to Mary Deaett — an administrator in state government — was unraveling. On top of David's death, the divorce made for a painful one-two punch. But Wood relished the last chance to become reacquainted with his brother. He also "gained a family" — David's wife and three grown children, scattered in other states, had never really been part of his life before.
"It reminded me of how very alone I am in this world," he muses. "Whether married or single, we're so separate from each other." Despite his can-do public image, Wood's private outlook is somewhat melancholy. The political being seeks spiritual fulfillment. "I see myself as a more balanced person now. I am a reformed workaholic. I think, in some perverse way, I used to feel like I needed to be involved in every good cause that came along."
Instead, Wood has rediscovered more "personal passions" like hiking, bike-riding, exploring natural wonders and writing introspective entries in a journal, as well as learning to shoot candid and posed portraits. He's even planning to collaborate, "à la James Agee and Walker Evans," on a photo documentary about low-income tenants served by the Land Trust that would fuse art and social conscience.
In the attic apartment he shares in a Victorian house near downtown Montpelier, Wood keeps rocks, seashells and leaves on his desk, along with handwritten sayings that move him. One such inspirational quotation — in which he sees "a bittersweetness that I feel reflects my own life" — is the caption on a picture of Charlie Chaplin in his signature role as the Little Tramp: "A gentleman, a dreamer, always hopeful of romance."
Wood's own inner clown was rejuvenated a few years ago, when the Progressive Coalition honored his work in the social-justice arena. "In front of hundreds of people, Chris came up to accept the award and began juggling little colored balls," says Friedman, laughing at the recollection. "It seemed to symbolize his ability to manage so many things at one time."