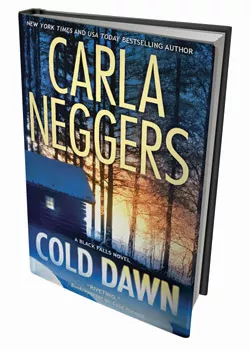 When people think of "Vermont fiction," they think of small-town settings and local color; of cozy mysteries and domestic dramas. The words "romantic suspense" don't really come to mind. But two Vermont authors make a living writing just that.
Carla Neggers of Quechee and Anne Stuart of Greensboro share a publisher — Mira, a mainstream imprint of Harlequin — but their works are quite distinct. Stuart, who's currently putting out a historical series, specializes in dark, sexy, international intrigue — one Amazon reviewer calls her "the queen of bad-boy antiheroes." Neggers' novels are closer to mysteries with a strong romantic element. Her ongoing series of Black Falls novels — set in a Vermont town of that name — has tons of local color.
Make no mistake: This is still romance, not gritty rural realism. In Cold Dawn, the third book in the series, published last month, the hero is "sexy, rugged" Nick Martini, a California smoke jumper who's also a wealthy entrepreneur. He comes east in pursuit of a serial arsonist and finds himself face to face with Rose Cameron, the no-nonsense Vermont search-and-rescue expert with whom he once shared a night of passion. They meet over the charred body of a ski bum with whom Rose was briefly involved.
And that's just the beginning. The book has a sizable cast, ranging from the colorful owners of the Three Sisters Café to a disabled Navy SEAL nicknamed "Grit" who plays detective on the orders of the genius teenage son of the vice president of the United States. Many of them are suspects in a complex crime plot that jumps from Vermont to D.C. to California and back.
Neggers has written "more than 50" books, her publicity material attests. Reached by phone, she declines to give an exact number, but says she's been writing since childhood and publishing since she left college. Besides her Black Falls novels, Neggers is currently putting out a gothic-tinged thriller series "set in Boston and Maine, with a touch of Ireland." She's also working on a brand-new series based in Maine.
What makes a book "romantic suspense," exactly? Neggers says she doesn't concern herself with genre limitations: "I just don't think that way. I think of myself primarily as a storyteller. How the book gets categorized, that's for other people to think about. I focus on the story I want to write and take it from there."
One thing she did make a conscious effort to do for Cold Dawn was research search-and-rescue procedures, with "a lot of help from the Vermont State Police," Neggers says. "There's nothing like sitting across from somebody who has all this expertise."
Like many books nowadays, Cold Dawn is available in an e-reader edition for a few dollars less than its cover price. Neggers says she doesn't have an e-reader herself, but "it's been really fun hearing from readers who are finding backlist books on e-books. I've been hearing that more and more in the last year." She isn't sure whether the new trend just offers "an additional format" to readers or represents a "format shift" away from paper and ink, saying, "I don't think anybody knows what's going to happen."
But she does know that, after decades as a writer, she's having "a lot of fun" with the "whole social-media phenomenon," communicating with her many readers via Facebook, an e-newsletter and Twitter. Readers "get very involved in the stories," Neggers says, and even suggest ideas for new ones. "It's great. It shows a high level of interest. When I was growing up and reading, I certainly never thought about contacting a writer."
One reader told Neggers that "'I'd love to live in Black Falls, but without the fires and the murders,'" she says with a chuckle. While she can see herself writing a romance with "no dead bodies," Neggers likes combining the best of both worlds in her imaginary Vermont town: "I have all the danger and the excitement and the adventure, but at the same time I have the nice cozy fires, the café," she says. "That's all fun."