Dozens of new children's books stream into the Kids VT office every year. We often don't have space to write about them, but we sure do love bringing them home and sharing them with our kids. As 2015 comes to a close, here's a rundown of some of the best books we've received in the past 12 months.
SnoozeFest by Samantha Berger, illustrated by Kristyna Litten
Plot in a nutshell: A sleepy sloth named Snuggleford Cuddlebun takes a bus to Nuzzledome stadium to attend a giant concert that celebrates sleeping.
Sample excerpt: "It's dreamy to see the stuff everyone brings — their wumphiest, coziest, comfiest things. Bundles of blankets and fluffed feather beds — puffy poofed pillows to prop up their heads."
Why it's awesome: Most parents need all the help they can get at bedtime, and this story makes sleeping seem really cool. The exuberant rhymes might not lull your kid into slumber right away, but they're lots of fun. Also, who doesn't like a sloth protagonist?
Ordinary People Change the World series by Brad Meltzer
Plot in a nutshell: Meltzer chronicles the lives of big names in history, from Helen Keller to Rosa Parks, in a first-person, cartoony style. The latest installment of the eight-book series, I Am Martin Luther King Jr., comes out in early January.
Sample excerpt: From I Am Helen Keller: "In my life, they said I was different. They said I'd never be normal. But the truth is, there's no such thing as a 'normal' life. Every one of us is like a flower that must be watered. Every one of us is full of potential. And every one of us can overcome obstacles."
Why it's awesome: Biographies geared toward kids can be boring — really boring. These ones are funny, engaging, inspiring and informative.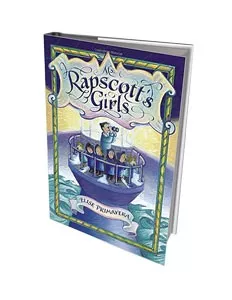 Ms. Rapscott's Girls by Elise Primavera
Plot in a nutshell: The Great Rapscott School for Girls of Busy Parents only accepts daughters of "the busiest parents in the world." Five 8-year-olds from different backgrounds arrive at the school in flying boxes and, under the tutelage of no-nonsense headmistress Ms. Rapscott, learn lessons in bravery, independence and friendship.
Sample excerpt: "Bea, Mildred, Fay and Annabelle sullenly regarded the new teacher, whom they thought wasn't young but wasn't old either. Her hair was coarse but had been tamed into a severe bun. She had a large nose, deep brown horsey eyes, and an oblong face the shape of a cough drop. She had a wiry body inside an oversized thick sweater that a real fisherman could have knitted, and pants the color of mud were shoved into sturdy waterproof boots that were ready for anything."
Why it's awesome: My 8-year-old daughter usually goes for more reality-based fiction, but this whimsical tale perfectly captured her imagination, and the satirical elements made us both laugh. Plus, this novel has an innocence that's rare in most current books geared toward the tween-girl set.
Fairy Tales for Little Folks by Will Moses
Plot in a nutshell: Five timeless fairy tales, from Little Red Riding Hood to Beauty and the Beast, are straightforwardly told and accompanied by charming folk art.
Sample excerpt: From the "On Reading Fairy Tales" note at the end of the book: "Some people may say these stories have no relevance in our culture today, but I disagree. I believe these stories are popular because they cleverly reflect upon the core fabric of who we are as people: our uncertainties and strengths; our fear of loss, of hunger; our worries about money, love, death, danger, and abandonment; but they also provide life lessons about the rewards of optimism, determination, strength of character, and the belief that no matter how hard times may get, if you just keep moving you will come out okay."
Why it's awesome: In this age of hipster, ironic, too-cool-for-school children's books, sometimes it's nice to read a good, old-fashioned bedtime story.