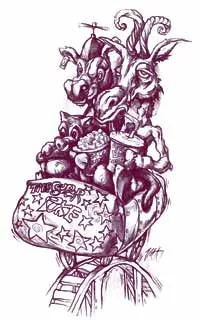 Now that Williston's been malled and McMansions are increasingly encroaching on the farms of Shelburne and Charlotte, Chittenden County's long-standing harvest-time institution is starting to feel like an anachronism. With its rural values and suburban surroundings, what does the Champlain Valley Fair want to be: an end-of-summer carnival or a showcase of agricultural traditions?
Both, says David Grimm, the fair's general manager.
To be successful in the 21st century, "county fairs need to strike a good balance," Grimm argues. They must provide the tingles and stardust contemporary American fun-seekers expect, but they must also present and try to preserve a plain-spun heritage that at least some fairgoers still regard as their own. In fact, rural fairs have always included rides and games — even girlie shows.
As part of the Champlain Valley Fair's 81st edition opening Saturday, organizers are spending $150,000 on a variety of agricultural exhibits, ensuring that Vermont farm life continues to be celebrated in the state's least rural county. At the same time, the fair is built to please the large proportion of the 300,000 ticket buyers who are drawn mainly by the rides and the shows.
"You take the midway and the entertainment out of the fair and make it only agricultural, and I guarantee attendance will go right down the tubes," Grimm says. Ag itself needs to be staged in exciting ways or many visitors won't take advantage of the educational opportunities the fair strives to provide, Grimm adds. "We try to put bells and whistles on agriculture education. We try to stay current with trends. Kids today have the Internet and big-screen TV, so I'm not sure how much they want to walk through a cow barn. The time when you could expect lots of people to walk past stalls and stare at cows' rear ends is 20 years removed from the present day."
The fair's board receives praise from many ag educators for its efforts to keep the legacy of farming from being relegated to side-show status. Animals and products of the soil remain highly visible amidst all the honky-tonk. "It bothers me when people say the fair isn't very ag-oriented anymore," says Mary Fay, organizer of the 4-H exhibits. "I think it's still very ag-oriented, considering where it's located."
But no one denies — or is even surprised — that some farm aspects of the Champlain Valley Fair have diminished as Chitten-den County has been transformed from dairyland to a mini-metro area. The barn space occupied by 4-H clubs' cows is half what it was in the mid-1980s. And the fair has had to open its 4-H dairy show to clubs from anywhere in the state, because northwest Vermont no longer can supply the numbers needed for a strong competition. Chittenden County itself now includes only a couple of 4-H clubs with a dairy focus, and their membership consists largely of kids who don't live on farms and who lease the cows they show.
Susie Gilmore, who runs the club based at Shelburne Farms, sees a stark contrast between the Addison County and the Champlain Valley fairs. "It's a totally different atmosphere," says Gilmore, whose club members show cows at both events. "There's much more of a community feeling in Addison. Ag is still by far the main attraction at that fair."
Tim Buskey, administrator of the Vermont Farm Bureau, agrees that the fair in Essex does not compare to the one in New Haven, which he describes as "the pre-eminent agricultural fair in Vermont." And while Buskey does acknowledge the good intentions of the Champlain Valley Fair's organizers, he adds that Vermont farmers "don't yet see the results of efforts to have it retain a strong agricultural focus."
Such a sentiment is shocking to Grimm. He says the fair has sought to highlight Vermont agriculture in each of the 13 years he has served as general manager. Grimm lists several initiatives intended to spark the interest of nonfarming fairgoers.
A few, however, might strike ag purists as a tad tacky. For example, this year's fair will feature a life-size and anatomically exact plastic cow that won't grow weary no matter how many fumbling kids take a turn at milking her. "This is a great-looking cow," Grimm says. "Everything on it is perfect."
The fair used to arrange for a real cow to perform the duties now being demonstrated by the mock milker. But only a few of the kids in line actually got a chance to tug on genuine Holstein teats before the milk supply was exhausted. In addition, the fair had trouble finding the talent to explain in crowd-pleasing ways how cows work, Grimm notes.
Two petting zoos are also included among the ag exhibits. While these are clearly big hits with young families, such displays of farm animals indicate that they have come to be regarded as exotic — or at least cute and cuddly — entities rather than familiar features of an industrious, farming way of life.
Animals such as llamas and emus, which would not have been showcased at the fair 30 years ago, reflect the niche positioning that has come to characterize much of Vermont ag. At the same time, exhibit designers are paying more attention to farming's technical aspects. Today's audiences want to know about breeding lines, mastitis and bovine growth hormone, Grimm says, and the fair's presentations have been revamped to address those sorts of issues.
In addition to the new-fangled, visitors can view plenty of old-fashioned county fair attractions. Show horses cavort; draft horses pull impossible loads; poultry plumage dazzles admirers and 500-pound pumpkins draw gasps.
Space is still set aside for the Grange, the organization that founded the Champlain Valley Fair in 1922 and that continues to serve as a forum for some of the county's remaining farmers. The fair's open dairy show also remains an authentic opportunity for herdsmen from around the state to express the pride they still derive from farming.
Why is it important for a fair in a suburban setting to keep alive an agricultural past? "If we lose contact with agriculture," says Buskey of the Vermont Farm Bureau, "we're going to lose a huge part of our existence. People need to know where their food comes from and what it is they're putting in their mouths every day."
The immediate environs of a county fair need not determine its content, adds Grimm. He notes that the premier ag-promotion fair in the United States takes place not in Kansas but Los Angeles. And while only a smattering of full-time farmers may attend the Champlain Valley Fair these days, that doesn't mean agriculture exerts no pull on most fairgoers. Doug Watkin, head of the 4-H dairy club that operates out of the UVM cow barn, says he deliberately keeps the club's membership small and thus manageable. Five kids pay $1 a year to lease a cow they'll groom, show and grow to love.
"If I advertised at the Orchard School in South Burlington, which one of my kids attends, I bet I'd have at least 30 kids signing up," Watkin says. "People are still intrigued by the idea of having their children know about animals. There's a wholesomeness to it that they find appealing."
Susie Gilmore adds that her Shelburne Farms 4-H dairy club isn't primarily about cows. For the 14 kids who lease Brown Swiss and care for them year-round, "It's really about learning life skills," she says. "After all, the decisions they make later in life will be strongly affected by the experiences they're having now."
As for the thousands of area kids who can't bond with their own personal rent-a-bovine, getting intimate with a plastic udder will just have to do.