In the mood to take your kids to the movies, but hoping to avoid the summer blockbusters and Disney sequels? You're in luck.
On Thursday night, the Burlington Film Society, the Vermont International Film Foundation and Main Street Landing sponsor a
showing
of the best animated shorts from the New York City International Children's Film Festival at 7 p.m in Burlington.
The 12 short films range in length from two to nine minutes and hail from Europe, New Zealand, Australia and the United States.
It's an eclectic lineup. In
Munggee, Not A
gain, a stop-motion movie from Switzerland, two marm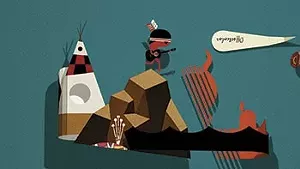 ots and a hedgehog attempt to rescue their sleepwalking friend from the mountains. In
Apache
, from New Zealand, neon paper cutouts create a continuously spiraling stage for a Native American guitarist and his Yeti bandmate as they perform a twangy throwback to '60s surf rock and spaghetti western soundtracks. And American fifth-grade teacher Tony Dusko offers a series of short, humorous meditations on behavior, encouragement and friendship in his film,
Notebook Babies.
The films are appropriate for all ages, so bring the whole family! Tickets cost
$8 for adults and $5 for children and are available
here
or at the door.