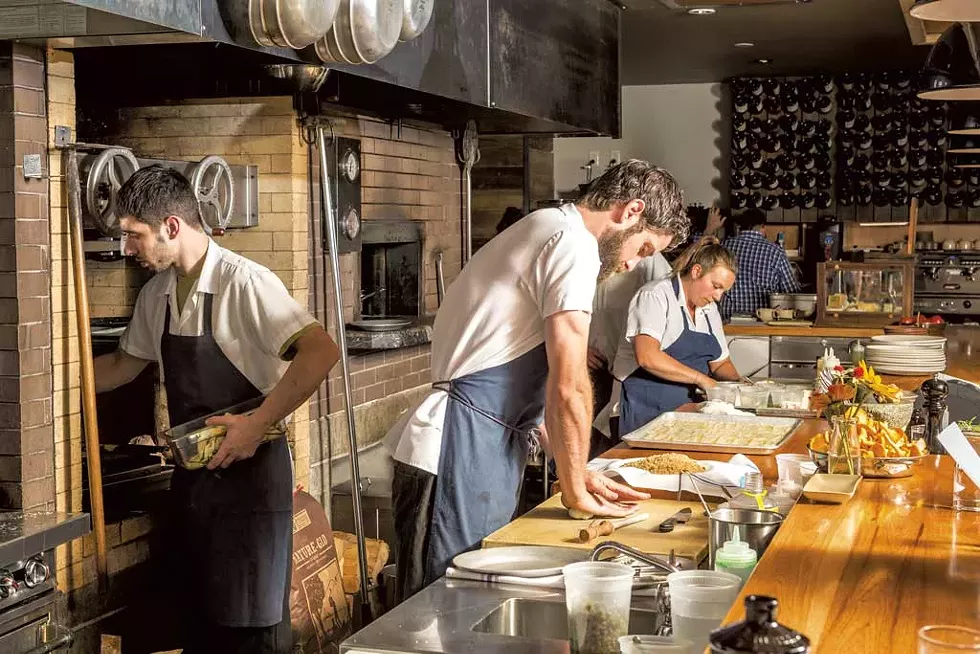 Hen of the Wood — It's hard to believe that the Burlington outpost of Hen of the Wood qualifies as a new restaurant. Since opening last October, it has quickly become an essential part of the Queen City scene. Not surprisingly, both restaurants — owned by chef Eric Warnstedt and wine specialist William McNeil — swept several Daysies categories this year (including Warnstedt for best chef). But while the original Waterbury Hen is all about its pastoral, waterside location, Burlington's Hen is at the center of activity.
Adjacent to Hotel Vermont, the new Hen of the Wood attracts its share of destination diners, as well as locals who hang out at the bar for a spicy Ancho & Apples cocktail, a plate of oysters or piles of thinly sliced Southern ham.
Warnstedt and co.'s most notable new toy is the wood fire that cooks lamb ribs, rabbit legs and everything in between — as long as it's local. Practically the only dishes not licked by fire here are the desserts. Try to save room for a maple-inflected opera cake or an intense crabapple sorbet.
Other Finalists (Inside Chittenden County)
Pascolo Ristorante
Pingala Café & Eatery
Revolution Kitchen
The Vermont Tap House
---
Plate — The name Plate is short and sweet, but it doesn't tell the whole story of this petite spot that opened in Stowe last March. A better moniker might be Care.
At Plate, owners Jamie Persky and Mark Rosman and chef Aaron Martin pay attention to every aspect of the dining experience. Sitting at a dark wood booth under a gaggle of light bulbs left artfully naked, diners get their first taste of the kitchen's exacting work with a complimentary bread basket. The home-baked treats are served with cinnamon butter.
Plate's savory fare leans toward the light, California-style meals that its owners eat at home. But that doesn't stop them from serving up more indulgent cuisine, including a pork belly and eggs appetizer. Diners who hold back and order a salad have all the more room for Persky's indulgent banana pudding, a breakout star.
Other Finalists (Outside Chittenden County)
Phoenix Table and Bar
The Lobby