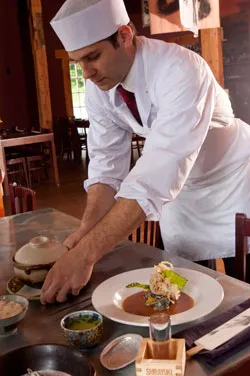 Chris Russo at San Sai Japanese Restaurant
Nearly every day, sometimes several times a day, I meet readers who want to know my favorite restaurants in Burlington. For most of my three years at Seven Days, this was a tough question. Bluebird Tavern was obvious — though, before it moved to St. Paul Street from Riverside Avenue this month, it really felt more like a Winooski dining spot. At Trattoria Delia, the gnocchi with boar is a treat, but outside my everyday budget.
More often than not, I preferred to seek my meals outside the Queen City. Then, this year, something magical happened. Great ethnic food finally came to Burlington.
Last summer, I began splitting my work-lunch loyalties between takeout at Farah's Place on North Winooski Avenue and San Sai Japanese Restaurant on Lake Street. In recent weeks, I've been getting lunch out even more often, owing to the debut of Pistou on Main Street, with its creative, brilliantly crafted sandwiches and soups that change daily. I can't help but thank its staff for diligently posting the lunch menu early each day. Although deciding is a bummer when you're confronted with a sandwich containing chicken-liver mousse, bacon, apple and sherry vinegar on the same day as a sandwich with ricotta, beets and fig-balsamic glaze.
With any luck, Pistou will stick around for a long time so we can try them all. For now, though, the Persian and Japanese spots share my annual pick for best new restaurant of the year.
In tribute, here are snippets of my reviews of both, with some updates.
Farah's Place
Since Farah's Place opened quietly and signlessly in Burlington, I just haven't been able to stay away. And it's not just me. One of my Seven Days colleagues put the menu on the office fridge while I was on vacation. A good friend now swears by the huge weekly Thursday buffet, complete with Middle Eastern music by local band Locum; he says the fare temporarily alleviates his tennis elbow. I am not making this up.
Across the board, everything I've eaten there has been delicious, though, admittedly, each item tastes slightly different from visit to visit. One dish that is always excellent is the tah chin. Available as a frequent special, this brick of saffron-colored basmati rice is filled with a creamy combination of chicken, yogurt and eggs. The crisped outside and soft inside make it something like a giant arancino. Instead of marinara, it's topped with dried barberries, close kin to cranberries. A salad of fresh greens, lightly dressed in tangy yogurt sauce, adds color, but who are we kidding? It's all about the tah chin.
Kofteh, fist-sized split-pea-and-beef meatballs, are also an unerring wonder, with a spicy tomato sauce and a side of bread for dipping. Best of all, the soft, raisin-and-walnut-stuffed balls are so large, I get two meals from the $7 order.
Speaking of the fluffy bread that Farah serves, made at A Taste of Europe in Colchester, you would be remiss not to try it with the mirza ghasemie, or eggplant dip. A small portion of both (easily enough for an appetizer for two) is $3.
Somewhat like a comfort-food baba ghanoush, the mirza ghasemie is flavored with tomato and garlic, then topped with mint fried in oil and surrounded by a moat of a yogurt-like whey product called kashk.
Kebabs dominate the menu at Farah's Place. They're available as platters or tucked into those same lovely loaves of bread, and, either way, the meals are shimmeringly fresh. This is not a surprise, since local products are common on this menu. Even the lamb comes from Winding Brook Farm in Morrisville.
The koobideh are unaccountably juicy sausage lengths of ground chicken, lamb or beef. Lightly spiced with tiny flecks of red pepper throughout, they have a flavor so complex that they need nothing but a squeeze of lemon to dress them.
However, the greatest kebab of all has got to be the boneless chicken. Just be sure to ask how long it's been marinating when you order. Half a day isn't enough. This moist, flavorful poultry is at the peak of its power after about three days.
The yogurt-based marinade does something for me that nothing else in Vermont has: It takes me back to my favorite Indian restaurants when I was growing up around New York. The tangy, aromatic flavors are strong but comforting and as big as Texas — or rather, as the whole Middle East. The chicken kebab's side of saffron rice benefits from its accompanying charred tomato. Cut it up and combine the two for a real treat.
But, whatever you do, go to Farah's. Chances are I'll be there.
San Sai Japanese Restaurant
San Sai could hardly have a better home than the high-ceilinged space on the Burlington waterfront that was previously occupied (in succession) by Isabel's, O and Taste. Lake views are perfectly suited to the fishy menu, supplied partly by local distributor Wood Mountain Fish. But the location's relative obscurity can leave the restaurant lamentably quiet, especially at lunchtime. Diners don't know what they're missing.
The interior of San Sai is as fresh visually as its food is on the palate. A large, naturalistic example of ikebana stands in the alcove behind the host stand; a giant vase holds brightly colored flowers, brought down to earth by a piece of driftwood. Tapestries decorated with Japanese characters hang from the ceiling. On the walls above the metal tables, a series of sumi-e ink-and-wash paintings depicts hungry cranes with their heads raised for a snack. There's even artistry in the papers that hold the chopsticks, each printed with a sumi-e fish or flowers.
If this attention to detail augurs well for the food, so does the quirky menu. The chef-owners are American Chris Russo and his mentor, 35-year culinary veteran Kazutoshi Maeda. They arrived in Vermont fresh from closing Tsuki, a sushi spot on the Upper East Side of Manhattan that New York magazine's website rated 9 out of 10. At San Sai, sushi and sashimi options exemplify the creative tastes available at top spots in New York, and they feature sauces and flavored salts not previously seen in Vermont.
When I visited for my review, I tried a particularly interesting creation called Hanamaki soba, fusing sushi rolls, noodles and tempura. The unique maki was filled with soba noodles and strands of seaweed. The ample pasta overhang was dipped in tempura, then fried into a cloud-like formation that floated above the nori roll. Slices of gourd (one of the wild edibles, or "san sai," that lend the restaurant its name) surrounded the maki, and the whole thing sat in a light pool of sesame-based sauce. The dish was truly a stunner, but only a warm-up for the dinner I enjoyed.
Like many of its upscale counterparts, San Sai offers an omakase, or chef's-choice option. The diner sets the price, but from there the folks in the kitchen rule. One key difference from metropolitan restaurants was that we were able to set the price at a relatively wallet-friendly $30 per person.
The meal began with three small plates. A cube of pork belly was braised to creamy submission in a sweet mirin-and-soy sauce. A nugget of homemade tofu was studded with mushrooms and served with ginger sauce. Perhaps most dazzling were a large round of tender daikon and three teensy French breakfast radishes, all bathed in sweet miso and poppy seeds. I had never seen anything quite like this dish before, but it felt familiar, like comfort food from another planet.
Broiled-eel-and-cucumber salad followed. The briny fish was moist and tender inside, with crisp, airy skin to rival pork rinds. Cucumbers provided a bright foil, along with a sweet and slightly tangy dressing.
If the meal had ended there, we would have left thinking we'd got our money's worth. However, six more courses followed. First came a cylinder of salmon tartare in carrot sauce, covered in its own salty — but not fishy — roe called ikura.
Then there was the ume-shiso roll, which has since become a weekly must-have for me. For those unfamiliar with shiso, the leaf can be a revelation. Its neon flavor encompasses elements of lemon, mint and sage. Wrapped around sour pickled plum and a jicama-like root, yamaimo, it packed a wallop and left me salivating even after I'd eaten all the rice- and nori-wrapped slices.
The roll provided an apt palate cleanser for what turned out to be the main event: a large plate filled with a veritable pantheon of aquatic delights. The carrot-sauced salmon returned, this time served on a slice of cucumber. So did the ikura, packed into nori over a layer of rice and dressed with a few matchsticks of cucumber. Tuna made appearances in a pleasantly chewy roll topped with ume sauce and in a nigiri-style wand of coarsely chopped tartare mixed with brilliant-yellow pickled radishes.
The clear headliner on the plate was the volcano roll, another dish that has since become one of my dietary staples. The simple inside-out rolls were filled with meaty chunks of tuna, lubed lasciviously with rich, spicy mayonnaise and piled into a pyramid. A shower of tempura crumbs coated the outside. On top, a lava flow of ikura, tobiko and fried strands of sweet potato added crunchy, poppy texture and salty sweetness. We were so full, we almost refused the final course of green-tea ice cream. The soft texture was pleasant, but the flavor was somewhat neutral.
Russo, in classic sushi-master garb, made the rounds of tables at each of my meals. His modesty, friendliness and knowledge have made it a pleasure to talk with him about the dishes he and his master concocted.
San Sai has invented Vermont Japanese cuisine. Each meal I've enjoyed there has been an adventure, full of surprises. Imitators may soon spring up, but unless they have Maeda and Russo's mastery, San Sai will continue to stand alone.
More 2011 Superlatives
Hottest restaurant trend: Pop-up dining opportunities, such as Richard Witting's now-discontinued Isolé Dinner Club and Misery Loves Co.'s many tasty experiments in Burlington and Winooski.
The trend that fell flat: Mexican. Despite a new crop of restos, Vermonters still seem dissatisfied with the options.
The Vermont-finally-caught-up award: Avant-garde cuisine, in the form of foams, emulsions and sous-vide cooking, finally seemed to catch on at such restaurants as Amuse at the Essex Culinary Resort & Spa, Pistou, and the North Hero House Inn & Restaurant.
Quickest open and close: Nite Life Café in Winooski. Was the Vietnamese late-night spot ever really open?
Hottest business to start: A distillery. The more esoteric the booze, the better.
Worst bummer: Tropical Storm Irene, which closed dozens of restaurants throughout the state, some permanently.
Biggest shocker: Sudden closures in Stowe, including the beloved Shed Restaurant & Brewery and Santos Cocina Latina.