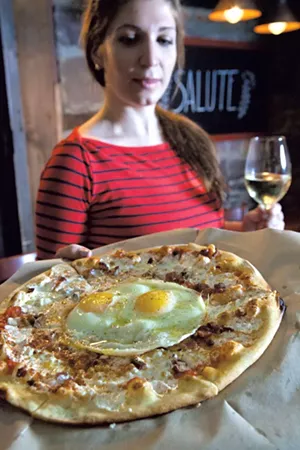 Matthew Thorsen
Pane frattau
For years, when readers asked me where to stop for a meal on Church Street, I told them to keep walking. It's no surprise that Burlington's main drag generally hasn't been inspirational to me; as a critic, I'm most excited by the undiscovered spots that exceed my expectations and offer something I can't find anywhere else. Church Street, with its high traffic and steep rents, attracts just the opposite: restaurants sure to please as many diners as possible.
Jeremy Bentham, the father of modern utilitarianism, posited that the best course of action is one that will create "the greatest happiness of the greatest number" and lead to suffering for the fewest. In gustatory terms, I'm often the one suffering in those cases. However, this year Church Street welcomed a crowd pleaser I can agree on. Pascolo Ristorante has earned my stamp as the best new local restaurant of 2014.
Very few eateries in Vermont can satisfy my whole clan. My brother is a classic adult picky eater whose daily diet consists primarily of MorningStar Farms' Chik Patties, broccoli and chocolate-chip cookies. But he's a fan of Pascolo's pizza Margherita.
My mom is a vegetarian who lost her sense of smell to a chinning bar as a tween. The slippery chew of the restaurant's housemade pasta provides enough texture to bring her back on a regular basis.
Grandma is an 88-year-old world traveler who's eaten her way across every continent but Antarctica. She has a reputation for being jaded, but she moons over Pascolo's classic Caesar and lunchtime sandwiches.
Matthew Thorsen
Bucatini carbonara
As for me? Just read this article. Picking the best new restaurant wasn't easy. A close runner-up was the Lobby in Middlebury, with its dramatic riverside setting and menu of upscale fare transformed into burgers. I also wrestled with the possibility of calling this "The Year of the Diner" and splitting the love between South Burlington's Parkway Diner and the Diner in Middlebury, for their perfect versions of classics and uncommon creations, respectively.
But Pascolo triumphed. It's a place to which I'm happy to direct tourists and locals, foodies and fussy eaters alike.
Here's why.
Best Dish
I'm a carbohydrate craver who adheres to the Paleo diet in most of my off-hours, so Pascolo's pasta is my dirty little secret. It haunts my dreams — and my waking nightmares of buying new, bigger jeans. When I indulge, it's no easy feat to pick my poison, as it were.
The bucatini carbonara, which vibrates with unexpected lemon that cuts through its eggy, cheesy, fatty delights, has left the building for the moment. I miss it. But chef Kevin Sprouse has crafted a menu full of other things I want to eat.
The housemade pappardelles usually win. If I'm doing noodles, I want them wide and chewy. Which is better? The funghi version, with its wood-roasted mushrooms and Marsala-sweetened truffle cream, fills the void left by the now-discontinued pappardelle con funghi that I loved for more than a decade at Trattoria Delia. With its piney notes of rosemary, Pascolo's dish trumps even that one.
Matthew Thorsen
Housemade pasta
But sometimes I prefer a bit of housemade sausage, bolstered by a rich fennel cream and sage: the pappardelle finocchio. I can't make Sophie's choice here. Both are Pascolo's best dish, pasta Nazis be damned.
What Else to Eat
I almost said "seasonal salad" when I was considering the best dish. Since Pascolo opened in May, I've enjoyed everything from shaved, raw asparagus with mint to beets with house ricotta. This is a Farmhouse Group restaurant, after all. Fresh and seasonal is the name of the game, and I will play by whatever rules they put forth. Some may complain that the salads are small and pricey. I'm cheap, and I still say the concentrated flavors are worth it.
The more budget-friendly pizzas are worth a mention, too. I'm particularly fond of the pane frattau, topped with a pair of runny-yolked eggs that engulf the covering of crisp pancetta.
What to Drink
Wine director Alex Moran chooses bottles exclusively from Italy. Glasses are divided by color, while bottles, ranging in price from $28 to $300, are organized by region. With a little digging, you can match your dinner to a wine from the same region for optimal terroir indulgence.
But sticking only with vino or one of the six birri on tap would be a shame, because Sean McKenzie's cocktail program does an excellent job of fusing mostly Italian spirits with Vermont flavors. How about a Befana, which mixes vermouth, amaro and Bénédictine with cranberry shrub, a sweetened vinegar-based syrup?
What to Look For
Since its days as Sweet Tomatoes, even before the name changed to Three Tomatoes Trattoria, the brick-laden basement space has been an appealing one. Yes, it exudes dusky Euro romance to the nth degree, and the new, centrally placed bar fosters conviviality.
But the open kitchen that's always been visible has never put on a better show than it does on Pascolo's watch. The wood-fired oven, which has turned out pies for a quarter-century, still does its duty, rewarding those who snag a seat within viewing distance. But the best spot in the house is the one to the left of the original Three Tomatoes dining room. There, if you're lucky, you'll see a cook turning out miles of noodles, a sight that yields a pleasure as hypnotic as watching the crayon factory on "Sesame Street."
Even if you don't score a table with a view, dinner is entertainment enough.