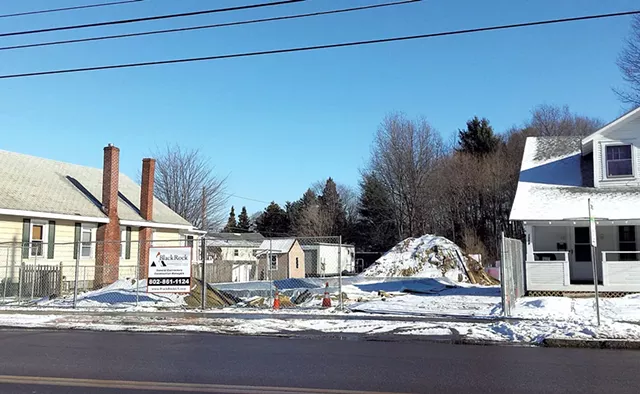 Melissa Haskin
The site of the once and future Bessery's
Changes are in the works for Bessery's Quality Market in Burlington. The family business at 1398 North Avenue is currently a large hole in the ground. Owners Bryan and Kelly Bessery have contracted with BlackRock Construction in Colchester to build the new Bessery's, something they've wanted to do for 10 years. "There was a lot of character in the old building," says Bryan Bessery. "We just outgrew it quickly, and a lot of the equipment was outdated." The building came down on January 12.
Projected to open in May, the new Bessery's will remain at its original address, squeezed between two residential houses. However, the new building will have an extra floor, with two apartments the Besserys plan to rent. It will also be 20 feet farther back from the road than the original building, allowing room for picnic tables out front.
Bryan Bessery divulges plans to add a creemee window and serve deli-style food. "It will be like a cross between Five Guys [Burgers and Fries], Martone's [Market & café] and Wings Over [Burlington] — food I like to eat," he says. Despite the rebuild, Bessery wants people to know that the place will still be essentially the same store that locals have enjoyed since his grandfather opened the meat market there in 1963. "It's just an improvement," he says.