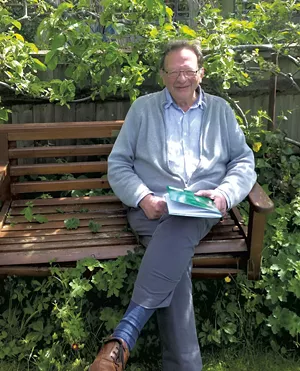 Kevin J. Kelley
Larry Sanders
Bernie Sanders wears his leftist politics as comfortably as the rumpled suit jackets he used to favor. The progressive principles he has consistently advocated throughout a half-century in politics grew organically from the heavily Jewish and staunchly liberal-Democratic section of Brooklyn where the Sanders family lived.
That's what his older brother, Larry, recounted last week when Seven Days visited him for an interview at his home in Oxford, England.
Although the brothers have lived 3,000 miles apart for most of their adult lives, they remain close, personally and politically.
Larry, 80, held local elected office for eight years beginning in 2005 as a member of Britain's Green Party. He had joined the Greens in 2001 after splitting from the British Labour Party, which he regarded as having swung to the right under then-prime minister Tony Blair.
Larry Sanders ran for Parliament as a Green in national elections earlier this month, winning 5 percent of the vote — a share similar to what Bernie Sanders garnered in his early races for office in Vermont as a member of the Liberty Union Party.
The elder Sanders resembles his 73-year-old brother — less in facial features than in accent and gestures. Although he has lived in England since 1968, Larry still pronounces some words with the nasal, hard-consonant inflections of his native Brooklyn. The shake of the head and the sweep of the arm that Larry occasionally uses to punctuate his comments would also appear familiar to Vermonters who have watched Bernie in action.
The Sanders brothers' father, Eli Sanders, was a Polish immigrant and paint salesman who did not personally benefit from Franklin Roosevelt's New Deal, Larry recalled during an hourlong kitchen-table conversation. "But he always believed it was the right thing to do," Larry said. "We lived in an environment where New Deal politics were quite normal. It was widely understood that the government could do good things."
The neighborhood's Jewish culture, with its emphasis on social justice, was also important in shaping the worldview that the brothers have long shared.
"We went to Hebrew school and read the Bible," Larry remembered. "I thought, yeah, it's all in there. The Jews had been slaves in Egypt, and slavery was so obviously wrong. To us, it all fit together."
Alienation and anger weren't factors in Bernie's political development, according to Larry, who always refers to his kid brother by his formal, given name: Bernard. "A lot of left-wing people feel for good reasons that they've been left out. Bernard wasn't like that," Larry related. "He wasn't a nerd or an outcast. He was an excellent athlete and a member in good standing of the local youth community."
In addition to playing a valued role on his public high school's formidable basketball team, the future independent U.S. senator representing Vermont was a track star who once ran a 4:37-minute mile, finishing third or fourth in a citywide scholastic race, Larry noted. "Bernard was also a cross-country runner, which I think of as a breed apart and as being significant to who he is. Cross-country is more about endurance than speed. Running those races took unusual determination."
The Sanders brothers' socialism did not spring from a desire to help "the underprivileged," Larry observed. "To think in those terms, you have to see yourself as privileged," he reasoned. "And we never thought of ourselves that way."
Although they did not have separate bedrooms, the brothers were raised in what Larry said was a comfortable apartment. "We always had enough food. We weren't cold. I'd say we were a lower-middle-class family."
Bernie has credited Larry as having made an important contribution to his political education. As a college student, Larry introduced Bernie, who was still in high school, to "the sorts of things one reads in college — Freud and Marx, for example." Larry was also president of the Brooklyn College Young Democrats, and he brought teenage Bernie to a couple of the group's meetings.
"I think all of that did have an effect," Larry said. "But the biggest impact on Bernard was being at the University of Chicago during the civil rights movement. He had a context for it; he could fit it into a larger background."
The context for Larry's own political views is essentially the same as Bernie's, although it came to incorporate realities different from those that prevail in the United States. "There had long been a leftist strain in British politics that was very mainstream," Larry explained. He noted that the country has free health care, which would be seen as far left in America.
But British politics shifted steadily rightward in the years following Margaret Thatcher's election as prime minister in 1979, Larry observed. "The Conservative government we have now is totally comparable to the Republican Party," he said. "They're making cuts to social programs that the Republicans would be proud of."
Larry Sanders met his wife on a trip to Israel in 1960, and they lived in New York. When she became pregnant, she wanted to be near her family in the London area, so they moved. He got a job as a social worker and later received formal — and free — schooling in that field at Oxford University.
Larry became a leader of a campaign in the mid-1970s to prevent the Conservative-dominated Oxfordshire County Council from closing nursery schools and daycare centers. Larry and others occupied one of the threatened nursery schools. They were eventually evicted, but most of the cuts were rescinded as a result of their direct-action tactics. "It was a very significant victory," he said last week in the brick row house with a verdant back garden where he has lived for several years.
Larry's life changed radically in 1983 when his wife died after a brief illness. He became a single father of two school-age children, Jacob and Anna. "It was a very difficult time for me," he said.
He had been inspired, however, by Bernie's election as mayor of Burlington in 1981, and attended his inauguration. "I thought, I can do that," Larry said with a grin.
Several years later, Larry moved temporarily to Washington, D.C., following his brother's election to Congress. Larry worked there as a psychotherapist while also spending time in Vermont. It was on one of his trips to Burlington from D.C. that he decided to stop at Harvard Law School, where he had studied for two years in the 1950s. (He had dropped out to move to Brooklyn to help care for his ailing mother, and stayed for a while after her death because his father had become "desperately depressed.")
Nearly 35 years after Larry left Harvard, a dean persuaded him to complete his law degree, which he did in 1994.
"So I've been educated at Brooklyn College, Oxford and Harvard, and I regard Brooklyn as by far the best of those places," Larry said. The "first-rate education" he received there was also offered to thousands of other children of immigrants who attended New York City's municipal colleges for free — a policy that was terminated in 1976.
Larry Sanders has never practiced law, but he has applied his knowledge of it to the activist endeavors he resumed after returning to England in the mid-'90s.
He started a relationship with Janet Hall, a woman of about his age who has been Larry's live-in companion for the past 17 years.
His children have followed paths somewhat similar to his own. Jacob, who works as a financial adviser for poor people in London, has also been an elected Green councilor in Oxford. Anna is a human resources officer for the Oxfordshire County Council. And Larry now has four grandchildren.
How does he rate his brother's chances in the presidential race?
"I think he's going to do very well," Larry predicted. "I'm not saying he'll become president, but he will do very well in debates against Hillary if she consents to debate him," he said of the favored Democratic presidential candidate, Hillary Clinton.
Clinton will likely be reluctant to share a stage with Bernie, Larry suggested: "He's a brilliant speaker, and he's so coherent. He hasn't shifted his views." Clinton, on the other hand, operates partly in accordance with political expediency, Larry said, citing her vote in 2002 in favor of the U.S. invasion of Iraq. "She's undoubtedly very intelligent, but that was something that fit with her political stance at the time," he said.
The U.S. media won't know what to make of Bernie's approach to electoral politics, Larry Sanders predicted. "Most American politicians are made by money and the press. Bernard is different. He has very dedicated constituencies," Larry noted. "The movement on climate change, which is very significant in America — he's been part of that for a long time. It's the same for the antiwar movement. All around the country, wherever he goes, there are going to be people who identify with what he stands for who will work for him."
Larry plans to be one of those workers. He said he looks forward to playing whatever role in the campaign his brother offers him. Larry will base himself in Vermont in the coming months, with perhaps an occasional foray to Washington, D.C.
He chokes up a little at the mention of the U.S. capital city. "I still cry sometimes when it comes up. I used to cry every time it did," Larry confessed.
"Our parents died when they were quite young," he said. "They didn't do a huge amount of traveling, but they did go to Washington a couple of times, and there's a photo of them with the Capitol in the background. They could never have dreamed that Bernard would be part of that one day."