Matthew Thorsen
Margery Jenkins and Caroline Dougherty
Margery Jenkins and her granddaughter, Caroline Dougherty, were eating lunch on Church Street last Thursday when their waiter mentioned they were within walking distance of Sen. Bernie Sanders' (I-Vt.) presidential campaign office.
Dougherty, a liberal twentysomething from Greenwich, Conn., persuaded her Republican grandmother it should be a stop on their Burlington tour. They slipped through a nondescript door between Von Bargen's Jewelry and Rí Rá Irish Pub, rode an elevator up to the third floor and arrived at the pulsing nerve center of a presidential campaign for which everything seems to be going right.
"She's a Republican, but thinking Bernie is OK," Dougherty told Sanders' staff as grandmother and granddaughter scoured the front counter for Bernie bumper stickers, buttons and postcards.
"I'm behind whoever can knock off Hillary," said Jenkins of Scottsdale, Ariz., pinning her own preference on Republican Ben Carson.
Incredulous, Dougherty remarked, "Uncle Drew would never believe you were here."
Two doors up from Burlington City Hall, where Sanders once served as mayor, and three blocks south of his Senate office, the presidential candidate's campaign office has become Church Street's latest draw.
Five months ago, this space contained barely enough people to field a basketball team. Now teeming with volunteers, it could staff a football team, including offense, defense, coaches and cheerleaders.
In fact, some people are working out of nearby space because there isn't enough room at 131 Church. But Arianna Jones, Sanders' deputy communications director, declined to disclose the location. In total, the campaign has 19 staffers on its payroll in Burlington.
Of course, not all of the action happens in the Queen City. The candidate himself only occasionally drops in between Senate sessions and campaign stops. He and other top staffers also work out of the campaign's Washington, D.C., office and satellite operations in other early-voting states. The campaign's New Hampshire workforce has swelled to 42 paid staffers, while its Iowa operation employs more than 50.
But Burlington remains the heart of the campaign. The work here ranges from tedious to top secret. Four folding tables line the office's main hall, where volunteers and interns sit at laptop computers, typing in the names and contact information of people who have signed in at Sanders events around the country.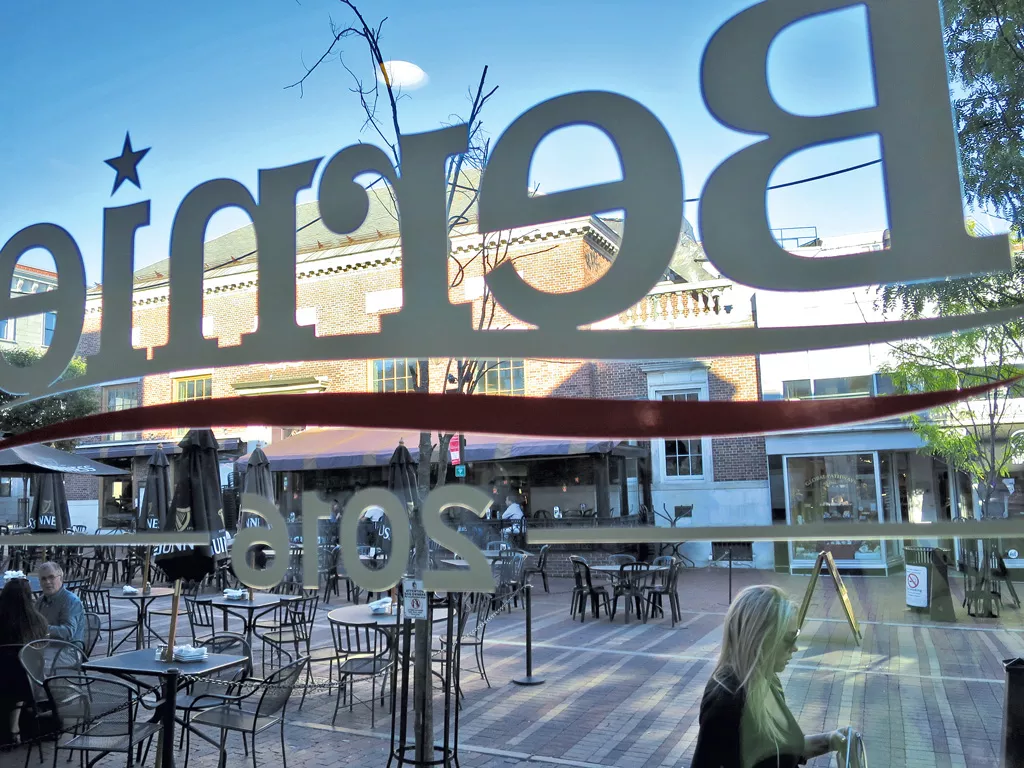 Paper is "still the most efficient way to collect the information," Jones said, and compiling that info in a database is key to building a network of supporters.
When Sanders is here, he occupies a back room with windows overlooking City Hall Park. His office has two desks: one for him and another for his wife, Jane Sanders.
Thursday, he was in Washington watching Pope Francis deliver the first-ever papal address to Congress. But national field director Phil Fiermonte, a longtime Sanders aide who often travels with the candidate, was working in a small office off the main hall.
As Jones spoke with a reporter, Fiermonte closed his office door. In the next room, campaign aide Nick Carter did the same.
As with any political campaign, Sanders' staff is touchy about who talks to the media and what they say. Jones, a University of Vermont graduate and former MSNBC talk show producer, declined to make volunteers and staff members available for interviews, explaining they were "shy." She tensed when a reporter scanned a campaign calendar on the wall, saying she didn't want its contents reported — even though no secrets were apparent.
Campaign offices are rarely glamorous. Volunteers stream in at a steady pace — some of them political veterans, others new to the drill.
Thursday afternoon, a UVM student appeared at the front desk. "I want to help you guys out," he said.
A few minutes later, a staffer handed him a laptop from a stack labeled "fully charged computers," and he took a seat at a folding table that a senior citizen had just vacated.
Another volunteer came in, only to learn there wasn't any work for her on that day. After Sanders holds a rally this weekend in Boston, volunteers will be needed to type many more new names into the computer, she was told.
"There are people who have driven long distances to say, 'How can I help out?'" Jones said.
In another room, volunteer Christine Reitz of Burlington, surrounded by piles of envelopes, sorted mail — some of which contained coveted checks. They were especially welcome before this week's campaign finance reporting deadline. Bernie fan Reitz said she "loves the man" for whom she has volunteered since 2006, when he was a congressman running for his first term in the U.S. Senate. The difference between prior campaigns and this one is staggering, she said.
"It's very busy," she said. "The mail is much bigger."
Reitz doesn't just sort mail. She also knits Bernie beanies, with the candidate's first name spelled out across the front of the cap. As fast as she can make them, they sell at the front counter for $10 apiece.
While Sanders' campaign relies on people such as Reitz doing office work, much of the operation lives outside the Church Street office. "We have a team of people who are based all over the country who coordinate with each other and with us," said Claire Sandberg, Sanders' digital organizing director.
Sandberg started in mid-July. She had two weeks to organize a night of nationwide house parties, using the internet to help volunteers host in-person events. Taking a break to talk in a conference room, Sandberg said she has used that same online network to turn out the huge crowds that have been attending Sanders' rallies. She is now focused on organizing October 13 debate-watching parties for the first matchup of Democratic presidential candidates.
It's not enough that people show up at those events, she said. The campaign wants to put them to work knocking on doors, registering voters, staffing phone banks and answering other volunteers' questions. "People are going to go away from the debate-watching parties with game plans," she said.
The campaign can't fill the Church Street office with enough folding chairs, tables and laptops to win a national election. It has to rely on eager volunteers out in the streets of Des Moines, Iowa; Manchester, N.H.; and Reno, Nev.
"As time goes on, we're going to ask people to do more complex work," Sandberg said. "What's really going to make this bigger and scalable is having volunteers out in the field who are taking on more responsibility over time."
But for all the work that goes on outside the office, people are still drawn to the physical den of the candidate. Every few minutes, another person spurred on by Sanders walked into the small, unobtrusive office.
Josh Schupp-Star of Burlington said he had to do some searching to find out where the campaign office was. He made his way to Church Street to pick out an array of lawn signs, bumper stickers, key chains and a shirt to take to his in-laws on the South Carolina-North Carolina border.
"They're barely political, but they're getting back into it with this election," he said, expressing worry about whether the lawn-sign posts would clear carry-on security at the airport.
A short time later, Nathaniel Perkins of Burlington arrived with a mission of his own. He was buying a Bernie T-shirt and picking up lawn signs, literature and bumper stickers to take to a NASCAR race in New Hampshire, "knowing there's going to be a bunch of Confederate flags," he said.
"I'm hoping it just sparks some conversation," he said.