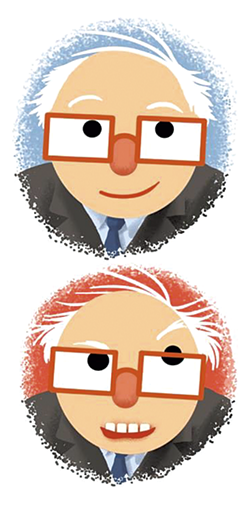 Sen. Bernie Sanders is likely the first politician to get his own emoji. Portland, Me., illustrator and Bernie supporter Scott Nash worked with two app developer friends, Akimitsu Hogge and Wade Brainerd, to create 12 colorful, cartoony "Berniemoji." They show the presidential candidate grinning, glaring, gritting his teeth and yelling in full-on outrage mode.
In an interview with the Portland Press Herald, Nash said he "saw a Muppet-like quality in Bernie, and I mean that in the best possible way."
The Berniemoji aren't official emoji approved by the Unicode Consortium — they're more like "stickers," or images that can be placed into text messages. To access them, download the free Berniemoji app in the App Store.