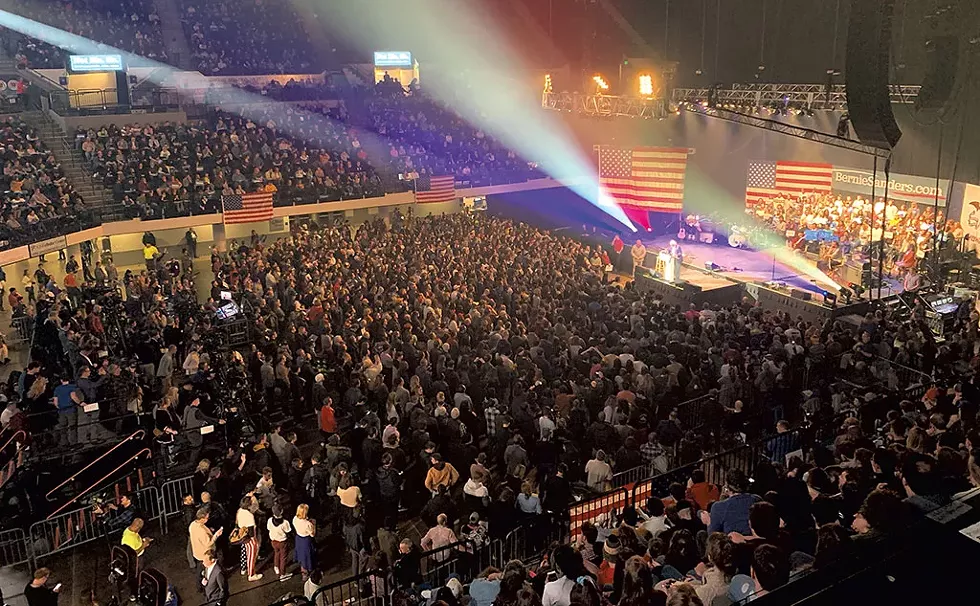 Paul Heintz
Sen. Bernie Sanders at a rally in Cedar Rapids
In the days leading up to Iowa's presidential caucuses, Sen. Bernie Sanders (I-Vt.) promised that Monday would mark "the beginning of the end for Donald Trump."
As it turned out, Tuesday might have been a better bet.
A breakdown in the Iowa Democratic Party's caucus reporting system prompted a 20-hour delay in announcing even preliminary results. As campaigns grappled with the uncertainty and confusion, candidates paraded before television cameras late Monday night to declare preemptive, partial and aspirational victories.
"By the time it's all said and done, Iowa, you have shocked the nation," former mayor Pete Buttigieg of South Bend, Ind., said. "Because by all indications, we are going on to New Hampshire victorious."
In his own remarks that night, Sanders exclaimed, "I have a good feeling we're going to be doing very, very well here in Iowa."
As Seven Days went to press Tuesday night, it appeared that both men might have been right. With 62 percent of precincts finally reporting, Buttigieg was leading the traditional metric of success with 26.9 percent of the delegate count, followed by Sanders at 25.1 percent, Sen. Elizabeth Warren (D-Mass.) at 18.3 percent and former vice president Joe Biden at 15.6 percent.
But due to a rules change orchestrated by Sanders allies after the 2016 election, the party for the first time also released the so-called popular vote totals collected at the start of each caucus. By that metric, Sanders led with 24.4 percent of the vote, followed by Buttigieg with 21.4 percent, Warren with 18.9 percent and Biden with 14.6 percent.
Though subject to change, the preliminary results amounted to major victories for a 38-year-old gay ex-mayor of a minor American city and a 78-year-old senator from Vermont whose candidacy was all but written off last fall when he suffered a heart attack. They were a blow to a former vice president who appeared unable to convert his position in the party to votes or campaign cash.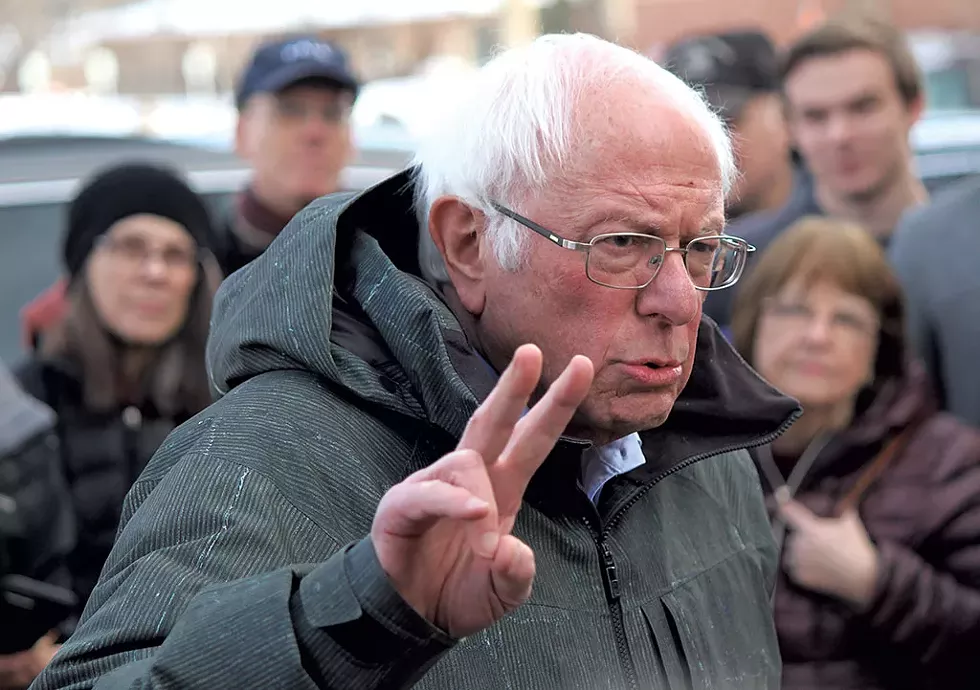 Paul Heintz
Sen. Bernie Sanders outside a Grinnell coffee shop
How much the caucuses would influence the remainder of the race was highly uncertain as of Tuesday night. The initial delay in reporting and incomplete nature of the results would seem to diminish the impact of the caucuses. But with New Hampshire's first-in-the-nation primary just a week away and Super Tuesday's delegate bonanza a month off, the field seemed almost certain to narrow.
No matter the final result in Iowa, Sanders' campaign appeared poised to set the pace for the foreseeable future.
Fundraising reports released last weekend indicated that, as of the end of last year, the Vermonter had more cash on hand than any of his competitors. He leads in nearly every survey of New Hampshire and is holding his own in Nevada, which caucuses 11 days later. Perhaps most importantly, Sanders is ahead in the Super Tuesday state of California, which awards 10 times as many delegates as Iowa.
For the senator's most loyal supporters, victory seemed within reach even before caucus results trickled out.
"I think it's a long time coming for Bernie," Kayla Koerting, a college-age campaign volunteer, said at Monday's watch party in Des Moines. "It's his time to shine."
The Deciders
Paul Heintz
Michael Peake
Four years ago this week, Michael Peake stood near the door of an elementary school in Urbandale, Iowa, paralyzed with indecision. It was caucus night 2016, and Peake — a lifelong Democrat and self-described "proud liberal" — could not make up his mind between Hillary Clinton and Bernie Sanders.
"There are strengths and weaknesses to both candidates," he said at the time. "For instance, Bernie Sanders is a candidate of the hopes that we have. Those are things that we want to see happen. But let's say, if he was in a national election, would he just be painted as a socialist — and, maybe, at that point, he's disqualified?"
Urbandale, a suburb of Des Moines, was evenly divided that night. Of the 311 people who showed up to caucus, 159 eventually sided with Clinton and 148 with Sanders — roughly mirroring statewide results.
By the end of the night, Peake had made his way to the Clinton side of the room. "I just felt that the challenges that Hillary's going to face, she probably will be able to overcome them sooner," he said. "What Bernie's gonna face ... may be another modern-day Red Scare."
Four years later, Peake, now 60, continues to view politics through a pragmatic lens. He wants nothing more than for Trump to be defeated — and he'll take any Democrat who can get the job done.
Days before the caucus, Peake had whittled down his list to Biden and Sanders, but he expressed concerns about both. The former vice president, he said, "might be this year's version of Hillary Clinton" — tainted, fairly or not, by Republican charges of wrongdoing. And though he agreed with Sanders that the nation needed "a political revolution," Peake remained worried that the senator from Vermont would be branded a socialist in the general election.
"What concerns me is, you can't have a revolution until you get to the White House," he said. "You gotta win."
On Monday night, Peake and his wife, Odessa, invited their two grown daughters to dinner in an attempt to lure them to the caucuses. One, 28-year-old Tamera, showed up for the fried chicken. Like her father, she had yet to pick a candidate. "I loved Kamala," Tamera said, referring to Sen. Kamala Harris (D-Calif.), who dropped out in December. "Honestly, I've supported everybody at some point — except Buttigieg and [entrepreneur Andrew] Yang."
Peake, who writes technical manuals for the insurance industry, leaned back in a chair at his dining room table. He said he had almost made up his mind. "I'm still thinking about it, but in the past few days I've been getting closer to Sanders," he said.
The Democratic electorate is changing, he explained, and it's embracing the positions Sanders has held for years. "Millennials and progressives are more engaged, and Bernie Sanders is a candidate who feeds that engagement," Peake said. "He might just ride a wave."
As for the former vice president? "I liked Biden, but as I watch him it seems like there's a certain tiredness," Peake said.
When the family arrived at Webster Elementary School, scores of caucus-goers were making their way into the cafeteria and sorting themselves into groups based on the candidate they supported. Buttigieg backers amassed along one wall, Warren supporters along another, and the sole caucus-goer for Rep. Tulsi Gabbard (D-Hawaii) stood by herself near the middle of the room.
Peake chatted with a group of strangers and then ambled toward the back of the room where a sizable Sanders crowd was gathering, sharing space with a much smaller contingent for Yang. Precinct captain Katie Leeper handed Peake a Sanders button as he joined her tribe. "It's official," he remarked.
Odessa, meanwhile, took a turn toward Team Biden. "I think he could beat Trump," the elementary school teacher explained. Tamera lingered with her mother for a moment, and John Fletcher, a precinct captain for Biden, tried half-heartedly to persuade her to stay. "He's got the experience and character to be a successful president," said Fletcher, who wore a blue Biden campaign shirt and khakis. "One the world can respect."
But Tamera, who works in accounting and is studying web development, had settled on Warren, citing the candidate's proposed wealth tax. "It's just one of those things that makes so much sense," she said. "How the hell can people afford a yacht while I'm working and going to school part time?"
Paul Heintz
Rick Smith leads a caucus in Urbandale
Soon after 7 p.m., precinct chair Rick Smith climbed up a step stool with a microphone in hand and announced that the caucus had begun. "Thank you for coming!" he said. "Fantastic!"
Smith noted that the exact same number of precinct residents who had caucused in 2016 had shown up again this year: 311. According to the arcane rules of the Iowa caucuses, that meant campaigns had to win 47 votes in Urbandale, or 15 percent of the total, in order to remain "viable" and collect delegates.
It soon became clear that half a dozen candidates had not met that threshold, including Sen. Amy Klobuchar (D-Minn.), who attracted just 35 supporters in the precinct. Biden narrowly attained viability, with 48 backers. Odessa, it seemed, had made the difference.
At first count, Sanders led the way with 81 votes, followed by Warren with 65 and Buttigieg with 60. But in the second round, as supporters of Klobuchar and other eliminated candidates realigned with campaigns that had met the threshold, Sanders lost his lead. By the end of the night, he tied Buttigieg with 84 votes apiece, followed by 78 for Warren and 58 for Biden. The top three candidates each won three delegates, while Biden took two.
Peake, however, felt optimistic about his newfound candidate's chances. "I have a feeling it's gonna be a good night for Bernie," he said.
A Broader Spectrum
Paul Heintz
Sen. Bernie Sanders at his victory party in Des Moines
In the days and weeks before Monday's caucuses, young people poured into Iowa to campaign for Sanders, the oldest candidate in the race. Among them was Emily Isaacson, a 24-year-old community organizer from Chicago who spent last Friday morning tromping around Iowa City, knocking on doors.
"I wanted to come out to Iowa leading up to the caucus to talk to young people about why Bernie Sanders is the Green New Deal champion we need," she said, referring to legislation that would fight climate change and economic inequality. "He's not willing to settle on the issues."
After a day of campaigning along snow-covered sidewalks, Isaacson rewarded herself by attending the first night of what some had taken to calling "Bernchella" — a pair of weekend concerts in Clive and Cedar Rapids organized by the Sanders campaign and featuring performances by Bon Iver and Vampire Weekend.
For a campaign trying to shed its image as a haven for "Bernie Bros" — those noxious, young, white males eager to mansplain on social media — it would seem a curious choice to book two of the hipsterest bands around. But everything else about the rallies spoke to the campaign's earnest efforts to strike a more inclusive tone than it did in 2016, at least when it came to demographics.
Many of the speakers who graced the stage both nights — and many of those who campaigned alongside Sanders during his final days in Iowa — were prominent women of color: among them, former Ohio state senator and campaign cochair Nina Turner, Rep. Rashida Tlaib (D-Mich.), Rep. Ilhan Omar (D-Minn.), Rep. Pramila Jayapal (D-Wash.) and Dionna Langford of the Des Moines School Board. Each of these surrogates and Sanders himself repeatedly referred to the campaign as "a multiracial, multiethnic, multigenerational and multi-gender" movement.
Unlike the leadership of his 2016 campaign, which was largely white, male and Vermonty, the top brass of this year's organization is dominated by women and people of color. Sanders' supporters have taken notice.
"He is the one who has the most diverse coalition," said Kenya Senecharles, another 24-year-old volunteer from Chicago. "I think his message speaks to a broad spectrum of people."
Senecharles doesn't think much of the Bernie Bro stereotype. "As you can see, I'm young, but I'm not white. I'm a black woman," she said. "I think that message erases people like me who just believe in the message and want things to change."
Enrico Doan has come to a similar conclusion. As he drove three fellow Seattleites and a reporter to a canvass location in Clive last Friday, he noted the diversity of his passengers. "You're riding in a car with three people of color," said Doan, a son of Vietnamese refugees who identifies as disabled, poor and queer. "Speaking on behalf of all of us, we've all experienced incredible forms of discrimination, police brutality, queerphobia and poverty."
Doan continued: "Yes, Bernie's an old, white man. There's nothing to change that. But the fact is that he surrounds himself with people who have a lived experience of what we have understood our lives to be, and that's something that's really important."
There's some evidence to suggest that those efforts are paying off. As the New York Times noted last week, recent polls of delegate-rich California and Texas show Sanders winning a plurality of the Latino vote there, in part because the Hispanic population is younger than other groups, and Sanders does well among young voters.
A national poll released last month by CNN showed the Vermonter taking 30 percent of the nonwhite vote, compared to Biden's 27 percent. In South Carolina, the fourth state to vote, Biden still draws twice as much support from blacks as Sanders, according to a Post and Courier poll released Sunday, but his overall lead has dropped to five points. If Sanders can pick up more support from African Americans there, Biden might have a hard time prevailing in a must-win state.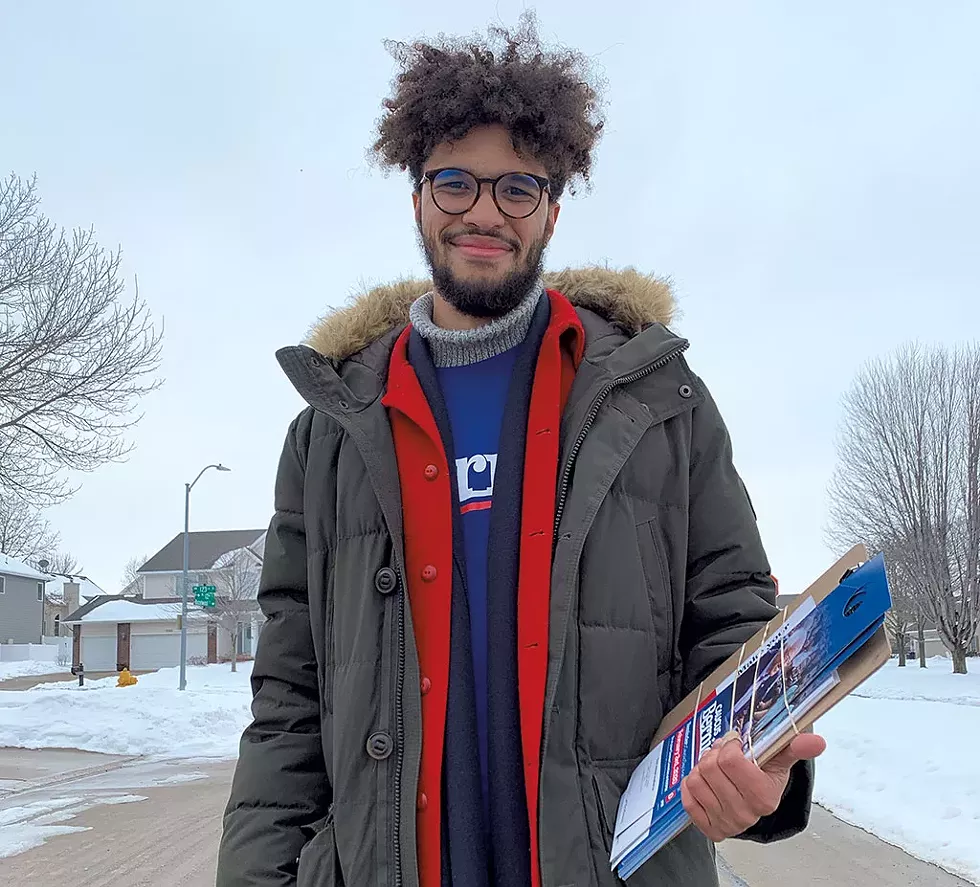 Paul Heintz
Munya Chiro
When Doan's rented Ford Taurus reached a cookie-cutter housing development in Clive, Munya Chiro hopped out with a handful of door hangers. Chiro, 24, pulled out his smartphone and opened up a Sanders campaign app that directed him to certain houses. With just two days remaining until the caucuses, the campaign was no longer trying to win over new voters; instead, it was reminding identified supporters to show up on Monday.
"Around this time, there's not many people actually home," Chiro said, steeling himself for disappointment.
There were, however, plenty of pets. "A lot of these houses have dogs," he said as a pooch greeted his knock with yips. "I kind of read the dog's body language. If they look over and look up, there's usually someone there. But if they're kinda staring like this, I don't know. Cute dog, though."
The son of a Zimbabwean immigrant, Chiro traces his activism to his grandparents' participation in the country's war for independence. He also points to former Starbucks CEO Howard Schultz's 2006 decision to sell the Seattle SuperSonics, which led to the team's relocation to Oklahoma City. "It broke my heart and the city's heart," he said. "It was like, how the fuck does one person hold, like, that much power over something so important to me?"
Chiro, a program manager for Microsoft, volunteered for Sanders' 2016 campaign and subsequently joined the Democratic Socialists of America. He, Doan and their friends in the Taurus all worked together on a Seattle City Council campaign for an African American socialist. More recently, they decided to fly to Iowa to volunteer for Sanders.
According to Chiro, Sanders is the rare presidential candidate who understands the systemic oppression marginalized groups face. "I'm a black man in America, knowing that holding a little marijuana can get me locked up for 20, 25 years, even for life in some states," he said. "And Bernie's the only one who seems to seriously care about that stuff."
'16 Candles
Paul Heintz
U.S. Reps. Rashida Tlaib, Pramila Jayapal and Ilhan Omar
If Sanders has learned how to build a more racially and ethnically diverse movement since 2016, his campaign still hasn't figured out how to mend fences with the Clinton wing of the Democratic Party.
That became clear yet again Friday night as Reps. Tlaib, Omar and Jayapal joined Langford, the Des Moines School Board member, onstage at the Clive concert and rally for a panel discussion. When Langford mentioned the name of Sanders' 2016 rival, Hillary Clinton, the crowd immediately booed.
"We're not gonna boo. We're not gonna boo," Langford said, trying to head off the inevitable. "We're classy here."
"No, no. I'll boo," Tlaib responded. "Boo!" Jayapal, seated to her left, grabbed Tlaib's arm in what seemed an effort to silence her.
"You all know I can't be quiet. No, we're gonna boo," Tlaib said. "That's all right. The haters will shut up on Monday when we win."
Though Sanders had nothing to do with the exchange — he was stuck in Washington, D.C., at the time, taking part in Trump's impeachment trial — it immediately touched off a predictably viral series of events. Clinton partisans pounced, and Sanders supporters grew defensive. Tlaib issued a quasi-apology, pledging to "come from a place of love and not react in the same way of those who are against what we are building in this country."
Sanders campaign manager Faiz Shakir absolved her of her sins, writing on Twitter, "Rashida, you're all good. We love your passion and conviction. Don't change." Clinton spokesperson Nick Merrill replied, calling Shakir's statement "unbelievable."
"It's not enough that she booed her party's last nominee, but they're making sure it's clear she doesn't have to regret it," Merrill complained. "If Sanders got the nomination, he'd need the same 66 million votes. His campaign may not know that that's how you beat Trump, but voters do."
Sanders is hardly responsible for reigniting the feud. It was Clinton who, in a forthcoming documentary and a media tour to promote it, went on the attack first, saying, "Nobody likes him; nobody wants to work with him; he got nothing done." But Sanders' campaign appeared to relish the attention, deftly using it to raise money and frame him as the underdog battling entrenched corporate interests.
The tactic may work to refill his coffers and gin up his base as early voting begins, but it risks alienating those who may not want to spend the rest of time relitigating the 2016 primary. In recent days, both Warren and Buttigieg have gone out of their way to say they're looking forward, not back.
"This is no time to get caught up in reliving arguments from before," Buttigieg said last week in Iowa. "The less 2020 resembles 2016 in our party, the better."
There's also a real danger for Democrats that, if Sanders loses the nomination, his most devoted supporters may sit out the general election, as some did in 2016.
Paul Heintz
Linda Bennett
The morning after Tlaib booed Clinton, Linda Bennett stood in line for a Sanders campaign stop at Indianola's Simpson College. Calling herself part of "the mean girl movement," the 58-year-old Des Moines resident said she stood with Tlaib. "We are not with Hillary," she said. "We are with Bernie."
"I'm angry," Bennett said. "I don't want the same old, same old. I want something new for our country. Hillary could not unite us before, and with her tearin' apart the leading candidate for the people makes me feel like I'm not a Democrat, and I've been one my whole life." Bennett said that if former New York City mayor Mike Bloomberg were to win the nomination, she would desert the party and potentially vote for Joe Walsh, a Republican challenger to Trump.
The next day, at a Sanders field office in Newton, 44-year-old Angela Hodge said she had voted for Sanders in the 2016 primary — and written him in during the general election. "I don't like Trump and I wasn't gonna vote for Hillary," she said, citing Clinton's support for abortion rights. (Sanders also supports abortion rights.)
Hodge, a certified nursing assistant and paraeducator who lives in Newton, said she might do the same in 2020 if Sanders doesn't make the cut. "I'm 100 percent Bernie and, you know what, depending on who's on the ballot, I will probably write him back in," she said.
Bern, One Down
Paul Heintz
Jane O'Meara Sanders at a rally in Clive
In September 2014, Sanders crossed the Mississippi River in a rented Toyota Camry with his wife, Jane O'Meara Sanders, and two aides. It was his second trip to Iowa since the unknown senator from Vermont had begun to hint that maybe — just maybe — he would mount a long-shot bid for the presidency.
In an interview with Seven Days shortly before he packed his bags, Sanders said he hoped to answer two questions when he traveled from Dubuque to Des Moines: "A: Is there the interest in Iowa for a strongly progressive agenda? B: Is there a willingness on the part of people to become actively involved in a grassroots campaign?"
By the time he took off from Des Moines this Tuesday on a chartered jet, Sanders had long since made clear that the answer to both questions was yes. Win, lose or draw at the 2020 caucuses, the senator from Vermont had outdistanced some two dozen Democratic rivals and set himself on a path that could plausibly lead to the party's presidential nomination — and even the White House.
"And now it is on to New Hampshire, Nevada, South Carolina, California and onward to victory," Sanders exclaimed during his caucus night party.
As he continues his tour through the early states, Sanders will carry with him a number of advantages: a replenishable war chest, an experienced campaign team, a devoted base, a road-tested message and sharp political instincts.
But he will also encounter a host of new hurdles. As an undisputed front-runner, he will face increased attacks on his policies and record — and a stream of opposition research that hasn't yet seen the light of day. Sanders has benefited thus far from a fractured field, but as his opponents drop out, he will have to attract a greater share of the delegate count and expand beyond his base. If billionaire candidates such as Bloomberg and Tom Steyer continue to flood the primary with cash, even Sanders' vaunted money machine may not suffice.
When Sanders arrived in New Hampshire on Tuesday, he was ready to re-declare victory. "I am proud to tell you that last night in Iowa we received more votes in the first and second round than any other candidate," he said at a rally in Milford.
Sanders noted, "For some reason in Iowa, they're having a little bit of trouble counting votes." But, he continued, "I am confident that here in New Hampshire, I know you'll be able to count your votes on Election Night. And when you count those votes, I look forward to winning."