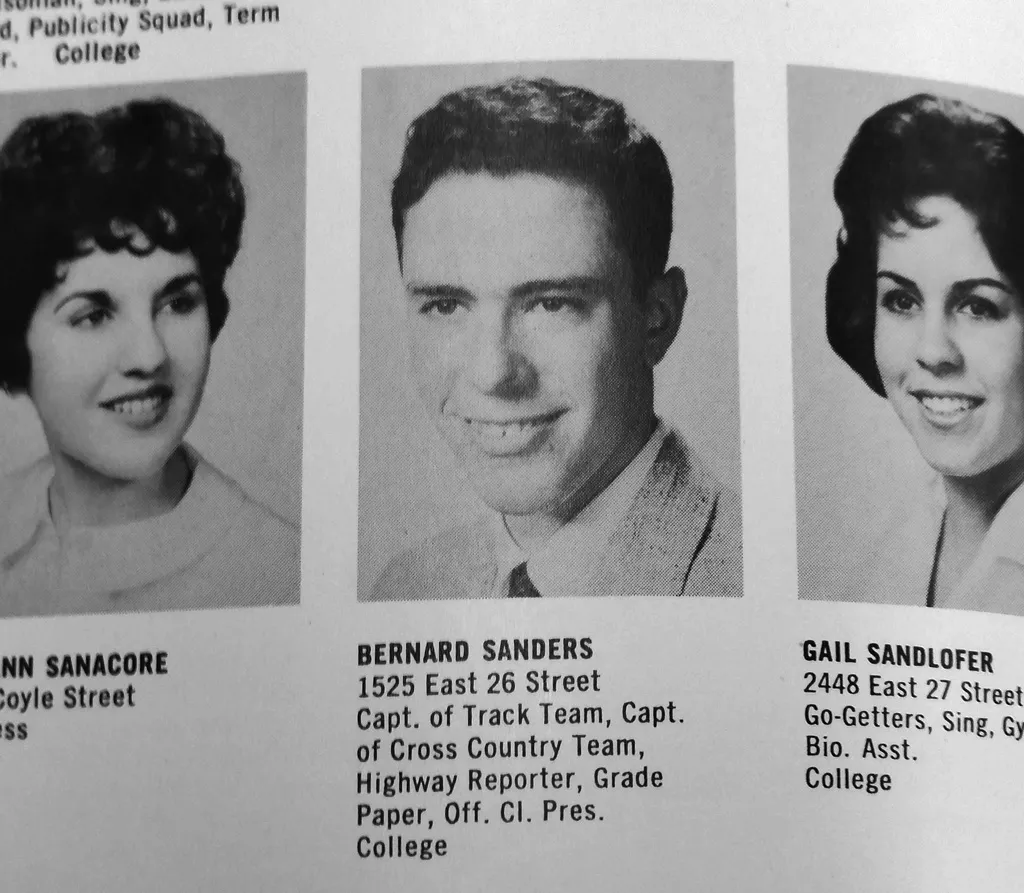 In Brooklyn, a 40-minute subway ride separates Hillary Clinton's Brooklyn Heights presidential campaign headquarters from the Midwood apartment house where Bernie Sanders grew up in the 1940s and '50s. Culturally, however, the distance is vast.
The respective locations say a lot about the values and politics of the two candidates — particularly those of Sanders, whose views were shaped in that stolid old neighborhood of strivers. His Brooklyn youth marked Sanders with more than the accent he shares with Larry King, Barbra Streisand and Jay Z.
Kevin Kelley
Bernie's old Midwood residence
Clinton has set up camp at 1 Pierrepont Plaza, a 19-story office tower that also houses the wealth management firm Morgan Stanley, beneficiary of a $107 billion bailout. The building is advertised as epitomizing "Brooklyn cool."
There's nothing cool about the six-story, beige-brick building where Sanders lived with his father, Eli, a Polish immigrant and paint salesman; his mother, the former Dorothy Glassberg; and his older brother, Larry. The 89-unit building at 1525 East 26 Street was surely in better condition when the Sanders family occupied apartment 2C, where Bernie and Larry shared one of the two bedrooms.
Inside, there's trash on the floor of the drab lobby and in the 83-year-old building's creaky elevator. Cooking aromas waft through the halls, which are abuzz with tenants chattering in Russian and Spanish.
Jake Lopez, son of the building's superintendent, said the place hasn't changed much in the 33 years he's lived there. Most of the residents are older Jews, with a growing proportion of Asians and Latinos, reported Lopez, who's studying for a physical training degree at nearby Kingsborough Community College. "It's a good building — pretty quiet, except when the Mexicans on the first floor have birthday parties," Lopez said with a smile.
His eyebrows lifted when a reporter informed him that a candidate for president of the United States used to live in the building. Lopez said he's never heard of Bernie Sanders, who declined to be interviewed for this story.
It's a 10-minute walk along leafy streets of mostly single-family homes to James Madison High School, where Sanders excelled academically and athletically and exhibited what became an abiding interest in journalism. Sanders' entry in Madison's yearbook, Log, notes that he captained both the track and cross-country teams, served as class president, and reported for the student newspaper, the Highway, before graduating in 1959.
The well-maintained, bustling six-story building on Bedford Avenue housed more students in Sanders' day than the 3,200 who presently attend Madison. Martha "Marty" Weinstein Alpert, president of the school's alumni association, says about 5,000 students were enrolled when she and Sanders were studying at Madison. Back then, the school day was divided into morning and afternoon sessions to accommodate them all, recalled Alpert, who graduated in 1957.
Kevin Kelley
James Madison High School
As a cheerleader at track meets, Alpert watched Sanders run but didn't know him personally. He was a star even as a sophomore, she said.
Madison was "a wonderful place to go to school," Alpert attested. "I walked out of there with the equivalent of a four-year college education. Many of the teachers were ancient but excellent."
The school was much more ethnically homogeneous 60 years ago, when, Alpert estimated, Jews accounted for about 90 percent of the student body. And due in part to their strong emphasis on education, Madison ranked as one of New York City's best public academic institutions, she said.
Jewish immigrant parents instilled in their children "the mentality that we came here to give you this wonderful life, and you've got to take advantage of it." Alpert explained. "And the way to succeed is by getting a good education."
Madison had an intensely political vibe in the '50s, she noted. In addition to discussing national and international issues, many morning homeroom classes debated school politics.
The Madison Knights listed leftward, as did the views of the neighborhood's adults. Larry Sanders, Bernie's older brother, described mid-20th-century Midwood as a Democratic Party stronghold committed to the activist, big-government principles of Franklin Roosevelt's New Deal. Alpert agreed, saying that in the era of the Brooklyn Dodgers, "a Republican in that neighborhood was as rare as a Yankees fan."
Midwood isn't quite as progressive today. As in many parts of Brooklyn, the Orthodox Jewish community has grown substantially. And unlike most secular or reform Jews, many Haredim vote Republican. In 2012, GOP presidential candidate Mitt Romney captured about 90 percent of the vote in some heavily Orthodox Jewish precincts in Brooklyn, while overall the borough of 2.4 million residents delivered an 81-18 percent landslide for Barack Obama.
Madison still has a sizable Jewish enrollment, but whites now make up a 44 percent minority of students. "We're an accurate reflection of the demographics of New York City," said principal Jodie Cohen. Asian Americans account for 20 percent of the student body, while the African American and Latino communities each contribute 17 percent. Of the remaining 2 percent, 1 percent is Native American and 1 percent falls into the "other" category.
As Cohen led Seven Days on a tour of the building, she paused every minute or two to tell a student to remove a hat or stop texting. With summer break beckoning, the corridors rang with laughter as students changed classes. "They're good kids — ladies and gentlemen," Cohen said. "But what can I tell you? I'm in charge of a place with 3,200 teenagers."
The school still seeks to uphold the claim that's emblazoned above its main entrance: Excellence in Education. More than three-quarters of Madison's students enter a two- or four-year college, according to the New York City Department of Education. But only a few attend private universities, noted social studies teacher Mike Ciampi. "Most of our kids can't afford that," he said.
The school's positive reputation and wide range of academic and extracurricular offerings — including 39 sports teams — have caused enrollment to steadily increase in recent years, Cohen pointed out. "We're getting students from private schools, both Catholic and yeshivas," said the principal, who is an '89 Madison alum.
The school's entrance is more physically secure than it was when Sanders attended. And after passing through a metal detector manned by a burly guard, visitors and students are now greeted by a Wall of Distinction that features photos of notable alumni. They include four Nobel laureates, Supreme Court Justice Ruth Bader Ginsburg, songwriter Carole King, snarky comedian Andrew Dice Clay (born Andrew Clay Silverstein) and three U.S. senators: Norm Coleman of Minnesota; Chuck Schumer of New York; and Bernard Sanders of Vermont. (Coleman served a term as a Republican; Schumer is a Democrat; and Sanders, currently Vermont's junior senator, is an independent.)
Ciampi recalled Sanders' talk to Madison students in 2008, on the occasion of his Wall of Distinction plaque dedication. "He said he owed everything to what he got from this building," Ciampi said during a conversation in the principal's office. "He said he wanted to give something back to Madison."
"We're all very proud that a Brooklyn-born-and-bred man and a Madison alum is running for president," said Larry Melamed, an English teacher at the school. He and principal Cohen both said they hope Sanders will speak again at the school, regardless of whether he succeeds in his quest for the White House.
Sanders can count on getting the vote of alumni association head Alpert, who now lives in suburban Westchester County. "I was a Hillary girl in 2008," Alpert said, referring to Clinton's race against Obama for the Democratic presidential nomination. "But I'm for Bernie now. He's a genuine article, and Hillary is not."
Sanders may also appeal to some conservatives, Alpert added, citing a few of her "Bernie-loving" Republican friends as examples.
Either Clinton or Sanders would be preferable to whomever the GOP nominates, suggested Alpert, who worked for a time as an aide to a liberal Democratic congressman who represented parts of Queens and the Bronx. "I can't even talk to you about that Republican clown parade," she said, emphasizing that she is speaking in a personal capacity. "Such schmoes."