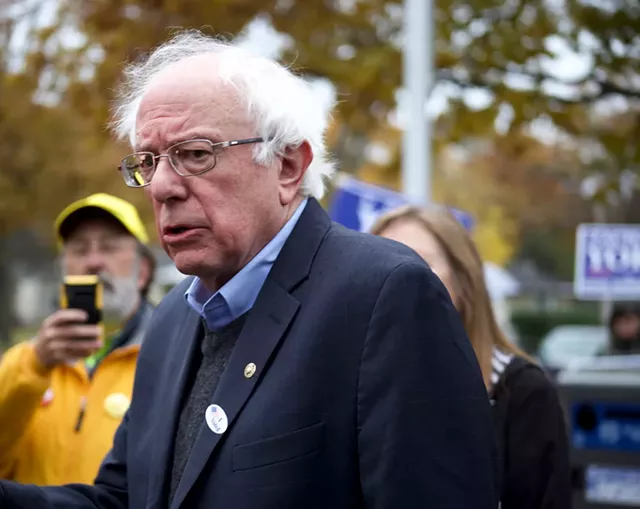 Sophie MacMillan
Sen. Bernie Sanders
Even as U.S. Sen. Bernie Sanders (I-Vt.) mulls a second run for president in 2020, he faces allegations of sexism and sexual misconduct within his 2016 campaign.
As has often been the case when Sanders is asked tough questions, particularly about issues of race or gender, his response has been, well, a little tone-deaf.
The latest controversy began last week when Politico posted a letter sent by former Sanders staff requesting an in-person meeting with the senator and his leadership team "to discuss the issue of sexual violence and harassment" in his presidential campaign. (The "violence" part has often been left out of the ensuing press coverage.)
In an interview with CNN's Anderson Cooper, Sanders expressed pride in his campaign and then offered a painfully circuitous non-apology.
"I am not going to sit here and tell you that we did everything right in terms of human resources, in terms of addressing the needs that I'm hearing from now, that women felt they were disrespected, that there was sexual harassment which was not dealt with as effectively as possible," Sanders told Cooper. He then noted that his 2018 senatorial campaign employed a new regime, which included "the strongest set of principles in terms of mandatory training, in terms of women, if they felt harassed, having an independent firm that they can go to."
Sanders called that "the gold standard of what we should be doing."
Well. First, "not dealt with as effectively as possible" is the lamest possible way of putting it. Second, a true apology doesn't put the onus on the victims — the women who "felt they were disrespected." Take the felt out of it, and try again.
Third, that's an incomplete vision of "the gold standard." As CNN commentator Sally Kohn put it, "The gold standard is taking responsibility for the culture you as a leader create and doing everything in your power, rhetorically and otherwise, to root out toxicity within it."
Sanders failed to do so. Instead, he told Cooper he was "a little bit busy" at the time.
Sure. Nobody expects Sanders to run his own HR department. But Sanders had ultimate responsibility for the culture of his campaign. Even as he promised to uphold women's rights, he seemingly failed to do so in his own house.
This isn't the first time Sanders has been off-target on issues related to gender and race. After several high-profile black candidates lost in last November's midterms, Sanders posited that "there are a lot of white folks out there who are not necessarily racist who felt uncomfortable" voting for a black person. He opened an October campaign rally for transgender Vermont gubernatorial candidate Christine Hallquist with a callout to "brothers and sisters," a binary formulation that's a little bit dated nowadays.
Sanders would argue that these were isolated incidents. But his take on American politics has consistently emphasized class over race and gender. As he was launching his 2016 presidential campaign, he said, "You should not be basing your politics based on color," and he bemoaned the Democratic Party's failure to appeal to "white, working-class people." He explained the Donald Trump phenomenon in economic terms and rejected the idea that most Trump voters were racist or sexist. Which ignores the fact that white men were far more likely to vote Republican than women or people of color.
The media coverage of the Politico letter has come at a touchy moment for Sanders. Even as he ponders a second presidential bid, a crowded Democratic field is materializing. Sen. Elizabeth Warren (D-Mass.) formed an exploratory committee last week and began hiring campaign staff. Several others are expected to follow in short order.
In 2016, Sanders quickly emerged as the sole voice of the party's progressive wing. He offered a clear contrast to eventual nominee Hillary Clinton. In the 2020 contest, Sanders may face several candidates who could appeal to his voters. And his mastery of small-donor fundraising is no longer his alone; former U.S. representative Beto O'Rourke raised nearly $79 million last year in his unsuccessful bid to represent Texas in the U.S. Senate.
Sanders remains a popular figure with left-wing voters, but he's entering a much different kind of race. If he continues to be dogged by unresolved questions and continues to offer inadequate responses, he risks losing supporters and staffers who'll be able to choose a progressive candidate with a little less baggage.
The Pragmatic Progressive
Two years ago, as President Trump took office, U.S. Rep. Peter Welch (D-Vt.) wondered whether he should change his approach from collaborative to confrontational. With Republicans in firm control, he told Seven Days in December 2016, "There will be times when I will have to be much more oppositional than I have been in the past."
Welch was vocally oppositional, but he continued to seek common ground across the aisle. As a member of the bipartisan Problem Solvers Caucus, he's sought cooperation in a time of political wall-building. It's been a noble but largely fruitless endeavor. "Their track record is nonexistent," U.S. Rep. Raúl Grijalva (D-Ariz.) told the Washington Post.
The Problem Solvers have a bad reputation among progressives. The caucus was the brainchild of No Labels, a nonprofit that preaches cooperation but is fronted by centrists and largely funded by wealthy donors. It generally opposes the kinds of progressive legislation Welch claims to support.
The November election gave Democrats a majority that includes some loud-and-proud progressives with little patience for the Problem Solvers' approach. Welch said he would remain in the caucus, although he's a little defensive about it. "There's a whole controversy about that on the outside. On the inside, it's member-to-member," Welch said. "It's a way for me to have connections and build relationships with some of my Republican colleagues."
Welch is an enthusiastic proponent of "pay as you go," the House rule that requires that any new appropriations be offset by spending cuts or tax increases. PAYGO, as it's known, had been bypassed in the Republican Congress, but the Democratic caucus has voted to abide by it. "I see PAYGO as a way for us to find progressive sources of revenue to pay for progressive priorities," Welch explained.
Sanders is skeptical about the rule, and some of the senator's new House allies voted against it. "PAYGO isn't only bad economics, it's also a dark political maneuver designed to hamstring progress," said U.S. Rep. Alexandria Ocasio-Cortez (D-N.Y.), the House's highest-profile new progressive.
By comparison, Welch sounds like a political moderate, arguably out of step with his Bernie-lovin' home state. Welch doesn't agree. "Look at my voting record," he said. "I'm one of the most progressive members of Congress. But I'm definitely pragmatic. I do have a temperament that is oriented toward getting things done."
There's a philosophical question in all of this. Is it better to get things done even if it means compromise? Or is it better to aim for an ideal even if it means short-term defeat? The Affordable Care Act, proudly supported by Welch, was a compromise version of health care reform. It provided coverage to millions of Americans — but its weaknesses left it open to political (and judicial) attack. Would it have been better to aim for universal coverage? Sanders would say "Yes." Welch would probably say, "Yes, but it might have to be done incrementally."
They are very different people, but Sanders and Welch are both supremely popular with their constituents. They sailed to reelection in 2018, partly because Republicans failed to identify competitive challengers. But also, seemingly, because Vermonters like a little bit of both: the firebrand and the pragmatist.
Media Notes
Stop me if you've heard this before. The Burlington Free Press has made another round of cutbacks as part of a nationwide belt-tightening by corporate parent Gannett.
The paper is trimming two editor positions. Executive editor Michael Kilian is leaving Burlington to lead the Gannett-owned Rochester, N.Y., Democrat and Chronicle. Kilian will oversee Free Press coverage as Gannett's editor for New York and Vermont, while digital director Emilie Stigliani will manage newsroom operations on a day-to-day basis. The two are assuming duties that had been handled by three people.
Editor Dennis Redmond, a 21-year veteran at the Free Press, has accepted an early retirement buyout. "He's been the guru of the print edition," said Kilian. But the print edition is becoming less and less important, Kilian acknowledged, as Gannett pivots increasingly to digital. Redmond's position "almost certainly" won't be filled, said Kilian. With the changes, it appears that only two editors remain at the Freeps: Stigliani and digital news editor Evan Weiss. Which will mean a drop in quality control over the stuff that's published or posted. But hey, in the digital world, you can correct mistakes any time, right?
The Free Press has also dropped three longtime columnists. University of Vermont economist Art Woolf's weekly column has come to an end. The paper has cut ties with longtime food writer Debbie Salomon, who's been writing the Table Talk column since retiring as a full-time reporter in 2002. And Henri de Marne's home repair column will no longer appear. According to Kilian, the 93-year-old de Marne "had asked to go to a much-reduced frequency, and we decided it would be best to draw his marvelous run to a close."
Meanwhile, Brattleboro's radio scene lost a key local presence at the end of 2018. 92.7 WKVT BrattFM axed its daily "Green Mountain Mornings" show and fired its host, Olga Peters.
"It's one of the best jobs I ever had," Peters said. "Its loss reflects the struggles facing local media right now."
The writing had been on the wall for Peters since last June, when WKVT's schedule of syndicated talk programs was replaced by a music format. "Green Mountain Mornings" became the station's lone talk offering.
Both stations are part of the Monadnock Radio Group. General manager Paul Kelley did not respond to requests for comment.
On a less gloomy note, the Commons is still hanging in there. The Windham County nonprofit weekly had a rough 2018 after losing a major benefactor who'd been giving $60,000 a year. "Initially, we had a temporary staff furlough," said editor in chief Jeff Potter. "I took a pay cut. We've since restored operations."
Still, the situation was precarious enough that Potter made a public plea on Facebook last month. "We really need about 50 new members to help us close this shortfall, once and for all, and to stop the squirming, scrambling, and anxiety," he wrote.
This week, Potter reported that the post brought in "several thousand dollars and quite a few new members."
So perhaps the Commons is a little less squirmy, at least for now. But journalism is in an uncomfortable state. For executives, tough choices abound. For those in the trenches, the hamster wheel spins ever faster, and job security is a distant dream.