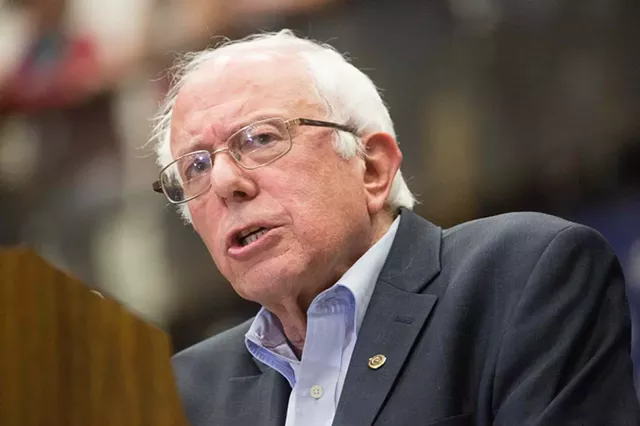 File: eric tadsen
Sen. Bernie Sanders
Right about the time this newspaper hits the streets, Sen. Bernie Sanders (I-Vt.) will officially propose his long-awaited "Medicare for All" legislation. Vermont's junior senator has been teasing the announcement for at least six months, but now it is finally coming to pass.
Which raises a couple of questions. First, why did it take so long?
The short answer: It takes time to put together a real piece of legislation and line up as much support as possible.
The second question is, why now? The issue's going nowhere in this Congress, and the nation's political agenda is overcrowded these days, even by the wacky standards of the Trump Era.
Sanders' apparent goal is to influence Democratic Party politics. He is putting party leaders and officeholders on notice — pressing them to support a specific piece of legislation leading to single-payer health care.
Let's go back to the first question: Why did it take so long?
This may surprise those who see Sanders as an aggressive pol with only one gear — overdrive — but supporters say he has been careful and deliberate. (Sanders' office did not respond to requests for an interview with him or a spokesperson.)
"The senator wanted to take the time to get it right," says Charles Chamberlain, executive director of Democracy for America, the progressive advocacy group founded by former Vermont governor Howard Dean. "Set the tone for a conversation, put together a solid bill and build broad support."
"When Bernie first went to Congress, he introduced a single-payer bill," says University of Vermont English professor Huck Gutman, a former Sanders chief of staff who now serves on the governing board of Our Revolution, Sanders' post-campaign advocacy organization. "That is still the armature of what he wants to do, but he realizes you can't do it all at once."
Gutman said Sanders' bill would expand Medicare to include people between the ages of 55 and 65 as a first step.
"What's taken time is to figure out how to phase in single-payer," Gutman said. "He's been trying to work out a bill that will be credible to people. It takes a while."
So, the fire-breathing democratic socialist is playing a long game.
"This is the beginning of a serious, movement-building campaign," says Chamberlain. "This is the opening salvo in that campaign."
And the opening salvo is aimed at the Democratic Party, not at Republicans in Congress.
"Democrats are going to have to figure out how to move towards giving people what they want [on health care], without the threat that they might be worse off," says Gutman, referring to Republican attacks on the Affordable Care Act. By contrast, Gutman says, "Medicare for all" ties single-payer to a well-known and popular federal program. It's an easy political sell, suitable for a button or bumper sticker.
Chamberlain sees this as the moment to push the Democratic Party leftward. "The party is going through changes," he notes. "The corporate wing of the party is dying; the progressive wing is growing. The progressive movement is starting to change the party on key issues."
And you know what? It's kind of working.
"We're expecting to have more than 10 sponsors," says Gutman. That includes "virtually all [Democratic senators] who might run for president in 2020. That says something about where the political center of gravity is going."
Those prospective candidates signing onto Sanders' bill include Sens. Kamala Harris (D-Calif.), Elizabeth Warren (D-Mass.) and Cory Booker (D-N.J.). Even moderate Democrats such as Sen. Jon Tester (D-Mont.) are inching toward single-payer, according to the Washington Post. And former Montana senator Max Baucus, a Democratic committee chair who was a crucial opponent of single-payer during the Obamacare debates, has just endorsed the idea.
Sanders' two Vermont colleagues are supportive as well. David Carle, spokesperson for Sen. Patrick Leahy (D-Vt.), says the senator "will be an original cosponsor" of Sanders' bill. Congressman Peter Welch (D-Vt.) has not taken a position on the proposal, but he has been a cosponsor of "Medicare for all" bills in the House every year since 2007.
Even so, "Why now?" is a fair question to ask. While his colleagues are fighting trench warfare against Trump and congressional Republicans, Sanders is firing his "opening salvo" elsewhere. Why not engage in saving the Deferred Action for Childhood Arrivals program, beating the drum for reproductive rights or promoting action against climate change?
Simple answer: Sanders isn't a foot soldier. He's a movement leader who sees a historic opportunity — and that's more important to him than current issues in Washington.
And if Gutman and Chamberlain are right, what seems like an ill-timed and fruitless legislative maneuver may prove to be a turning point in the health care debate and in Democratic politics, as more and more top officials publicly commit to single-payer.
Since Sanders launched his long-shot presidential bid, he has repeatedly defied conventional wisdom. Now he is positioning himself to do it again.
Welcome, Freshmen
On each of the last two Fridays, Gov. Phil Scott has filled a vacancy in the legislature. On September 1 he named Republican Chris Mattos to replace Ron Hubert, a Milton Republican who resigned from the House in July. Then, on Sept. 8, Scott named independent Ed Read to take the Mad River Valley seat formerly occupied by Adam Greshin, a Warren independent who is now Scott's finance commissioner.
Mattos is a financial specialist at the University of Vermont Medical Center and a real estate broker in Milton. In fact, he works in the Century 21 Jack Associates office headed by House Minority Leader Don Turner (R-Milton).
"He's a bright young guy," Turner says of his 28-year-old seatmate and officemate. "His family is from Milton. He grew up in Milton. I think he will resonate with voters." Turner describes Mattos as "fiscally conservative."
This will be Mattos' first entry into politics. He was partly inspired by his grandfather, Paul Robar, who served in the legislature from 1983 to 1984. Also, the new rep notes, "There are few people in the legislature my age. I'm looking to be another voice for my generation."
By 2019, Mattos could be the senior member of his town's delegation. Turner is the interim town manager of Milton and the sole candidate for the permanent position. If he gets the job, he may have to leave the Statehouse at the end of his two-year term, though he promises to be "in the legislature for the 2018 session."
The other new lawmaker, Ed Read, is president of Mad River Property Management.
"We manage a lot of condo associations and also maintain second homes," he explains. "I have 12 full-time employees, plus up to 35 others in peak season, April through October."
A pretty good fit for the January-May legislative calendar, eh?
"The only reason I could consider this is the seasonal fit," Read says. "I'll just have to get another plow guy."
Read has been a member of the Fayston Selectboard since 2002 and ran unsuccessfully for the legislature in 2014 as an independent.
Scott was seeking a person without a party label to replace the independent Greshin. Read fits the bill. "I've always been independent, and always will be that way," he says. "I'll consider issues on their merits, not on political strategy."
Media Notes
The Brattleboro area is about to lose a friendly morning voice. After four years at WKVT Radio and three as host of its "Green Mountain Mornings" program, Chris Lenois has accepted a job as associate director of marketing communications at Landmark College in Putney. His last day on the air will be Friday, September 22.
"That's my background: PR and communications," he says. "I happened to see that Landmark was looking for someone with my skills and experience. When I went there for an interview, I just felt so comfortable."
Landmark College serves students with learning differences — dyslexia, ADD, ADHD and autism spectrum disorders.
"Chris will be sorely missed," says his soon-to-be ex-boss Peter Case, operations manager for WKVT. "He's the consummate professional. He got it done week in and week out."
Case says "Green Mountain Mornings" will carry on with a new host, and the station is interviewing potential replacements. "Keeping the local presence is very, very important to us," he says.
There are also two departures to report at Vermont Public Radio. As Jordan Adams noted in last week's "Soundbites" column, VPR deputy news director Annie Russell is leaving in October to pursue her other career — standup comedy.
"It was not an easy decision, and I can't say enough about VPR as an organization and a newsroom," Russell wrote in an email from Boston, where she was performing over the weekend. "I'll be based in Chicago where I'll focus on comedy for now."
Rebecca Sananes, a reporter who covered the Upper Valley and Northeast Kingdom, has also left the station for reasons that are less clear. Attempts to reach her were unsuccessful.
VPR News Director John Dillon responded to an interview request with a laconic email.
"Yes, Rebecca has moved on and Annie is leaving in October," he wrote. "We have plans to hire a producer in Colchester and to continue our coverage of the Upper Valley."
Dillon did not respond to a request for more information.
Traditionally, VPR has seen relatively low turnover. But so far this year, at least six staffers have departed or announced plans to do so. They've all had their own reasons, but it's starting to look a bit like a trend.
Turning to print media, there's some movement at the Rutland Herald and Barre-Montpelier Times Argus. The papers were sold last summer by the Mitchell family, at which time multiple Herald staffers took their leave. "We're building back the [Herald] newsroom," says Steve Pappas, editor of both papers. Pappas is searching for one reporter right now, and hopes to add another by the end of this year.
Both papers have also undergone a modest redesign, launched on Sept. 5. On every weekday, each paper concentrates the news in section A, while section B is devoted to sports. In the old format, the sports pages didn't have a reliable home.
"It's very much a concerted effort to put the local news up front and highlight local sports," says Pappas.
He sees that as a growth opportunity. "We need to do more game coverage and feature stories, previews of key games, power rankings, and we'll produce guides for each high school sport in each market," he says.
And that's not all. "You're going to see bowling scores," he says. "People want to see names in the paper."
Ah, the heart of old-fashioned newspapering. Of course, today's "content providers" have a new name for it: hyper-local.
Whatever you call it, it works.
*Update, September 14, 2017: A previous headline contained a typo.