Adam Burke
Sen. Bernie Sanders with members of Vampire Weekend, Foster the People and the Dirty Projectors Saturday in Iowa City
As he took in his surroundings Monday night, Sen. Bernie Sanders (I-Vt.) allowed an unfamiliar expression to creep across his face: a wide, beaming smile.
Standing at a podium in the middle of a Des Moines hotel ballroom, Sanders looked down, adjusted his glasses, looked up and then punched the air with his right fist. He opened his mouth to speak, then paused, as if he was hearing for the first time the chant that filled the hall: "Feel the Bern! Feel the Bern!"
The rumpled, 74-year-old Vermonter let out a hearty laugh, took a sip from a bottle of water and raised his fist in the air once more.
"Thank you!" he said. "Iowa, thank you!"
Sanders had good reason to smile. Nine months earlier, his improbable campaign for the Democratic presidential nomination had been written off before it had even gotten off the ground.
"We had no political organization. We had no money. We had no name recognition. And we were taking on the most powerful political organization in the United States of America," he said, referring to that of former secretary of state Hillary Clinton.
But on Monday night at the Iowa caucuses, Sanders' scrappy team of outsiders showed it could fight that organization to a draw. While he spoke to his supporters, he and Clinton were separated by a fraction of a percentage point, with the vast majority of precincts having reported their results. Hours earlier, a third candidate, former Maryland governor Martin O'Malley, had suspended his campaign.
"Tonight, while the results are still not known, it looks like we are in a virtual tie," Sanders said, eliciting a roar from the crowd. "It looks like we'll have about half of the Iowa delegates."
Matthew Terry
Sen. Bernie Sanders Friday in Dubuque, Iowa
It would take until 3:30 a.m. for the Iowa Democratic Party to declare that, with all but one precinct accounted for, Clinton had edged ahead by the slimmest of margins — 49.9 to 49.5 percent — claiming 23 delegates to Sanders' 21. By then, the senator was airborne, on a chartered flight to New Hampshire, where he was scheduled to spend the next seven days battling Clinton for the Granite State's 24 delegates to the Democratic National Convention.
Sanders had already set his sights on a more distant goal.
"We're taking this to the convention," he told reporters during a midair press conference, according to multiple media outlets. "I think tonight shows the American people that this is a campaign that can win."
It wasn't just bluster.
During his long march to the Iowa caucuses, Sanders had proven that he could compete with Clinton on almost every level. He assembled a campaign apparatus more disciplined and organized than anyone expected — and he turned out to be a stronger candidate than anyone would have guessed.
"I think we've built a tremendous campaign," Tad Devine, Sanders' senior adviser, said Sunday night. "I think we have, by far, the best message — and I think he's the most authentic and credible messenger."
Critical to sustained success is the ability to finance it — and by that metric, Sanders had also excelled. Earlier Sunday, his campaign announced that it had raised $20 million in January alone and collected more than 3.25 million individual contributions over the course of nine months. Sanders' near-win in Iowa seemed certain to generate another flood of donations from the small-dollar donors who just keep giving.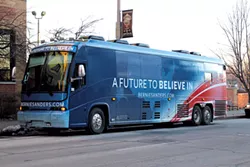 Paul Heintz
Sen. Bernie Sanders' campaign bus in Davenport, Iowa
"I think we've shown we're serious," Devine said. "And I think people understand we have the resources to run this campaign for a long time."
That could cut both ways. Now that Sanders has humbled Clinton in a state she banked on winning, the former secretary of state and the political establishment that supports her will train their fire on Sanders and subject him to a whole new level of scrutiny.
He'll face other challenges, too: After New Hampshire, the next two states to vote will be Nevada and South Carolina, where Clinton is believed to have an edge among Latino and African American voters. Then, the campaigns will begin contesting multiple states a week, starting with Super Tuesday — the March 1 primary featuring 11 contests, including Vermont's.
But in a protracted primary process, there's a lot to be said for momentum — and in the view of Sanders' most dedicated supporters, his solid showing in Iowa provided him just that.
"As far as I'm concerned, Bernie's won big," said Michael McKinley, a Des Moines retiree who spent seven months volunteering for Sanders' campaign. "He's going to go on to get the Democratic nomination. The momentum is there."
McKinley, who was decked out in a Sanders T-shirt, Sanders cap and Sanders stickers Monday night, framed the race as a battle of two ideologies — and he expressed confidence that his candidate's would prevail.
"This has been a contest for the soul of the Democratic Party," he said. "You walk away from your base at your peril. That's the message here. And I think that they're getting it loud and clear."
Sanders made much the same point as he addressed his supporters at the Holiday Inn. His smile fading, the candidate morphed back into the cantankerous candidate that Iowans had grown to love — or, at least, to trust.
"The people of Iowa have sent a very profound message to the political establishment, to the economic establishment and, by the way, to the media establishment," he said. "What Iowa has begun tonight is a political revolution."
As Goes Urbandale
Paul Heintz
Urbandale caucus chair Jerry Tormey and vice chair Suki Sanford Monday at the Rolling Green Elementary School
As her neighbors filed into the Rolling Green Elementary School Monday evening in the Des Moines suburb of Urbandale, Lori Bell sat with a friend and waited for her precinct caucus to begin.
"This is my first time," she said, explaining that she had recently returned to Iowa after 35 years away. "I'm pretty excited."
Bell, who wore a Sanders sticker on her black-and-white-striped sweater, had situated herself by the darkened windows of the school's media room. All around her were fellow Sanders sympathizers.
"He's represented his state for a very long time, and I think his message has been pretty consistent," she said. "He doesn't change with the wind."
Soon after the proceedings began, a man yelled out, "Can we have a show of hands of just how many are first-time caucus-goers?" Bell was one of several dozen Urbandale residents who made themselves known.
Her fellow attendees clapped and whooped in approval.
In the days leading up to Monday's caucuses, Sanders had repeatedly stressed the importance of getting people out to vote.
"Let me give you the straight political reality here," he said Friday during a rally in Davenport. "On Monday night, if there is a large voter turnout — if thousands of people who previously did not vote, did not get involved in the caucus — if those people come out, we win. If there is a low voter turnout, we lose. That's a fact."
Paul Heintz
Sen. Bernie Sanders Saturday in Manchester, Iowa
In Urbandale, a clear majority of those who indicated they were first-time caucus-goers sat on the Sanders side of the room. According to entrance polls conducted throughout Iowa, that trend held up elsewhere: 59 percent of first-timers said they would choose Sanders, while only 37 percent said they would pick Clinton.
Bonnie and Jeff Kohl were neither newcomers nor Sanders supporters.
"I'm leaning toward Hillary," said Bonnie, a retired administrative assistant, before admitting that she had actually made up her mind as she walked through the door. "I really feel like she's got the best experience and probably the best opportunity in the general election to get elected. I'd like to keep it in the hands of the Democrats."
Her husband, Jeff, agreed.
"I love everything about Bernie, everything about his politics, because I am a hard-core democratic socialist," he said. "I just don't think it's realistic that he'd win the White House. And even if he did, the Republicans would burn him at the stake."
By 7:04 p.m., caucus chair Jerry Tormey announced that the doors had been locked and that nobody else would be let in. An owlish man with a red tie, white beard and blue jacket, Tormey thanked his neighbors for showing up on a brisk February evening to practice a little democracy.
"It's a real testament to your dedication to our process and civil rights — all that stuff," he said. "Thank you very much for coming."
Tormey and his vice chair, Suki Sanford, quickly set about counting attendees to determine how the precinct would allot its nine county delegates. The pair asked caucus-goers to gather on one side of the room and move, one at a time, to the other side. Within 10 minutes, they had counted 310 people.
In order to qualify for delegates, a candidate must attain "viability" by finding support from 15 percent of a caucus' attendees. In Urbandale's case, that computed to 47 people. O'Malley, who attracted just 17 supporters, didn't even come close.
Tormey and Sanford had a harder time counting Sanders and Clinton supporters, who appeared evenly matched.
"We'll do it this way," Tormey announced. "For the sake of exercise and maybe getting some fresh air, Bernie's group will go on out the door — and count as you go out."
"Close the door!" a wiseacre Clinton supporter yelled.
As the two sides moved in either direction, three Urbandale-ites stood near the door, holding firm to their indecision.
"There are strengths and weaknesses to both candidates," said one of the undecideds, an insurance agent named Mike Peake. "For instance, Bernie Sanders is a candidate of the hopes that we have. Those are things that we want to see happen. But let's say if he was in a national election, would he just be painted as a socialist — and, maybe, at that point, he's disqualified?"
At first count, Sanford announced to the crowd, it appeared that 156 people had chosen Clinton, while 137 had gotten behind Sanders. She asked the remaining voters — those who had backed O'Malley and those who had chosen none of the contenders — to reapportion themselves to the two viable candidates.
"We have an announcement," a man said from the back of the room. "The O'Malley people are switching over to Bernie Sanders."
Half the room cheered. The other half looked crestfallen.
A full defection would have nearly tied the score, but soon it became clear that the O'Malley-ites would not defect in a bloc. Several made their way to Clinton's side of the room.
As Tormey and Sanford counted and recounted, they kept coming up with different totals. All of a sudden, it appeared as if there were 311 voters in the room — not 310.
"I know it's important to count everybody's vote, but one person — if we have to recount this whole room, we're gonna be here another 45 minutes," Sanford said. "So if everybody's OK with us going with 311 instead of 310 — it's not going to make a difference in the number of delegates each group gets."
"Yes!" the caucus-goers yelled in agreement.
With that, Sanford announced that Clinton had narrowly edged out Sanders, 159 to 148. Four stubborn O'Malley supporters refused to pick another candidate. Of the precinct's nine delegates, five would go to Clinton, while four would go to Sanders.
They didn't know it yet, but Urbandale's residents had voted almost precisely the way Iowa did as a whole.
As caucus-goers trickled out into the night, Peake stood and chatted with new friends on Clinton's side of the room.
"You know, I weighed a lot of stuff," he explained. "In the end, I just felt that the challenges that Hillary's going to face, she probably will be able to overcome them sooner. What Bernie's gonna face would be in the national election, come September, October. I'll be honest, it may be another modern-day red scare. In other words, the conversation becomes, 'He's a socialist.'"
Temple of Bernie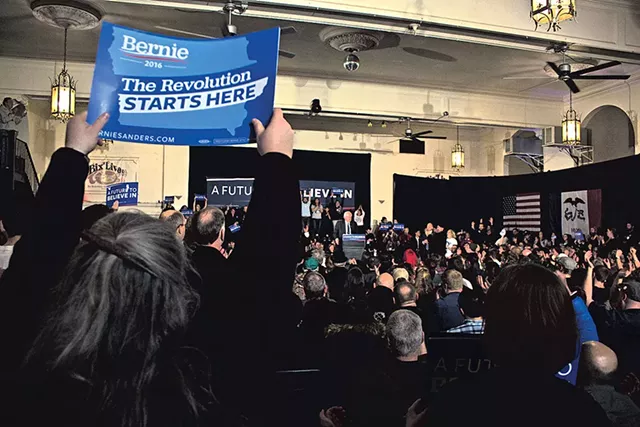 Adam Burke
Sen. Bernie Sanders Friday in Davenport, Iowa
Three days before the caucuses, Austin Fletcher stepped out of his downtown Davenport office, a few blocks from the Mississippi River, to smoke a cigarette.
The 24-year-old technical support representative said he didn't think much of the current crop of presidential candidates.
"Most of them are a joke," he said Friday afternoon. "Specifically, Trump, Hillary, Ted Cruz, Ben Carson."
But one candidate, he said, was "definitely not" a joke: Bernie Sanders.
"He actually seems to have a grip on what he's doing," Fletcher said. "He's more focused on our country, as opposed to everywhere else in the world."
Fletcher was just the sort of voter Sanders seemed to be attracting in droves: the young, the fed-up and the not entirely reliable. Though he had never caucused before, Fletcher claimed he was "definitely" going to this time. But would he, really?
Hours later and a few blocks away, Sanders attempted to address that nagging question, whose answer could steer his campaign to victory or defeat.
"I'm trying to be objective here, but I believe that we are the campaign that can increase voter turnout," he told roughly 1,000 supporters at Davenport's Danceland Ballroom. "I cannot tell you how many people I've spoken to in Iowa who say, 'You know what? I used to be involved in politics. I gave up. You got me back in.'"
Some seemed to be getting in for the first time.
Standing near the back of the packed ballroom, Tim Stevenson watched intently as Sanders delivered his sermon. The 39-year-old software developer with silver hair and hipster glasses said he'd never before taken part in the political process, other than to vote. This year, he'd volunteered to serve as a precinct captain for Sanders.
"Bernie is a once-in-a-lifetime — maybe twice-in-a-lifetime — candidate," he said.
Such enthusiasm was evident throughout eastern Iowa as Sanders made his way from Davenport to Dubuque, Cedar Rapids to Iowa City, and Waterloo to Des Moines. Every time his bright blue bus pulled into another city, the newly inspired came out in droves.
They did so, in part, to hear his big ideas — to raise the minimum wage, make college tuition free and provide health insurance to all Americans — that most of the political establishment, especially his chief Democratic rival, dismiss as pure fantasy.
"I'd rather under-promise and over-deliver than the opposite," Clinton remarked in Davenport Friday night at a rally staged just blocks from Sanders'.
Hours later, at Dubuque's Grand River Event Center, the Vermonter seemed to counter that notion directly.
"What my critics are saying — what the argument is that Secretary Clinton is throwing out — these ideas are too ambitious," he told more than 1,300 people that night. "They can't happen!"
"Yes, they can!" a woman shouted in response.
"Yes, they can happen," the senator agreed — with her and himself.
It wasn't just Sanders' ideas that seemed to inspire his supporters; it was their sense of his character.
Late Saturday afternoon in Cedar Rapids, Pastor Jerry Bertelson of the Church on Northland, a Baptist congregation, came out to see Sanders at a downtown convention center. Bertelson said he walked away feeling "very encouraged and impressed by his consistency and integrity and authenticity."
"As a pastor, I resonated with the idea that the government itself ought to be primarily concerned with the struggle of the poor and the outsiders and minorities and those on the fringes of society," he said. "So I almost see Bernie's message as prophetic — as in the prophets. The prophets spoke truth to power."
Such lofty comparisons didn't end there.
Introducing Sanders at the Cedar Rapids event, U.S. Rep. Keith Ellison (D-Minn.) — one of just two congressmen to endorse their peer — indulged in Gandhian allusions.
"Some wise person one time said, 'First, they ignore you. Then, they laugh at you. Then, they fight you,'" Ellison said, adding parenthetically, "And from some of the nasty campaigning I've seen, that fighting is now, y'all."
Audience members murmured in approval.
"Third," Ellison said, his voice growing louder, "Then you win!"
The deification of Bernie Sanders reached its greatest height that night in Iowa City. There, in a University of Iowa athletic complex packed with more than 3,800 students, a parade of actors, comedians and musicians worshipped at the Temple of Bernie.
Chief among them was Vampire Weekend front man Ezra Koenig, who introduced Sanders as "a man we believe in."
Adam Burke
Vampire Weekend front man Ezra Koenig in Iowa City
"I have to say, this is the first time I think that any of us have really come out to play music to support a candidate," he said. "And maybe, for some of you guys, it's the first time you've come to a rally — the first time you've gotten excited about somebody."
Like many of those casting their lot with Sanders, Koenig praised the senator's remarkable consistency.
"We can go back and watch Bernie's speeches. 1991: What's he saying? The same thing he's saying today. 2002? The same thing he's saying today. And it's not boring. It's amazing," Koenig cooed. "So, please, make some noise for Sen. Bernie Sanders!"
After delivering the student-oriented version of his standard stump speech — more pot, more gay rights and more dad jokes — Sanders joined Koenig for one last tune: "This Land Is Your Land." As members of Foster the People, the Dirty Projectors and Vampire Weekend strummed and sang, Sanders bobbed and clapped, erratically and without much rhythm.
"Make some noise for Bernie!" Koenig insisted as he brought the song to a close. "Go out and vote!"
The students roared with approval, as if Bernie Sanders was the second coming of Justin Bieber.
"He's amazing! He's the whole package!" gushed Morgan Spring, a freshman from Des Moines. "His view on everything is just perfect for what America needs!"
'Crazy Dreams'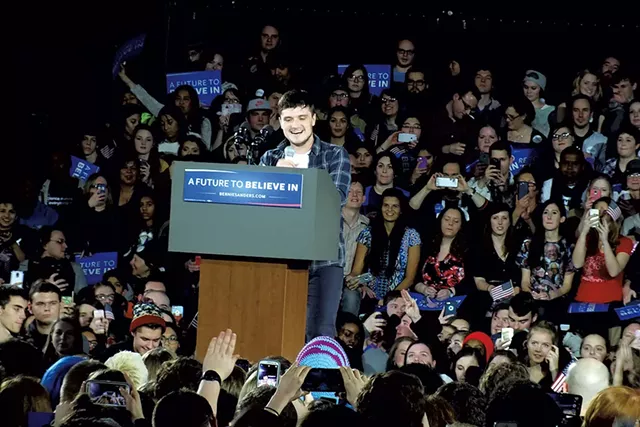 Adam Burke
Actor Josh Hutcherson Saturday in Iowa City
Almost a year and a half ago, on his first trip to Iowa, Sanders was still trying to make up his mind about whether to seek the presidency. Back then, few expected him to run, and fewer still to win. But during a forum at the Waterloo Center for the Arts, a young lawyer named Rachel Antonuccio tried to force the point.
"I have a very simple question," she said. "Would you please run for president?"
At first, Sanders offered up his customary dodge of those days: that he did not "wake up every morning with some kind of burning desire to be the president of the United States."
But then Sanders gave a more heartfelt response.
"I have to be realistic. I don't want to run and make a fool of myself or, more importantly, do a disservice to all of the ideas that we believe in," he said. "If I ran on this program and we didn't run a good campaign and it did very poorly, it would be a disservice to the ideas that we're fighting for."
Hoping to convince him otherwise were Steve Cobble and Conor Boylan of the liberal advocacy group Progressive Democrats of America. The two had stationed themselves by the door of the Waterloo venue, handing out pamphlets promoting a "Run, Bernie, Run!" petition.
"If he runs as a Democrat, he'll hold Hillary Clinton accountable on the issues," Boylan predicted back then. "We're not going to let her have a clean pass and go straight through [Iowa]. I think Bernie will be the person to really have a good, honest debate, and that's what the American people want."
Steve Abbott, the burly president of the Communications Workers of America Iowa state council, was also hoping for a robust debate — specifically over the Trans-Pacific Partnership, a proposed trade deal opposed by Sanders, the CWA and many other labor unions. During Sanders' first visit to Waterloo 16 months ago, Abbott introduced him at the forum, but he wasn't ready to offer his endorsement.
By the time Sanders returned to Waterloo Sunday for one last visit before the caucuses, all of that had changed. The Vermonter's persistent hammering of Clinton over her past support for the TPP had prompted her to change her position on the issue. Abbott and the CWA, meanwhile, had offered their full-throated endorsement of Sanders.
Abbott reflected on Sanders' newfound success.
"I didn't expect it," Abbott said. "But sometimes, with the right message, the right person, these types of things happen."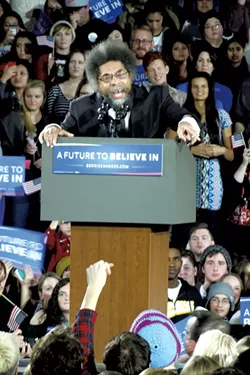 Adam Burke
Cornel West Saturday in Iowa City
Later that night, Sanders arrived in Des Moines for a final pre-caucus rally at Grand View University. Accompanying him were the high-profile surrogates who had been pounding the pavement on his behalf — activist Cornel West, actor Josh Hutcherson, musicians Mark Foster and Mark Pontius, and Congressman Raúl Grijalva. Top aides, such as Devine and Iowa state director Pete D'Alessandro, paced around the gymnasium, seemingly nervous about the next day's trial.
The candidate himself seemed almost wistful about leaving the state.
"Iowa has shown my family and my staff incredible hospitality and warmness, and we appreciate it very much," he said. "This is a beautiful, beautiful state — and it's been an honor to campaign in it."
Cobble, the Progressive Democrats of America staffer who had once urged Sanders to run for president, stood behind a media riser and watched the show go down. The 64-year-old D.C. resident said he was as surprised as anyone by how far Sanders had come.
"We obviously had crazy dreams and high hopes for this, but the way he's been received in Iowa and across the country — nobody predicted it," Cobble said as the Simon & Garfunkel song "America" played on the PA. "This younger generation will remember this for a long time, and they'll think differently about the country when it's over."