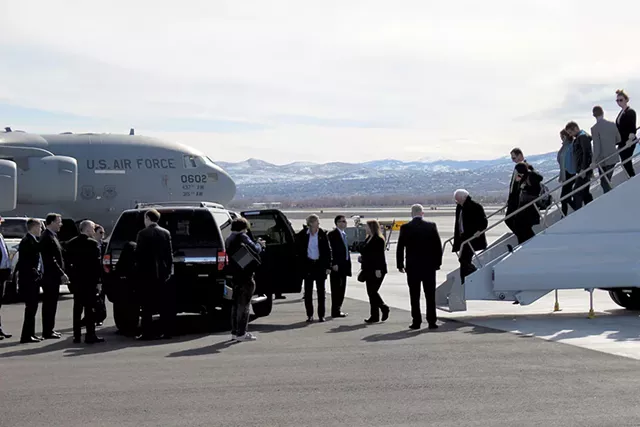 Sen. Sanders deplanes in Reno, Nev.
It took an hour last Friday afternoon for Bern Force One to traverse a lonely stretch of the Great Basin Desert from tiny Elko, Nev., to Reno. Through the windows of Sen. Bernie Sanders' (I-Vt.) chartered Boeing 737, the snowcapped mountains of northern Nevada, pocked with gold and silver mines, morphed into an arid desert northeast of Lake Tahoe and the Sierras.
The jet — partially filled with 64 campaign staffers, Secret Service agents, journalists, crew members and a presidential candidate — hit an updraft as it approached Reno-Tahoe International Airport and began to shudder and shake. A flight attendant, who had been collecting the remnants of the turkey club sandwiches served for lunch, stumbled in the aisle and took a seat where he was to ride out the turbulence.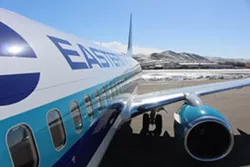 Paul Heintz
Bern Force One on the tarmac in Elko, Nevada
"Our father, who art in heaven, hallowed be thy name," recited a staffer who was slumming it with reporters near the back of the plane. "Thy kingdom come, thy will be done, on Earth as it is in heaven."
He was joking. I think.
As the wings of the plane flexed alarmingly, the captain finally turned on the seatbelt signs.
"Oh, now?!" a CNN producer exclaimed. "Are you fucking kidding me?"
Over the PA, the captain explained that he would have to take another pass at the runway from the opposite direction because the wind had shifted. When the plane finally touched down a few minutes later, the press section let out a collective sigh of relief.
As Bern Force One taxied across the airfield, half a dozen Secret Service agents — seated in the middle of the plane between the press and campaign staff — hopped to their feet and hustled toward the rear exit. They were met on the tarmac by yet more agents and local law enforcement, who pulled up to the plane in a nine-vehicle motorcade.
Eventually, the 22 reporters, photographers and producers accompanying Sanders on a 900-mile air journey across Nevada filtered out the rear door and onto a waiting bus.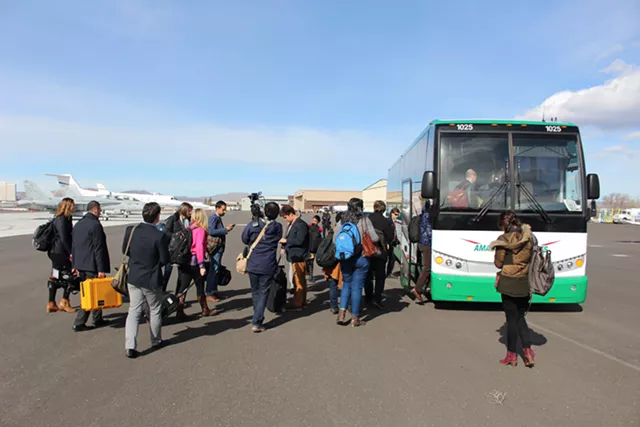 Paul Heintz
Sen. Sanders' traveling press corps board a bus at Reno-Tahoe International Airport
A few photographers cut away from the group to document the senator's descent from the front of the blue and white plane, emblazoned with Eastern Air Lines' retro logo. Their shutters whirred as a familiar mop of white hair made its way down a mobile staircase and into a black Ford Expedition. After a Secret Service agent closed the door behind Sanders, the motorcade sped off toward a nearby casino.
It wasn't always like this.
When I first followed Sanders on an exploratory trip to Iowa in September 2014, he made his way through the cornfields in a rented Toyota Camry with an entourage of two: longtime state director Phil Fiermonte and spokesman Michael Briggs. There were no advance teams or camera risers or security cordons — just three guys and a car.
Back then, Sanders hadn't yet decided whether to seek the presidency — and few reporters seemed to care if he would. That weekend, 200 journalists showed up in Indianola for Hillary Clinton's first appearance in the state since the 2008 election. Only a handful dropped by Sanders' town hall meetings in Dubuque, Waterloo and Des Moines.
Fast-forward 16 months to mid-January. As polls showed Sanders gaining on Clinton in Iowa and running away with New Hampshire, the campaign unveiled a big blue bus branded with its logo. Four days before the Iowa caucuses, I arrived in the Mississippi River town of Davenport and tossed my duffel bag on the chartered coach that trailed the Bernie Bus, carting reporters from rally to rally.
Paul Heintz
Sen. Sanders' bus last month in Davenport, Iowa
Aboard the press bus was a trio of journalists who had been following Sanders since his campaign took off the summer before: the Washington Post's John Wagner, ABC's MaryAlice Parks and BuzzFeed News' Evan McMorris-Santoro. They were now joined by a dozen more reporters from the New York Times, the Associated Press and even the Italian daily La Repubblica, among others.
Conducting the orchestra was Sanders' new director of traveling press, René Spellman, an Obama campaign veteran who serves as den mother to the reporters — making sure they are fed, housed and, most important of all, on time. She made clear that at the end of each event, we were to race back to the bus as soon as the senator breathed the words "thank you" to his audience.
The arrangement was an improvement over my three previous trips to Iowa, during which I would often drive a rental car six hours a day, speeding from event to event, only to stumble into a motel room at night to write. Now I could transcribe my recordings and file stories from the back of a Windstar Lines charter as we chugged along I-80.
Spellman ran a tight ship, but some things were out of her control. The morning after I boarded the bus, its battery died in the Hampton Inn Dubuque parking lot, briefly stranding us.
And with the convenience of the bus came new limitations on our movement. Later that day, Sanders delivered short pep talks for volunteers in Charles City and Waverly. But due to space limitations at the venues, Spellman told us, only a small pool of reporters would be allowed to attend. The rest of us were deposited for the next four hours at a shopping mall in a Cedar Rapids suburb.
McMorris-Santoro, a bear of a man with a beard resembling that of an Appalachian Trail thru-hiker, convinced a few of us to pass the time at HuHot Mongolian Grill, a chain restaurant with the charm of a Red Lobster. After fetching our food from a buffet line and watching black-clad chefs sauté it on a circular grill, we sat together at a corner table, chatting occasionally about a forthcoming Des Moines Register poll and other news of the day.
But work on the campaign trail — especially for those hoping to break the next scooplet on Politico or BuzzFeed — never really stops. Even as we ostensibly socialized, we all had at least one eye on our inbox or Twitter feed.
"There's such a weird set of small talk traveling reporters have," McMorris-Santoro later told me. "No. 1 is: What's your hotel points system, and what level of points do you have? No. 2 is: When was the last time you were home, and are you going home soon?"
For McMorris-Santoro, the answers to the second set of questions seemed to be "ages ago" and "no." Three weeks later in Nevada, I overheard him telling another reporter that it'd been "several weeks" since he'd last seen his wife.
"I think I still have friends back in the city," he told me, referring to his home in Washington, D.C. "I don't know. I haven't heard from them in a while."
The morning after our Lindale Mall excursion, a television producer showed off to her fellow passengers the red Eddie Bauer jacket she'd bought after leaving HuHot. As we motored from Iowa City to Waterloo, Spellman told us we would likely have more time to kill after the next rally.
"And then, I don't know, maybe we'll find another mall," she said.
"Is that a threat?" a reporter asked.
"That was definitely a threat," Spellman responded.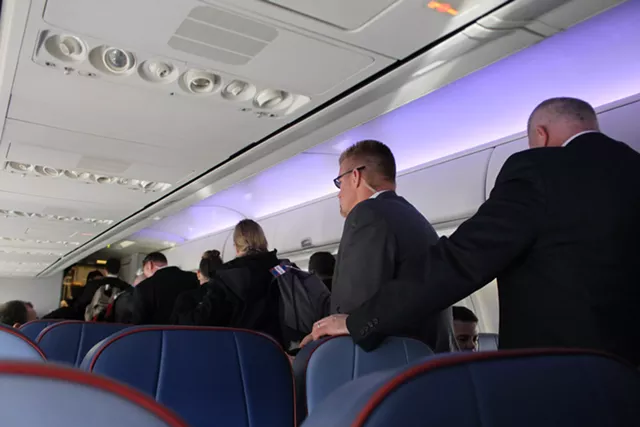 Paul Heintz
Secret Service agents deplane Bern Force One in Reno, Nevada
A week after Sanders nearly tied Clinton at the Iowa caucuses, I met up with the traveling press corps again — this time in Bow, N.H. In the interim, the Sanders campaign had requested Secret Service protection for a reason it declined to reveal.
Things had changed again.
Inside the Hampton Inn Bow, agents rifled through our baggage and scanned us with metal detecting wands. They led us in a group to our new ride: one of two luxury buses in an 11-vehicle convoy. The seats were leather and spacious — a step up from the Windstar — and a kitchenette in back was stocked with snacks and a Keurig coffee machine.
For security reasons, our movements were now even more restricted. As we raced down I-93 toward Nashua's Daniel Webster College, Spellman informed us that we would not be allowed to leave the secure press zones at each of the day's rallies to talk to voters, take a phone call or even take a piss — unless we asked permission. If we dawdled on our way back to the motorcade, we would be jettisoned from the bus for the rest of the day.
That night, I glimpsed another aspect of campaign-trail life. As we drove through a light blizzard to Sanders' final Granite State event — a concert featuring Edward Sharpe and the Magnetic Zeros — an AP reporter sitting in front of me video-chatted with her two-year-old daughter. A McClatchy reporter sitting across the aisle from me frantically tried to track down a babysitter upon learning that her child's Washington, D.C., school would be closed the next day.
After Sanders' big win in New Hampshire, he upgraded modes of transport once again. Within the next week, his traveling press corps was flying in the chartered 737 to Minnesota, Nevada, Colorado, Michigan, South Carolina and Georgia.
McMorris-Santoro, who attended Sanders' hastily arranged campaign announcement last April in Washington, D.C., said the evolution has been "just wild" to witness.
"There's all this structure around him now: the Secret Service, the planes, the advance teams," he said. "But it doesn't really feel like a new campaign. It feels like the same campaign in this whole new wrapping paper."
He added: "One of the things that's stayed the same throughout this whole process is, really, fundamentally, Bernie."
That can be a problem for reporters looking for a new story to tell. From rally to rally, Sanders delivers a remarkably consistent stump speech. Only in the first few minutes of his hourlong presentation does he occasionally toss out a tasty tidbit, such as a new critique of Clinton.
For reporters trapped on the bus or plane and unable to pee without permission, it can be a challenge to get the flavor of a city or even talk to a real voter. As Sanders takes fewer questions from his audiences and holds fewer press conferences, spontaneity has become a scarce commodity.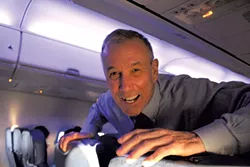 Sanders spokesman Michael Briggs
So the traveling press corps seemed relieved last Friday in Nevada when his motorcade took an unexpected detour on its way to Elko Regional Airport and pulled up to the Coffee Mug Family Restaurant. Spellman let the photographers out of the bus first so that they could catch the candidate's arrival. Then she told the rest of us that we would have to wait outside the establishment while he dined with his wife, Jane, stepdaughter Heather Titus and her husband, Marc Titus.
Grumbling ensued.
After a few minutes, Sanders sent word to Spellman that the unwashed journalistic masses could be permitted entry after all, so long as we left our cameras on the bus. Inside, the reporters took seats in the middle of the diner and pretended to ignore Sanders and his family, seated at a booth in back.
I sidled up to a mustachioed man at the counter, who was sipping a cup of coffee, and asked him what he made of the scene.
"To be sittin' here, eating breakfast and seeing the Secret Service and a candidate come in," said Scott Crandall, a maintenance foreman at a local gold mine. "A little bit of a surprise. It's usually a little quieter."
After quizzing Crandall about his political preferences — he did not sound likely to vote for Sanders — I noticed a commotion behind me. Spellman had given the traveling press corps the go-ahead to briefly photograph Sanders at his table. They swooped in like vultures to snag a morsel of something that at least appeared unscripted. I excused myself from the counter and joined the mob.
Sanders played it cool — as if it was perfectly normal for nearly two dozen adults to document one's tea drinking — and offered a quick wave of acknowledgment. Spellman hustled us out of the Coffee Mug.
We got another taste of pseudo-spontaneity that night after Bern Force One landed at McCarran International Airport, barely a mile from the Las Vegas strip. On the way to Sanders' now-traditional caucus-eve concert, the motorcade pulled into a parking garage in the bowels of Caesars Palace.
Spellman led us through a back entrance, down an escalator and through a hallway lined with hanging uniforms. We entered an employee cafeteria, where casino workers ate by themselves and in small groups. Our den mother instructed us to hang back in one corner as Sanders worked the room. We would be permitted to approach him, a few at a time, to take photos and capture the conversation.
There wasn't much of it.
"Ha-lohhh," Sanders said as he worked his way though the cafeteria. "Ha-lohhh."
The senator has never excelled at glad-handing, but he has learned over the course of the campaign to smile when posing for a selfie.
Despite Spellman's admonitions, we soon surrounded Sanders as he made his way across the room. We held up our iPhones and tape recorders in search of a video or sound bite. When we got back to the bus, Spellman scolded us, gently, for overstepping our bounds.
The next afternoon, Sanders lost the Nevada caucuses. His concession speech, delivered ahead of schedule in a sparsely filled pavilion 10 miles from Vegas, was the shortest I've seen since he joined the race last spring. It lasted just seven minutes.
As he said the words "thank you," I watched the traveling press corps dutifully close their laptops and follow Spellman out of the venue. They were on their way, via Bern Force One, to South Carolina, Massachusetts, Virginia and beyond. I flew home on a commercial plane.
When I spoke to McMorris-Santoro two days later, he said the mood on the plane had shifted.
"Nevada was the first bad day," he said. "It seems like people on the campaign — I'm not sure about the candidate himself — are taking it pretty hard."
For the past eight months, he noted, Sanders had enjoyed a steady upward trajectory.
"There is a sense now that we can have bad days," the reporter said. "I think that's a different thought than people had even three or four days ago."