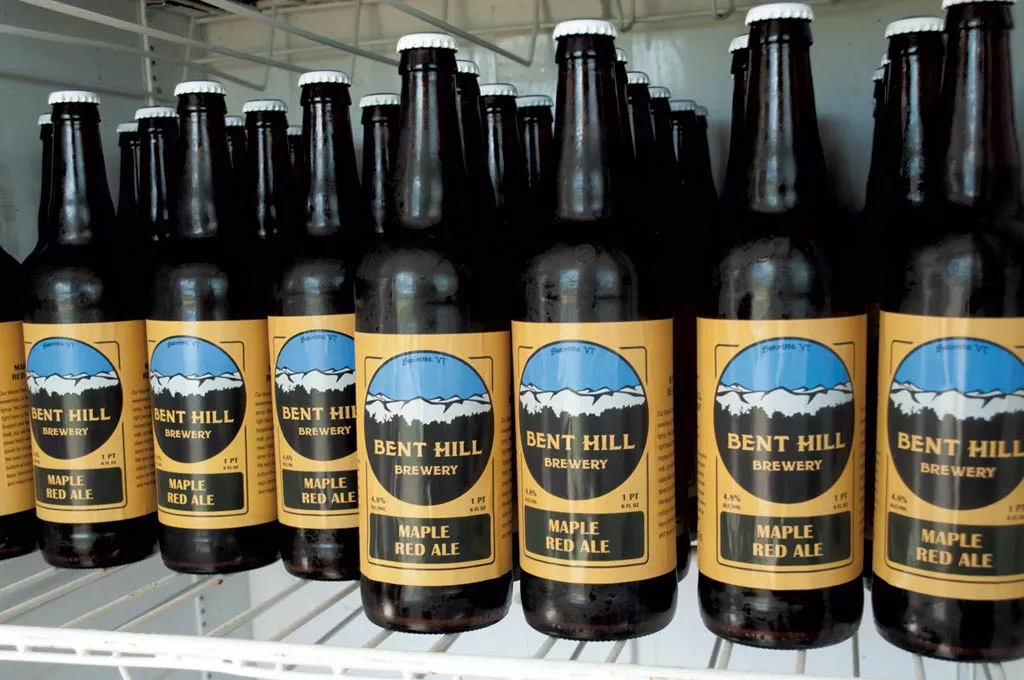 Courtesy Of Hannah Palmer Egan
22-oz. bottles for sale at Bent Hill Brewery
On Saturday, Bent Hill Brewery opened its doors to the public for the first time. The brewery is nestled high in the hills outside Randolph (1972 Bent Hill Road, Braintree), but 25-year-old brewer Mike Czok, who has been home-brewing since his senior year at the University of Maine at Orono, says about 75 thirsty visitors passed through in two days.
Czok and his partner, Cody Montgomery, who have been friends since fourth grade, were on hand through the weekend pouring Bent Hill's flagship Maple Red ale. It's a malty, mahogany-colored beer tinged with smoke from roasted barley and syrup from Czok's family sugarhouse. "It just made sense to do a maple beer," Czok says. "That's how most of my recipes happen." Last weekend, drinkers also tasted a mellow, straw-hued Belgian ale; look for an IPA and a coconut porter in the weeks to come. All ring in at less than 5 percent alcohol, and Czok says he plans to keep it that way: "I like to make something you can drink a few of."
For now, Bent Hill beers are available in growlers and 22-ounce bottles at the brewery and in bottles at South Royalton Market and Chef's Market and Fenix Fine Foods in Randolph. Soon, limited quantities will be on draught at Ariel's Restaurant in Brookfield and Black Krim Tavern in Randolph. All those establishments are spitting distance from the brewery. Czok says that's part of the plan: "That's been our thing — keep it local. No need to rush it."
He encourages travelers to visit the brewery, which, though it feels remote, is only 15 minutes from I-89. "We want to draw people here to see what's going on and to take in the landscape," Czok says. "We like it that way, you know? Keep it scenic."
The original print version of this article was headlined "Orange County Brew"