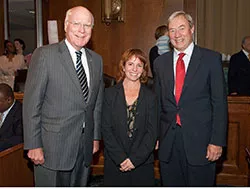 Christina Reiss with Patrick Leahy and Judge William Sessions III
When Christina Reiss was nominated for the U.S. district court seat vacated by Judge J. Garvan Murtha, she had no ties to Vermont's congressional delegation, the Obama administration or the Democratic Party. In fact, she'd never even met Sen. Patrick Leahy until their first face-to-face interview last year.
That may not sound like a big deal, until you consider that vacancies on the federal bench occur so infrequently — Judge Murtha's was only the 19th in Vermont's history — that they're often treated as political plums, doled out to party faithful and those whose ideological tendencies are well known.
That certainly wasn't the case for Judge Reiss (pronounced "rice"), who was sworn in on January 10 as the first woman to serve on the federal bench in Vermont. In fact, another notable feature of her appointment was the transparent and nonpartisan nature of the nomination process. While such transparency wasn't a first in Vermont history, Reiss' selection stands in stark contrast to eight years of very politicized judicial appointments by the Bush administration.
"One thing I have to credit Senator Leahy for," says Reiss, "is that he gained no political advantages by appointing me. And I'd have to say the same thing about Governor Douglas." The Republican Vermont governor appointed Reiss to state district court in 2004.
Indeed, Reiss' track record as an attorney and state judge offers few clues to what kind of federal judge she'll be. But those who know her insist that her personal politics won't play a role. In fact, practically the only prediction anyone has made about her opinions from the federal bench is that they'll be scrupulously researched, well reasoned, and firmly grounded in precedent and the rule of law.
Reiss isn't a native Vermonter — she was born in Denver, Colo., in 1962 — but she has been here since the early 1980s. She got her bachelor's degree from St. Michael's College in 1984 and her law degree from the University of Arizona in 1989. Reiss, 47, lives in Essex Junction with her husband, Kevin Hastings, who owns a woodworking shop in Colchester. They have three children.
Reiss is a petite woman with shoulder-length red hair and a gentle voice. Those who've argued cases in her court warn that her gentle demeanor shouldn't be misinterpreted as a sign of softness or leniency. She's been described as highly intelligent and disciplined, with a keen eye for detail and a vast knowledge of the law.
Reiss' judicial philosophy? Hard to say. By nature, judges are notoriously averse to answering such questions. In the rare instances when they grant interviews, they never broach subjects that may hint at how they'll rule on an issue before them. In a recent interview, Reiss' answers were predictably generic and uncontroversial.
"I tried to be genuine and answer questions as straightforwardly as I could," she explains, speaking about her confirmation hearing before the Senate Judiciary Committee. "Since I wasn't a target, it was not confrontational." But Reiss won't discuss any cases she's been assigned. "A new job is always bewildering," she allows, "but I'm really enjoying it." When asked to address common misconceptions about judges, she said, "I think some people do not fully appreciate the presumption of innocence or the adversarial process."
Neither did Reiss tip her hand in her written responses to questions from Sen. Jeff Sessions, the ranking Republican on the Senate Judiciary Committee. When he asked her about higher court rulings that she personally disagreed with, she wrote that she would "follow controlling precedent, even if I personally felt it was in error." On the question of "judicial activism," which Reiss defines as "judges who render advisory opinions regarding issues and facts not before the court," she considers that "improper." Reiss also said she's never referred to the U.S. Constitution as a "living document," and believes "its terms are fixed unless amended."
When Sessions asked her about President Obama's desire to appoint judges with "empathy," Reiss didn't take the bait, but she did show her human side.
"A judge must never forget that it's not cases, pleadings, papers and matters that come before the judge, but real people with real rights and interests at stake," she wrote. "In making those rulings, however, the rule of law and not the judge's personal feelings towards the litigants and their backgrounds determines the outcome."
Indeed, as a state judge, Reiss made some tough decisions that were based on the rule of law. Notably, in December 2007 she dismissed a 1971 murder charge against Kenneth Bailey, who'd been arrested for the crime in 2005, because key evidence had disappeared. In her decision, Reiss emphasized that she wasn't punishing the state for its "egregious loss of evidence," but was "safeguard[ing] the defendant's constitutional right to a fair trial."
Despite that unpopular ruling, Reiss made a lasting impression on those who were in her courtroom every day. Lamoille County State's Attorney Joel Page, who says he argued cases before Reiss at least two or three times a week for about a year, describes her as "one of the most intelligent, thoughtful, diligent and fastest-talking judges that I've dealt with in 30 years."
Page was particularly impressed with Reiss' ability to articulate to all the parties involved how she reached her verdict and why she imposed the sentences she did. This was especially true, he notes, in cases where the sentence wasn't as severe as the victim had hoped.
"Everyone I know who practiced in front of her stated that they were very impressed," Page adds. "They might not have gotten the outcome they would have liked, but they knew exactly why the outcome they obtained was handed down."
Bob O'Neill is an attorney with the law firm of Gravel and Shea in Burlington, where Reiss worked from 2001 to 2004. Though O'Neill is reluctant to say much about his former colleague for fear it might sound "self-serving," he does say, "We loved her. Christina was a great lawyer, and she's going to be a great federal judge. She was conscientious, hard- working and very, very efficient."
Reiss' caseload at Gravel and Shea suggests that she has a strong affinity for the First Amendment and freedom of the press. Over the years, her clients included several local news outlets, among them the Rutland Herald, the Barre-Montpelier Times-Argus, and Seven Days, all of which she represented in a 2002 lawsuit against then-Gov. Howard Dean. In that case, reporters wanted to know exactly how much time Dean was spending on nongubernatorial activities, particularly those related to his bid for the presidency. The media outlets sued Dean to produce copies of his calendar.
Though Dean claimed executive privilege exempted his calendar entries from Vermont's open-records laws, Reiss argued that those particular entries were subject to public disclosure. The Vermont Supreme Court ultimately agreed with her, and Dean was ordered to produce those sections that directly related to his presidential aspirations.
According to Cheryl Hanna, a professor at Vermont Law School, the only area where there's a clearly measurable difference between the rulings of male and female judges is that of discrimination: Female judges tend to see bias, while male judges tend to see the same behavior as inadvertent. (See accompanying article, "Why Women Judges Matter")
As a state judge, Reiss presided over such a case in April 2005. Seven women alleged gender discrimination when their membership applications to the Elks Lodge in Hartford were rejected. The national organization had abolished its male-only policy just a year earlier, but the Hartford lodge claimed the women's applications had not been rejected because of their sex. A jury agreed with the women and awarded each $5000 in punitive damages. The Vermont Supreme Court upheld the ruling.
As part of her nomination process, Reiss had to provide a list of all the cases from which she recused herself. One, State v. Timothy Madden, struck particularly close to home. It involved a defendant who'd allegedly shot his best friend while hunting. The case was highly publicized because the defendant was a probation officer who had just returned from military service in Iraq.
Days before Reiss was due to issue her decision on a motion to dismiss the case, her father, a professor at St. Michael's College, was shot and killed while eating dinner by a neighbor who was target shooting nearby. About her decision to recuse herself, Reiss says, "Although I believed I could decide the case fairly, I was concerned about the appearance of bias."
The effect this case may have on how Reiss rules on federal cases involving hunting, gun rights or an accidental death is impossible to predict. For her part, Reiss keeps her cards very close to her chest.
"Judges are real people who come to the job with their life experiences," she says. "When they make these difficult decisions, they can't show how it's impacting them personally or talk about it. But it's a real honor to have this job."