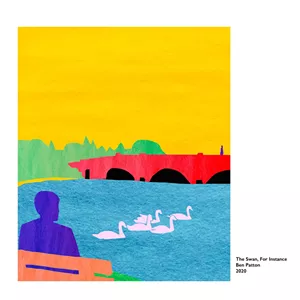 Courtesy
Ben Patton, The Swan, for Instance
(Self-released, digital)
Ben Patton speaks my language. He's adept at declaring his emotions and internal workings in wording that's sharp, witty and unambiguous — and all without a trace of preciousness. Patton's new album, The Swan, for Instance, is full of songs that operate in just such an eloquent way, while proving over and over that he's a master of pop structures.
The Swan, for Instance is a departure from Patton's 2019 album, Our Follies, on which the Burlington singer-songwriter teamed up with Indonesian vocalist Michelle Sudarsono. Actually, Our Follies, which mined George Gershwin-era pop-jazz and musical theater, was the departure. His new LP is a return to form. Patton is back to doing what he does best, in addition to playing almost every instrument heard and producing the album.
Following '90s adult-contempo intro "If You Know Anybody," the sonic equivalent of sliding into a warm bath of nostalgia, "What a Shame About Benjamin" truly kicks off the collection. On this timeless rock song featuring vocalist Mingo Maquera, Patton speculates about himself from the point of view of his friends and family.
Amid tightly harmonized retro background vocals ("bop shoo bop!") and Tom Cleary's fanciful piano work, the song's "characters" theorize about what's become of mysterious old Ben. "I heard he moved to some place like Brunei ... I heard a rumor he smoked so much dope that he doesn't know an ant from an antelope ... He showed so much promise." Surely the lyrics must be based on real conversations, given how reclusive Patton can be.
"Getting Ready for You" is a sweet love song that could have been written for Kermit the Frog. In this slow jam, Patton preps himself for a great love that he's sure will appear somewhere down the road.
Gentle breezes blow on the jazzy "So Much at Stake." Tapping into a bit of Getz/Gilberto bossa nova, Patton strums his guitar in velvet strokes while drummer Caleb Bronz keeps time with soft beats.
Two bluntly titled songs, "The Ugliness" and "I Have No Faith in Anything," are somewhat thematically linked. The former, a light pop-rock tune, abhors the toxic culture that seems to permeate, well, everything these days. The latter is infused with a country streak, its upbeat tone playfully clashing with nihilist themes.
"I Wanna Buy a Piano With You" is pure loveliness. It draws a connection between the instrument's longevity and imposing presence with that of a great love.
The Swan, for Instance brims with appealing tunes. Once again, Patton strikes gold with his winsome lyrics and multi-instrumental talent.
The Swan, for Instance is available at benpatton.bandcamp.com.