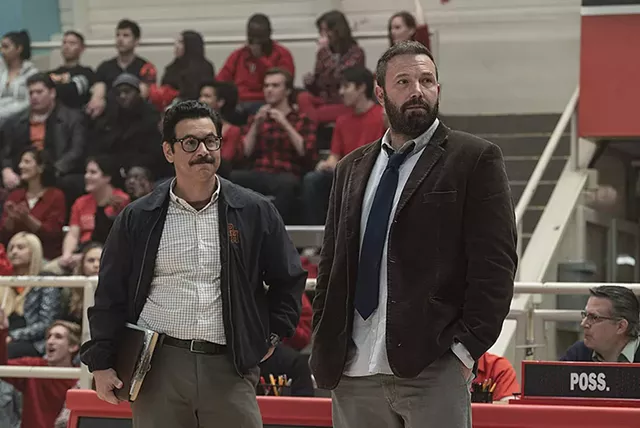 BASKET CASE Affleck's performance as a hard-drinkinghigh school coach didn't help his stalled career rebound.
The makers of The Way Back clearly hope you have a lot on your plate — that you're so busy you've barely got time to buy a ticket, shed a tear, feel inspired and race to the next thing on your to-do list. The last thing anyone involved with this movie wants is for members of the audience to stop and think about what they've just watched. "One shot for a second chance"? Keep moving; nothing to see here would've made a more fitting tagline.
Variously described as a rousing underdog sports saga and a moving tale of one man's quest for redemption, The Way Back is really way more along the lines of public relations for Ben Affleck's precarious sobriety. The actor has spent much of the past half-decade in divorce court, the tabloids and rehab. His career has foundered since the glory days of Argo, which feels like way more than eight years in the rearview. That won the Oscar for best picture of 2012. His latest wasn't the best picture of last weekend.
Speaking of glory days: It's easy to see which wheels started turning in the star's head when he read the script cowritten by director Gavin O'Connor (Miracle) and why. The film tells the story of a former high school basketball star whose life has become one long, meaningless bender. Jack Cunningham drives to his construction job with vodka in a travel mug. He heads home with a beer from the cooler on the floor and spends most nights in a place that's practically a caricature of a dive bar, only to be walked home by an elderly patron. Then he gets up, has a brew in the shower and does it all over again.
Until the Father Superior of Jack's alma mater offers him a shot as coach of the team he long ago led to victory. Suddenly Jack has to clean up his act and find a sport jacket that still fits. The latter, oddly, proves the greater challenge. Defying the laws of drinking, Jack's instantly thirst free; the next thing we know, his ragtag squad is racking up the wins. Against all odds — except, of course, the odds in a Hoosiers rip-off — his protégés are off to the regionals in short order.
The screenplay, cowritten by Brad Ingelsby, has more for Jack to overcome, though. We're informed that his father was a problem drinker. That alone might have adequately accounted for Jack's problem, but the film's creators elected to err on the side of Job-level tribulation. He's also experienced a failed marriage (sound familiar?) and a horrific family tragedy that comes up strangely late in the game — and affords Affleck the convenient conceit that bad habits derive from bad luck.
In addition to being dull, derivative and undistinguished by contributions either in front of or behind the camera, the film is insufferably pandering and disingenuous. The arc of the principal character's redemption isn't credible for a second, and Affleck presents as a self-pitying husk of his former screen self. Perhaps that's in part because he once again fell off the wagon just as shooting was set to commence.
The shot clock certainly hasn't run out for this star. He'll get others. He's got promising comeback projects in the works. If Affleck is going to make it back to his former Hollywood prominence, however, one thing's a slam dunk: Rookie plays like this one most definitely won't be the way.