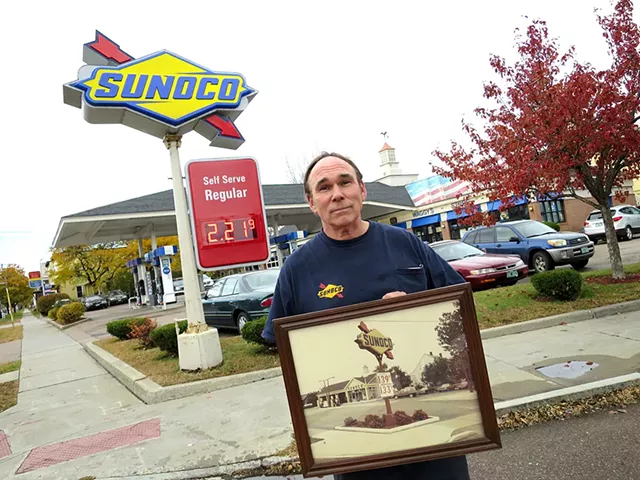 Matthew Thorsen
Pat McCaffrey
When Pat McCaffrey was a boy growing up in South Burlington, he used to go with his father on Saturdays to the local gas stations, where the guys gathered to chew the fat. They would save the soda bottle caps for young Pat, who played with them like a cheap version of Legos. But mostly, he loved listening to the chatter.
A couple of decades later, when McCaffrey was looking for a better way to make a living than selling auto parts, he liked the idea of running his own gas station and auto repair shop. In 1988, he bought what had been Rick's Sunoco, on the corner of North Avenue and North Street in Burlington, from Rick Vogel.
For the next 27 years, customers at McCaffrey's Sunoco would stop in for an oil change or a tune-up and to ruminate on the issues of the day. McCaffrey has scared away drug dealers, inched reluctantly into the computer age, delivered last rites on more cars than he can count and collected a following of devoted customers who trust him with one of their most expensive possessions.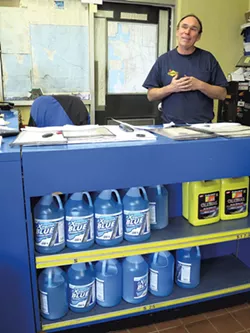 Matthew Thorsen
Pat McCaffrey
"It's special to me," he said, "to be able to watch people come in and out and see how life passes out front."
But last Thursday, McCaffrey gave up his perch, selling the business to longtime trusted mechanic Brian Moegelin. The shop reopened Friday morning as Brian's North End Automotive. (Too many people butcher his last name, Moegelin said.)
"I think it's time for other people to have an opportunity without me," McCaffrey said last Wednesday, dressed in a grime-smeared blue Sunoco T-shirt and shorts, as he changed the tires on a red Subaru Forester.
Technology has changed the car repair business by light-years, as it has so many industries, McCaffrey noted. When he started, it was just him and one mechanic working on cars, the humans doing all the diagnostics. These days, he said, it takes four or five mechanics to keep up with the constant, increasingly complicated changes in the automotive world. "You've got to know a lot about a lot of cars," he said.
McCaffrey has watched hourly repair rates climb accordingly — from $24 an hour toward $80 an hour — to cover the know-how and the equipment.
"You have to upgrade. At 59, I'm not prepared to take it to the next level," he said.
Moegelin is the person to do that, McCaffrey declared. Already proving he's adept at social media, the new shop owner posted a comment on Front Porch Forum encouraging customers to come by and wish McCaffrey well, calling his departure the "end of an era." It worked. The steady stream of visitors last week made it hard to fit in the annual fall ritual of tire changing.
Debi Hron, an artist who lives nearby, figured she's been a customer for about 18 years. She and McCaffrey reminisced about the cars he nursed through life for her: the now-deceased Dodge Caravan, the Toyota Corolla that awaits her this winter in Florida and her current Volkswagen "clunker."
"He never does anything the car doesn't need," Hron said. It was a common theme among McCaffrey's customers.
Moegelin, who's worked at McCaffrey's for 11 years, said that approach is one of the reasons he was drawn there after quitting a job at another Burlington garage.
Hron recalled stopping in to ask McCaffrey if he knew where she could get a truck for a quick hauling job. He lent her his.
Other customers came by to thank McCaffrey for making repairs on credit. It may not have been the wisest business practice, he conceded, saying, "I should've made more money. But no regrets."
McCaffrey objected when people congratulated him on his "retirement." He's not yet in a position to retire, he was quick to say, and he expects soon to be busy with other work. He's also still Moegelin's landlord, as part owner of the building that houses the garage and Waggy's Store & Deli — the convenience shop that co-owner Clayton Wagner added in 1994.
As McCaffrey stripped the Forester of its summer tires, slipped them off their rims and replaced them with snow tires, the cordless phone was a constant companion. "McCaffrey's Sunoco," he has been saying into the receiver for 27 years — always sounding as if he has nothing better to do than chat with callers, whose names, cars and stories he almost always knows. His calm contrasted with the scene around him on Wednesday afternoon.
Even as they worked in the garage and greeted well-wishers, McCaffrey and Moegelin were immersed in the logistics of changing ownership. McCaffrey was canceling the Yellow Pages ad he's been running for nearly three decades. Moegelin was on the phone talking to vendors. As the clock ticked past 3 p.m., they worried they wouldn't get every car done by 5:30.
"I can't think of a day when we haven't gotten everything done," Moegelin commented as McCaffrey listed off what still needed doing.
But a Subaru sedan in the far bay had an unexpected transmission-fluid leak that was hard to reach. On his penultimate day as shop owner, McCaffrey had to decide whether to buy two new tools to complete the job. He picked up the phone and ordered them.
Two days later — the first day in 27 years he hadn't been in charge of the auto shop — McCaffrey was home in South Burlington, pondering how long it would take him to empty his pickup of all the stuff he'd brought with him. His phone kept ringing.
One of the calls came from his old crew. The heater in the garage bays, which is fueled by waste oil, wasn't working. McCaffrey gave the caller the name of the heating guy who'd installed it and said, "He'll fix you up good."
McCaffrey will be back at North and North intermittently, probably up on a ladder fixing something as the landlord. But on this day, it was time to leave the business to Moegelin.
Indeed, the new owner posted on Facebook early Friday morning: "Brian's North End Automotive is officially open for business!"