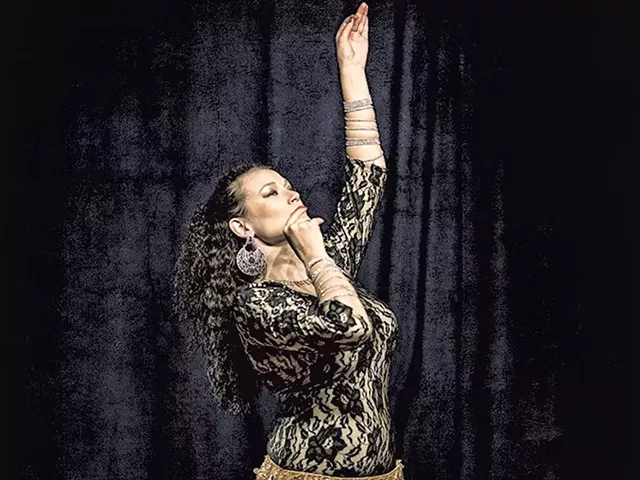 Courtesy of Peter Michael Paradise
Amity Alize
Rachel Cosgrove's fascination with Middle Eastern folk dancing began when she was 3 years old. She was with her mother at a Philadelphia restaurant that featured a belly-dancing performance. "My mom said I could not take my eyes off the dancer," recalled Cosgrove, who started taking classes in the art form in college. Now 31, she uses the stage name Alaia when she belly dances in public.
On Saturday, November 5, the Vergennes-based dancer will host a hafla at the College Street Congregational Church in Burlington. Hafla is the Arabic word for party or gathering; in the belly-dancing world, it means "performance," Cosgrove explained. She organized a similar event in Rutland last month, hoping to educate the public by demonstrating a wide range of belly-dancing styles.
"The Middle East is not a homogenous culture, and we're trying to showcase the differences," Cosgrove said.
The event is free, but donations will go to the Vermont Refugee Resettlement Program. Cosgrove sees the event as a way to "get people talking on how to connect with people from other cultures." That includes physical connection: The audience will be invited to take part in a folkloric line dance that is commonly performed in Lebanon.
Using hafla performances to benefit refugees isn't a new idea. Cosgrove was inspired to organize the events after attending a workshop in Burlington last January, she said. There she learned that her instructor, Amity Alize, founder of Raq-On Dance in White River Junction, had organized previous performances to fundraise for Sudanese refugees in Maine. Alize and her students will join Cosgrove for the hafla in Burlington.
"We try to foster as much as possible the positive about the Middle East, and to support where our dance form comes from," said Alize, a veteran dance mentor.
According to Cosgrove, the U.S. has a huge belly-dancing community. "It's just not very well-known," she said. "We all connect with each other through different events."
Alize agreed. Her students travel upwards of 45 minutes to attend weekly lessons at her studio. Others who live farther away — even in Canada and Alaska — join the class via Skype. "They fall in love with the music, and they fall in love with the dance and culture," Alize said.
Her student troupe, the Raq-ettes — raqs means dance in Arabic — will perform a dance from the Gulf region at the hafla. Alize will showcase a folkloric dance from Upper Egypt.
Irit Librot, a member of the Raq-ettes from 2010 to 2013, has attended belly-dancing workshops all over the world, she said. Now she focuses on improving her skills to come up with new movements. "It keeps me very, very happy," Librot said by phone. The Norwich-based nurse has been belly dancing for 10 years and performs at a restaurant in Massachusetts monthly.
Librot was born in Israel and moved to New York City at age 8. When she was growing up, her family discouraged her from pursuing a career as an artist. But she has found her creative outlet in belly dancing. "I love the music, movement and expressiveness part of it," Librot said. At the hafla, she'll perform a solo improvisational piece.
In addition to raising money for a good cause, Alize said, she hopes the event will help to dispel the negative associations some people have with belly dancing.
Steeped in stereotypes of belly dancing as "exotic" and sexual, the general public might choose to focus on the costumes and the dancers' midsections. But Alize would rather have people watch the dance itself — that's why she rarely wears a two-piece costume when she performs.
"The actual dancing is so rich. The music is so rich," Alize said. "A lot of it is based on old songs and poetry ... There's so much [more] to this dancing than costumes."