Matthew Thorsen
Christ the King Church
Residents in Burlington's Five Sisters neighborhood are wringing their hands over a neighborhood controversy — and chiming in, too: to their local city councilors, code enforcement officers and police. Most recently, they've filed multiple letters with the city attorney.
What's causing the commotion?
Church bells.
Or, to be specific, a loudspeaker system that plays the sounds of church bells and carillon hymns. Christ the King Church, a Catholic parish and primary school at the corner of Locust Street and Shelburne Road, installed the electric bell system in July after a donation from a generous parishioner. The system replaced a long-defunct speaker.
Update Required
To play the media you will need to either update your browser to a recent version or update your
Flash plugin
.
The "bells" chime three times a day — to mark the Angelus prayer at noon and 6 p.m. and to announce the end of the school day at 2:45 p.m., with more frequent ringing on Sundays. Most broadcasts include a short series of bell tones, followed by one or two hymns. But neighbors say they've recorded broadcasts that have lasted for up to seven minutes.
"I figured it was something novel — a one-time thing," said Katie Berk, a psychologist who works from her home office on Catherine Street, about a block and a half from the church. When a reporter visited her home on a recent evening, the 6 p.m. bells were clearly audible in the living room, though the windows were closed. A few minutes after the bells rang, hymns commenced.
"There is not a place in my house where you can't hear it," said Berk, who finds the hymns intrusive and annoying.
"At this point, we are looking for ways that we can assist in bringing people together to try to have some conversation about this issue," said city attorney Eileen Blackwood, who said the Community Justice Center might step in to facilitate a mediation. "We haven't ruled out enforcement, but we, at this moment, are trying to see if there are other options."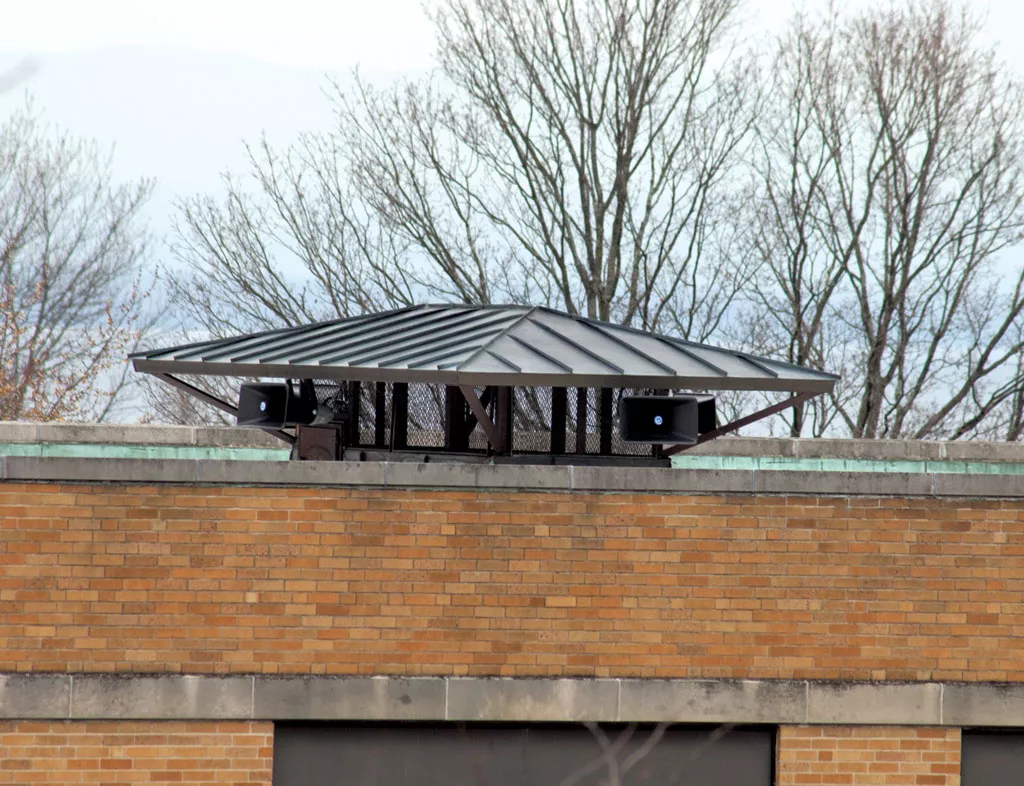 Matthew Thorsen
Speaker system on the church roof
Police have told neighbors, and the parish, that they won't be issuing any noise ordinances.
Neighbors say they turned to the city after attempts to talk with Father Rich O'Donnell, who leads the parish, "proved fruitless," according to their September letter to Blackwood.
Several of the neighbors said they wouldn't mind chimes to mark the hour or certain prayer times; they were more concerned about the prolonged broadcasting of full hymns. In her October 10 letter to Blackwood's office, Linda Van Cooper of Charlotte Street noted that she can always politely decline to speak with someone who comes to her house to share religious views or can recycle a pamphlet left in her door.
"In the case of this amplified broadcast of religious music into the whole neighborhood, I have no way to decline to receive it, aside from actually leaving my house and neighborhood according to a schedule the church has determined," wrote Van Cooper.
"I actually see it as a form of proselytizing," said Larry Miller, an airline pilot who lives on Charlotte Street, about a block from the church and school. "It's frustrating to me that they feel they can impose that sound on this neighborhood without talking to us, without communicating with us ahead of time, without planning for it ... I was pretty offended right from the beginning about their approach to the whole thing."
But on the other side of the debate are people like David Workman, who lives in the neighborhood and is a church parishioner — though he lives too far away to hear the bells at his own house.
"Given all of the excitement about this, you would think that they were the bells of Notre Dame," said Workman, who doesn't think the sound system is that loud, based on what he's heard standing directly in front of the church. Personally, he said, "I think it's wonderful ... There's a church and a steeple and a bell in every steeple in every tiny town [in New England]." The sound of bells ringing out is part of the region, he said.
It's not just parishioners who approve. "While often bewildering and confusing to my heathen non-Catholic ears, the chimes seem mostly pleasant," wrote Pablo Bose on Front Porch Forum. Catherine Street resident Beth Haggart delighted in the new noise. "Beautiful bells! How absolutely blessed we are!" she wrote on the forum. "How many of us have traveled to Europe or some other medieval village in other parts of the world to be woken up, or put to sleep, or taken to lunch by bells!"
Matthew Thorsen
Katie Berk
Early on in the Front Porch Forum fracas, neighbor Kiernan Flynn asked if the new bell system came "with a button which makes [it] audible to Catholics only?" Flynn followed it up with song suggestions — including that "Happy Birthday" be played on his special day — and solicited more requests "in an effort to further develop positive community relations."
Don Meals found the request "too much to resist." Included among his suggestions were the Grateful Dead's "Friend of the Devil," Elvis Presley's "Devil in Disguise" and Madonna's "Angel."
The jokes didn't go over well. "The response to these church bells ... is illuminating some clear religious bias," wrote Workman. "There is no other explanation I can see for this behavior." Would neighbors feel comfortable quipping about song suggestions if the noise were a Muslim call to prayer, he wondered, or the result of Taiko drumming?
The church's online responses have been upbeat and friendly replies from Jon Hughes, the director of advancement at the parish school. "We hope the neighborhood loves [the bells] as much as we do!" Hughes wrote on FPF in mid-July, before adding that the electric carillon wasn't the only recent change at Christ the King. "We now have air conditioning!"
Reached by phone, Father O'Donnell said the church is trying to be a good neighbor — and that the parish office is hearing far more compliments than complaints about the new bells. O'Donnell said some people have expressed the sentiment that "if our worst problem is bells, we're doing OK." He said the church is exploring the possibility of turning down the volume on the sound system. He's expecting a technician from the company to stop in soon.
Church-bell disputes are not unique and date back centuries. In 1772, some Philadelphia residents complained to the city about what would later be known as the Liberty Bell — "the inconvenience of which has often been felt severely when some of the petitioner's families have been afflicted with sickness," noted a Wall Street Journal writer.
Last year, a Rhode Island man sued a local parish, complaining that the "claps" and "gongs" that emanated from the church's electronic bell system hindered him from "peacefully enjoying" his property. He claimed the bells interrupted his dreams, thoughts and family relationships — and contributed to the demise of his marriage.
In 2009, the City of Phoenix limited ringing church bells under the city's noise ordinance. Churches in Arizona then sued the city, and a federal judge subsequently declared the city's efforts to criminally prosecute churches and pastors for ringing church bells unconstitutional, and a violation of Arizona's Free Exercise of Religion Act.
Does Burlington's noise ordinance apply to the CTK bells? The ordinance prohibits "loud or unreasonable noise," as well as "the use of loudspeakers or other sound-amplification equipment upon public streets for the purpose of commercial advertising or attracting the attention of the public to any building or site."
Blackwood acknowledged that freedom of religion, protected under the First Amendment, is certainly a legitimate justification for some forms of expression — within reason. Governments can enforce "reasonable restrictions" on the time, place and manner of that speech, said Blackwood, so that, for instance, someone couldn't stand on the sidewalk in front of a neighbor's house all day, shouting into a bullhorn.
Blackwood said it's too early to determine whether the CTK bells mark an "unreasonable" amount of noise — the standard, admittedly vague, set forward in local noise ordinances. She said that her office would likely be consulted if Burlington police investigated the church for violating the ordinance.
Miller acknowledged that living in a neighborhood means accepting a certain amount of unwanted noise. But he also believes that ordinances and zoning regulations are in place for a reason. August First had to obtain a peddler's license from the city before they sent a cycling bread hawker bellowing "Fresh bread!" up and down the neighborhood's streets. Just recently, Miller said, he received a letter from planning and zoning alerting him when a neighbor a few houses down wanted to put in a chicken coop.
"Does that mean that the church is allowed to do whatever it wants, without that process?" asked Miller.
The fact that the community wasn't involved in the decision-making process is one reason why neighbor Steve Levy opposes the bells. The chiming bells are not on the top of his nuisance list — he said barking dogs, kids skateboarding in front of his house and trucks clanking down the road were all more bothersome.
In fact, he finds the church and school to be a calming presence in the Five Sisters neighborhood.
But he said he is rankled by anything that reeks of a "special dispensation." If the church can get away with daily broadcasts, said Levy, "I don't understand why we can't all put speakers on top of our roofs and play whatever we want."