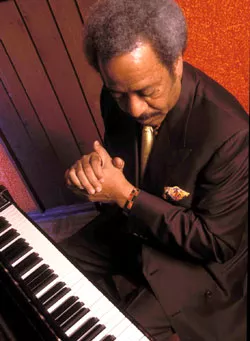 As living legends go, Allen Toussaint is a rather unlikely one. It's not for lack of talent. The unassuming 72-year-old pianist is revered by generations of musicians both for his profound technical ability and his charming and often playful style.
Nor does he rank as an underachiever. "Prolific" only begins to describe Toussaint's prodigious output as a songwriter. The hit-making Rock and Roll Hall of Fame inductee's music has been performed and recorded by pretty much everyone, including Otis Redding, the Pointer Sisters, Warren Zevon, Bonnie Raitt, The Band, Devo, the Grateful Dead and Phish. To name a few.
His résumé as a producer is equally impressive — think The Meters, Dr. John, Patti LaBelle, The Neville Brothers, et al. In fact, Toussaint's work with those artists and many others all but set the course of soul, funk and R&B in his native New Orleans in the 1960s and '70s. If you have a favorite song from those eras, it is a good bet Allen Toussaint was responsible in some fashion.
But for all his accomplishments, for all his greatness — and, make no mistake, he is great — Allen Toussaint is astoundingly, almost maddeningly modest. His contributions to modern popular music are nearly peerless. Yet, he will tell you he is far more comfortable being the man behind the scenes than the star of the show. In fact, were it up to him, he might never venture outside the Crescent City. Nonetheless, this Saturday he'll be in Burlington to perform as part of the Discover Jazz Festival.
"If left to my own devices," Toussaint says in a recent phone conversation, "I leave New Orleans only when I have to."
Of course, not long ago, he and many others did have to. Hurricane Katrina chased Toussaint from Louisiana in 2005. Incredibly, he says he views the storm that destroyed both his home and studio as "more of a blessing than a curse," and cites the outpouring of goodwill and renewed attention on the city following the devastation. Now back in his hometown, Toussaint notes, "The spirit of New Orleans, the spirit that has always been here, is still here, alive and well."
As a Katrina refugee, Toussaint landed in New York City. There he entered — even by his standards — a remarkably productive period. It rivals nearly every other in his long and distinguished career, particularly from a creative standpoint.
"That time spent away from the city was good for me," he acknowledges with a warm New Orleans drawl. "It gave me some added inspiration."
Indeed.
In 2006, Toussaint released The River in Reverse, a critically lauded collaboration with Elvis Costello. The record comprises a churning mix of old Toussaint songs and several new compositions written in tandem with Costello. As a musical work, it is brilliant. But it is so much more than that. The album is a statement, an elegant and elegiac protest addressing Katrina's dark aftermath. It was penned with heavyhearted passion, but also with the depth and insight of two songwriting masters. Toussaint uses only one word to describe the experience of writing with Costello: "magic." He could well be describing the record itself.
In 2009, he released The Bright Mississippi. Like River, the album was a critical smash and landed on scores of year-end "best of" lists. But even on this effort, his first true solo record in a decade, Toussaint gave others the spotlight. This time, he deferred not to a living musician like Costello but to some old dead guys with names like Monk, Django, Duke and Jelly Roll. The album consists of 12 jazz classics and standards, all of them either written in or evoking the spirit of New Orleans.
Predictably, the ever-humble Toussaint deflects praise for the work, bestowing practically all the credit on the record's producer.
"It was all Joe Henry," he says. "From beginning, [to] middle and end. Joe Henry."
There is some truth to that, actually. It was Henry, a tremendous, if overlooked, songwriter and producer in his own right, who first suggested Toussaint tackle such a project. As Henry recalls in the album's beautifully written liner notes:
One day in a studio in Los Angeles, while grabbing a piano overdub on a song we'd recorded earlier that afternoon, [Toussaint] began amusing himself between takes by blowing freely and with great invention through a song by Fats Waller. I was stunned. It was a revelation to hear this music ("my parents' music," he later offered) interpreted through Allen's very unique point of view. The song, inherently rhythmic as a composition, was transfigured by a left hand schooled in New Orleans, and by the melodic sensibility of a most particular kind of songwriter.
"Have you ever considered making a record like that?" I quickly asked him over the talkback.
"Never," he said with a slight grin, and kept playing by way of assuring me that he most certainly had.
Toussaint speaks of Henry with reverence. "He is a very classy individual," he says. "And a very classic individual.
"He envisioned the way he thought I should be recorded at that moment," he continues. "And I'm so glad he did, because it gives me such a smooth road to ride on. But I was really surprised when he presented that kind of repertoire to me. And then he surrounded me with these giant musicians, these gentle giants. Everyone on the album is a star in his own right. It's all Joe Henry's brainchild."
Finally acknowledging that he may have contributed some magic to the record himself, Toussaint adds, "[Henry] did everything but play the piano."
Toussaint, of course, has his own track record as an accomplished producer. He describes Henry's helming the project as a "luxury," because it freed the pianist in him to focus solely on playing.
"I just played the songs," he explains. "I must say, it's much easier when a song is so beautiful. One of your main aims is always 'don't ruin the song.' And these songs are so beautiful you can just play them as they are, with a little bit of improvisation here and there, and they take care of themselves."
He's being modest again. The songs on The Bright Mississippi are indeed great. But it is Toussaint's particular funky sensibility and style that breathe new life into these dusty classics — a point he (almost) concedes.
"I must say, like everyone who played on it and myself, there is some of us that always comes along with it," he says, his drawl thickening. And then, "But I must say, the material comes first."
Henry surrounded Toussaint with some of the finest players available, each of whom, as Toussaint points out, is "a star in his own right." The band includes drummer Jay Bellerose, bassist David Piltch, acoustic guitarist Marc Ribot, trumpeter Nicholas Payton and renowned clarinetist Don Byron. Saxophonist Joshua Redman and pianist Brad Mehldau also make cameos.
In praise of Byron, who will join the pianist for his performance at this year's Burlington Discover Jazz Festival, Toussaint is effusive.
"He is so full of colors," he muses. "He plays some things that are a whole lot more than merely the instrument he's playing. He plays fluid, liquid music. You don't hear the mechanics of it. You hear atmospheres, colors, sometimes without keeping up with what notes it is. You just hear music. I might add, he has a high intellect, but he's very soulful."
Toussaint is not alone in his admiration. Byron is widely regarded as one of the finest and most versatile players on the planet — in modern jazz or any other genre. As Time magazine once put it, "Calling Don Byron a jazz musician is like calling the Pacific wet — it just doesn't begin to describe it."
Toussaint offers a slightly different assessment. "He covers a lot of ground in his appreciation," he says. He adds, "He appreciates hillbilly music. I love anybody who loves hillbilly music."
More to the point, Allen Toussaint loves anyone who loves music, period. And he relishes writing the music that helps those people reach stardom.
"It inspires me to do more than what could ever come from just me," he says of composing for other musicians. "I'm not that interested in me. Not as an artist," he adds. "I make records from time to time. And I actually like it. Sometimes. But my comfort zone is to record others. To make it all work and to arrange, write the songs, make the music fit every part of it. I like that whole process. And to help the artist who loves to do what they do and loves to be out in front get there. That's the biggie."
In fact, if he had the choice, says Toussaint, he would write almost exclusively for others.
"Oh, I don't care for writing for me at all," he says. "It is always pretty tough, because I don't know who I am. I can't evaluate me walking in the door like I can look upon another artist and know who they are and where they've been and know their story. I'm so busy doing that, that I haven't paid attention to who I would be as the artist that would be most prominent."
Toussaint describes himself as a chameleon. "I sort of change these colors with every color that comes along," he says. "And I don't mean black or white. I mean nuances and emotions in an artist."
Like that chameleon, the artist has a natural tendency to blend in with his surroundings, even when he should be standing out. But could he find himself coming more to the forefront — say, on his upcoming new project with Joe Henry?
"Well, I don't feel that I'm a front-stage-center person," Toussaint says. "I haven't spent my life going toward that. So, artists who love that, they deserve all they get. And it would be OK if such would happen to me. But it seems like I don't really deserve what I don't shoot for."
Whatever you say, Mr. Toussaint. Whatever you say.