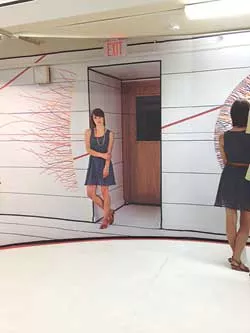 A few days ago I crisscrossed the state's middle and saw a lot of art — four galleries in three towns: Woodstock, Rutland and Rochester. I also saw a lot of green mountains and valleys, maturing cornfields, farmstands, slowpoke trucks, roads with new asphalt and roads still in post-Irene disrepair.
I saw the muscular, spandexed behinds of lots of guys on road bikes. Oh, and I saw one deer, happily not in the headlights but scampering away in a field.
I listened to a lot of public radio and heard about a hundred times President Obama's stern words about the violence in Egypt (and discovered where Vermont's geography steals the words and replaces them with static). I ended up in a fourth town, Montpelier, eating a lovely dinner at Salt. Well, actually, I ended up back at home in Burlington after that. Jiggety jig.
But back to the art. In the morning, I headed to Woodstock's ArtisTree Gallery, my mission to take notes on its current show, "Unbound Vol. III," for a review that appears in this week's paper. Suffice it to say here that this is the third annual book-arts exhibit, launched in conjunction with the town's Bookstock festival.
I learned that ArtisTree will soon be moving down the road to larger quarters — but that's a story for another time.
My next stop was in Rutland, at the newish Castleton Downtown Gallery. An outpost of Castleton State College's Christine Price Gallery, it's run by longtime art department chair, and estimable artist himself, Bill Ramage. Along with the Chaffee Downtown Gallery, it's giving Rutland an artier edge.
Ramage and I met for caffeination at the Coffee Exchange and then strolled to the Center Alley, which looks very urban. If helicoptered in, you wouldn't guess you were in the middle of the Rutland, Vt., business district.
But there we were, and there was the gallery, tucked at the stone-foundation level of one of the brick buildings that enclose this courtyard. The gallery is a small, narrow space, painted white except for the stone, and currently houses an exhibit called "Six Sides of the Cube." All but one of its half dozen artists live in Brooklyn.
The works include 2-D paintings and mixed-media works, 3-D sculptures and a minimalist video installation, each exploring in some way that hoary old geometric staple, the cube. Or, in some cases, a square that implies the third dimension, as in Julie Park's petite square paintings of, well, squares. There is also a "score," by Jack Callahan, that relates music to 3-D "coordinates" in a way I could not comprehend.
The half dozen artists include Ramage's daughter, Whitney Ramage. Her piece just inside the gallery's front door is a large-scale cube of fired gray clay. Before it was fired, Whitney featured the clay cube in a previous exhibit where visitors were invited to poke, prod and manipulate it. The resulting pocks and tweaks show the marks of human hands and illustrate the artist's stated interest in sensation and touch.
More interesting, though, is her wall-hung piece composed of six flat squares perhaps three feet on a side; each square is white but smudged to various degrees with gray. Turns out, Bill Ramage explained, his daughter spent time inside a cube-shaped box touching each side with her hands and other body parts, which were covered in graphite. Then she turned the box inside out, breaking it down flat to form this wall piece. Without the explanation, it's impossible to know how the piece was created, but to me it recalls the vague shapes and shadows in ultrasounds and X-rays. It's a rare example of someone thinking inside the box and getting intriguing results.
Which suggests Whitney is a chip off the, um, old block. In a tiny next-door gallery, her father has manipulated space — or rather, the perception of space — in a very different way.
Bill Ramage has created a photo-based installation he calls "papaNova" because it includes life-size photo cutouts of his children, Whitney and Jake. The pair stands with backs to the viewer looking at their father's circular design on the wall — a sort of chaotic mandala composed of straight lines in primary colors enclosed in a perfect circle. The figures reappear elsewhere, as does Ramage himself in one corner, holding a plumb bob on a string. In a sort of meta feat, he is also standing looking at himself, back to viewer.
If all this sounds impossible, it's not. But it was painstaking to create. All these figures are contained in a faux "room," made of a curving wall of gator board defined by parallel black lines that recall the outlines in a Lichtenstein "comic book" appropriation.
"PapaNova" is more than an accumulation of large-scale photographs and taped lines on walls. While it's disconcerting to encounter realistic images of people — in multiples — in a shared space, the real visual trickery is in those straight lines. That's because, when you sit in a chair placed in what Ramage called "the sweet spot," you see his curved installation exactly as you would see the rectangular room if the installation weren't there. That is, his manufactured, meticulously measured lines cohere with the perspectives of the actual room.
The piece is difficult to explain, but there is no denying how it warps your sense of space — creating, as it were, a feud between the visual cortex and logic. It looks real, but you know it isn't. The disorientation has caused some visitors, Ramage said, to experience actual vertigo. And the fact that this manipulation upsets us is interesting.
Ramage has gone to a great deal of trouble to demonstrate how we humans have been trained over centuries to see. As his website reveals, the artist has long been engaged in exploring perspective, linearity, dimensionality and the nexus of mind and eye, and his large-scale drawings and installations are masterful. One such piece from 1984, the cleverly titled "Mental Temple," is an architecturally inspired study in perspective that has kinship with "papaNova." The enormous works from Ramage's "centripetal" series layer circular movement over straight lines, creating a vanishing point so powerful that you feel nearly sucked into it, like a visual rabbit hole. Ramage's works challenge you to question what meets the eye, and that is always a good thing.
After this mind-bending experience, I hopped in the car and headed north, then over a mountain gap, toward my final art stop of the day: BigTown Gallery in Rochester.
The venue is now showing "Folk Vision," an assortment of paintings, drawings and sculptures by folk/self-taught artists living and deceased, famous (outsider superstar Howard Finster!) and not, from Vermont and elsewhere around the country. Unlike the highly conceptual works I'd just seen in Rutland, the pieces in this show are idiosyncratic, charming and sometimes visionary realizations by untrained artists. Some pieces are primitive, some extremely well executed; all are engaging.
Most of the pieces in the exhibit are from private collections, including some remarkable drawings on sandpaper by unknown 19th-century artists; magnificent realistic sculptures — almost more like toys — by Burleigh Woodard; and "bottle whimseys," comprising teeny sculptures in tall glass bottles. Hardwick's GRACE program provided drawings by famed Vermont folk artist Gayleen Aiken and paintings by Merrill Densmore. And living artist Theodore Ludwiczak contributed an assortment of his primitive heads carved from stone (he calls the hundreds of heads on his Hudson Valley property "Easter Island").
I missed the festivities on Sunday, which included a screening of Jay Craven's 1984 documentary Gayleen, not to mention pizza from BigTown's outdoor wood-fired oven. But another event is coming up on September 21: a folk art panel discussion with Vermont Folklife Center director Greg Sharrow; artists/collectors Marcy Hermansader, Mark Goodwin, Peter Thomashow and Bhakti Ziek; and BigTown owner Anni Mackay. Among other topics, it will aim to answer the question of why so many people are attracted to folk art.
Here's one thought: There's something appealingly rebellious about individuals pursuing a passion without letting a lack of "training" get in the way, and without the slightest concern for critical opinion.
As all this viewing made me hungry, I headed to Montpelier for an artful encounter of another kind: dinner.