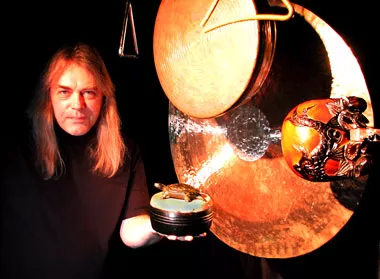 Percussionist Brian Johnson
Where does a musician choose to live when his art makes a really big racket? In Vermont, some opt for the quiet countryside - and practice when the neighbors are at their day jobs.
Percussionist Brian Johnson chuckles as he relates the directions to his house in Cambridge. He resides in a neat mobile home in a community called Highland Estates; several of the rural roads along the way have equally grandiose names. "You'll see my house and my truck at the end of the drive," he concludes with another chuckle. "Then you'll be at my estate. Come onto the back deck."
If Johnson, 54, is amused by the misnomer, he's not putting down this neighborhood of angular homes with spacious yards. On the contrary, he seems happy as a clam. "Some people say it's a trailer park, but it's a housing development; I own the land and the house," he points out. "It's 21st-century affordable housing."
But the purpose of this visit is not to discuss property; it's all about percussion. That is, Johnson's upcoming solo percussion-and-spoken-word performance at Burlington's FlynnSpace - a facility he happens to manage. The heady title of his presentation, which was commissioned by the Flynn, is "Electron Theory: The Stuff of Being."
Settling into what is clearly his favorite chair - right next to the glassed-in quarters of his Russian box turtle, Little Nikita - Johnson tries to explain himself. "At some point you start to think about what it's all about," he begins. "I was meditating on, what is the thing that makes life? It's electrical charge. And I came up with this idea of three electrons in every living thing - something very small that separates being from non-being . . . That 'three thing' manifests itself in so many ways." The big trinity, of course, is "body, mind, and what I call the confounding 'other.' Most people call it spirit," he says.
Just when his visitor is wondering what all this has to do with banging on instruments, Johnson sums it up: "So, this performance is exploring those three things." Oh.
But the triumvirate structure of "Electron Theory" - "The Realm of Body," "The Realm of Mind" and "The Realm of Other" - is only part of the numerology. The whole show actually consists of nine compositions, each "completely different from each other," Johnson announces, and varying in length from four to about 30 minutes. All are written for small percussion set-ups - that is, just one or a few instruments.
Johnson likes to focus on what a single instrument can do. The triangle, for instance. Included in Johnson's program is a 1988 piece written for him by a former professor, the composer Alvin Lucier. Called "Silver Streetcar for the Orchestra," it wrests from the elementary instrument every sound one might think possible, and then a lot more. The singular composition "makes you listen minutely," Johnson says, noting that he premiered it in Miami at a New Music America festival. "It's now played all over the world" by fellow percussionists, he notes with a trace of . . . not so much pride as wonderment.
Most pieces on the program are Johnson's original compositions, such as "In D Minor," in which "a whole lot of things are going on at once," thanks to an amplifier, vibrato and an octave doubler. Johnson describes another piece called "In an Old Trusty Rowboat" as being "about a guy rowing a boat and getting seduced by a beautiful girl. It's about time, the future, freaking out about time."
For this piece he hand-built an ingenious contraption from wood and metal hinges. "I haunt hardware stores," Johnson confides. Moving the hinges slowly back and forth, he duplicates the precise sound of creaking oars on a wooden boat. Until called into action, this apparatus sits on its own stand in Johnson's compact living room, doubling as a conversation piece.
The creaking thingy pales in comparison with Johnson's "dreamset," however. Dominating a small room at the back of his house, this über-drum kit has the usual kick, snare and high-hat, but it's pimped out with extras such as sleigh bells, a bell tree, a gong, tuned finger cymbals, Chinese-Vietnamese temple blocks and other jury-rigged noisemakers. When Johnson demonstrates it, the sounds - aside from the chest-thumping pulse of the kickdrum - are both otherworldly and, well, third-worldly. The overall effect is vaguely mystical, like music used in rituals. That's intentional - but so is the slightly comical quality. Johnson sits encircled by his percussive playpen, looking both mischievous and masterful. The text he's written to accompany the music, he says, is "incantatory."
The dreamset comes into play, literally, in the third section of "Electron Theory" - the "Other" place. Billed as a world premiere in a press release, the piece is also called the "21st-century version of 'Dreams on the Turtle Earth' - an epic narrative of Johnson's mysterious encounters with, and dreams of, one of the Earth's oldest creatures."
That would explain Little Nikita. And the framed color photograph of other turtles, cut from a magazine, that hangs on Johnson's bathroom wall.
"I have amazing encounters with turtles, and I do dream about them. I don't know why," Johnson reveals. "I have come up with a strange conclusion, but I don't want to say what it is."
***************
Brian Johnson may shroud his turtle obsession in mystery, but it isn't any secret to his friends. Aimee Petrin, his former colleague at the Flynn and now executive director of PCA Great Performances in Portland, Maine, knows all about it. "This is a man who brakes for snapping turtles," says Petrin. "He'll actually get out of the car and move them to safety." One time, Johnson lore has it, he rescued a turtle mother-in-waiting and went to the trouble of finding her buried eggs so he could move them, too.
Petrin, who calls Johnson's concerts "more than just a listening experience," notes that the Flynn has commissioned work from him before. In 1991, the arts center sponsored his composition for a nationwide festival called New Music Across America; Johnson's piece was performed at the University of Vermont's Fleming Museum. In addition, Johnson says, he was commissioned to compose and perform music for the grand opening of the newly renovated Flynn, in 2000. "We had people playing on the roof and on the street," he recalls.
Patrons of the FlynnSpace who don't yet know Johnson as a musician and composer will certainly recognize him as the imposingly tall, longhaired and beetle-browed bartender. A gracious and witty host at other people's performances, Johnson has been manager and technical coordinator since the FlynnSpace opened.
Outside his day - or rather, night - job, he serves as president of the Vermont chapter of the American Federation of Musicians. Though "there's not much going on in Vermont," he admits - musicians here do not have union contracts - members can take advantage of professional discounts on equipment, as well as legal services. Johnson used the latter when he got divorced several years ago, he says. He often attends the federation's conventions and has used his authority at times "to help prevent Vermont musicians from getting ripped off."
Johnson rarely has to play the heavy for his peeps, though. More often, he's just playing music, such as for the Vermont Symphony Orchestra - that's him manning the timpani - or the Green Mountain Opera Company. Then there's his much less predictable, non-classical work. Fellow percussionist Jeff Salisbury, who teaches at UVM and Johnson State College, recalls when he had his own commission from the Flynn in 2003 and invited Johnson to be a member of his quartet. One improvisational piece, on the history of brushes, involved flyswatters, whisk brooms and regular drum brushes. "I gave Brian the flyswatters, and he went out and had the audience in stitches," Salisbury says. "He is eclectic, intelligent and hilarious - an amazingly humorous percussionist."
Calling Johnson a "sort of neoclassical percussionist," Salisbury notes his varied background in classical and contemporary music. "Brian has played in Shakespeare festivals and toured in Europe," Salisbury says, then points to Johnson's active involvement in the international Percussive Arts Society as evidence of his connections in the percussion world.
Born on Long Island, Johnson earned his music degree at the Hartt School, a conservatory in West Hartford, Connecticut. Afterward, he stayed in town to become a music presenter at an experimental arts center called Real Art Ways. He also played drums in a "pun rock" band called Billy & the Buttons in the early-to-mid-'80s, performing in such iconic venues as CBGB's in New York City. Johnson says he lived in an "almost completely black and Hispanic" neighborhood in West Hartford, where "everyone was very nice" - until the community was shattered by a wave of gang violence beginning in 1989. The next year, Johnson moved to Vermont.
Though he lauds a couple of Hartt professors as important influences, Johnson says his "greatest hero" is the late composer John Cage, a pioneer in both electronic music and "chance" music using found instruments. Johnson's penchant for humor and the avant-garde made him a natural fit for "Kalvos & Damian's New Music Bazaar" - the now-defunct radio show, formerly at Goddard College's WGDR, that focused on the quirky world of contemporary nonpop. "Damian" was Barre-based composer David Gunn, who recalls when Johnson performed that solo triangle piece on the show. "It was amazing to think one single instrument could make so many sounds," he says. "Especially a triangle. It was mesmerizing."
Gunn was part of the entourage that included his buddy Dennis Báthory-Kitsz - a.k.a. "Kalvos" - and Johnson on a 2005 European trip for a series of concerts in Germany and Holland. "There was one lovely moment in - I'm pretty sure it was Amsterdam - when Brian started out the concert by exorcising the performance space," Gunn remembers. "With whistles and shakers, he roamed around the room. One snooty audient left because he was offended, apparently. Brian stalked after the fellow - it was wonderful performance art. And everyone felt much better after the man left," he notes, "so the exorcism was successful."
Gunn says he can't think of any other composers in nonpop circles who do solo percussion; he's particularly impressed by Johnson's creative use of single instruments and his unorthodox presentations. "He has a wonderful piece about reaching his 50th birthday that consists of Brian playing the bass drum with, I think, a cymbal on top - it vibrates against the drum head," Gunn explains. "There is a great racket and he screams poetry while playing. This is not a warm-and-fuzzy piece, but it's a laugh riot."
What may get lost behind the humor is the fact that Johnson is a master player: He has an uncanny ear for not just hearing but reproducing sound. He's like a person with a facility for speaking many languages. So it makes sense when he says his work "is absolutely polyglot. I get the great privilege of being an American musician, percussionist and composer," Johnson adds. "I can draw on anything in the world."
In the United States, Johnson says, "the sound palette expanded exponentially" in the 20th century. "The level of sophistication, even at the high school level, has just skyrocketed," he marvels. In Mozart's time, he adds, "Timpanists were just old violinists who couldn't play anymore. Percussion today . . ." Johnson pauses to shake his head, still amazed. "Now there are guys who travel around and just play percussion instruments."
Even so, Johnson concedes, "There are still a lot of people who don't even know what percussion means. 'You mean, like drums?'" he mimics. Maybe that's why one of his compositions is called "Omigod! What's That Sound?"