S
ummer doesn't officially start until June, but in Burlington, the season kicks off on the Sunday of Memorial Day weekend with the state's largest sporting event: the annual
People's United Bank Vermont City Marathon & Relay
. The 26.2-mile race electrifies both runners and the community at large — and not just because it means the weather's getting warmer.
There's something magical about the marathon. More than 8,000 runners from across the country participate, and 20,000 spectators show up every year to cheer them on. It's a symbiotic relationship — the runners get a much-needed boost from the energy of the crowd.
Sometimes that boost is tangible. Angela Duquette-Catlett experienced this one of the first times she ran the race. The Burlington resident was struggling through the Lakewood Estates neighborhood, on the verge of giving up or collapsing in the heat, when she spotted an elderly woman with a big bucket of wet sponges. The woman gave one to Duquette-Catlett, and it became a kind of talisman.
"It was just a stupid wet sponge, but I carried it the whole rest of the race," Duquette-Catlett remembered with a laugh. "It was like my security blanket. I felt like Linus with my little sponge, and I refused to let it go." The sponge helped her make it to the finish line.
Duquette-Catlett marveled at the way the community came together for the runners that day. Seeing a stranger on the sidelines cheering her on gave her a new outlook on the exhausting, time-consuming training process. "I can't think of any other experience where an entire community comes together for you like that. It's just amazing."
The behind-the-scenes community effort is amazing, indeed. Runners like Duquette-Catlett train for months to run the race, and race organizers are preparing for at least that long, too.
A small nonprofit,
RunVermont
, coordinates this logistically complicated event, along with five other races; it helps with a dozen more. Executive director Peter Delaney explains that his 10-person team relies on 2,000 volunteers to make the magic happen. They do everything from registering runners to staffing the medical tent to blocking off the roads. Said Delaney: "The marathon literally could not happen without volunteers."
Assembling the Team
Duquette-Catlett is also one of those volunteers. She first donated her time in 2003. Duquette-Catlett handed out water to runners at mile 18. "I cried," she remembered. "I was just so inspired by everyone that I cried."
The next year, she ran the relay, and in 2005 she trained to run the marathon on her own.
In addition to participating in the race every year, Duquette-Catlett finds other opportunities to help out. There's an expo at the DoubleTree the Saturday before race day, at which runners can come get information, check in and pick up their swag. Duquette-Catlett works at one of those booths, and it's one of her favorite days of the year.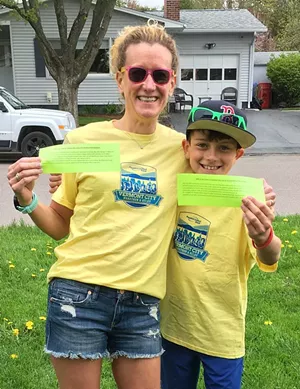 Courtesy Photo
Angela Duquette-Catlett and her son
"The expo day is really fun," Duquette-Catlett said. "Everyone is so excited about tomorrow, and you can really feel that. It feels like the beginning of a weekend-long party."
Duquette-Catlett also passes out pamphlets along the route during the week before the race and coaches a team of Mini Milers, a RunVermont running program for kids that is supported by the funds from the People's United Bank Vermont City Marathon.
"The team of volunteers is awesome; there's so much energy," Duquette-Catlett said. "There's lots of opportunities for kids to help out, too. I love seeing kids on the course passing out water bottles and cheering people on."
Duquette-Catlett's son also pitches in. She first started bringing him with her to volunteer when he was in a stroller, and she would push him along the route as she passed out pamphlets to neighbors. Now, he's 9 years old and also runs the Timberlane Dental Group Mini Marathon the day before.
"As a runner, it's important to give back," she said. "And when you're in a room with a bunch of runners, it's also really fun. It's also a great way to be part of the community."
Pitching the Medical Tent

Courtesy Photo
Left to right: The race's medical codirector, Denise Alosa; volunteers treating an overheated runner in an ice tub; and medical support volunteers
Denise Alosa was part of the People's United Bank Vermont City Marathon's first medical volunteer team. In 1989, a friend of Alosa's recruited her and four others to stand on the sideline with a first aid kit. Thirty-one years later, Alosa is the race's medical codirector, along with Dr. Suzanne Elliot. She directs a team of 100 to 200 volunteers. They staff a large tent with a miniature triage area at Waterfront Park, a smaller tent at Oakledge Park, and sets of volunteers every two miles of the race.
"Our operation has grown to meet the demand as the race becomes a bigger event every year," Alosa explained. "If we didn't have the setup we have now, we would quickly overwhelm Burlington's only hospital."
What keeps Alosa coming back year after year? The people. Alosa said that race day really shows the community at its best; it brings everyone together outside for a good time.
Though it's not always a good time: Nine years ago, the medical tent saw their first critical heat-stroke patient, a man named Harden Watkin. It was the first year that the medical tent included an ice tub where they could dunk overheated runners right on-site. Watkin arrived in the tent critically ill. Before they put him in the tub, he had a temperature of 109 degrees. Now, Watkin and his wife, a physical therapist, travel to Vermont from their home in North Carolina every year to help out in the medical tent.
"He knows the race so well now that he's just a wealth of knowledge," Alosa said. "He's run marathons just about everywhere. He just completed his 50th state, Hawaii. It's good to have someone with all that experience around."
Clearing the Roads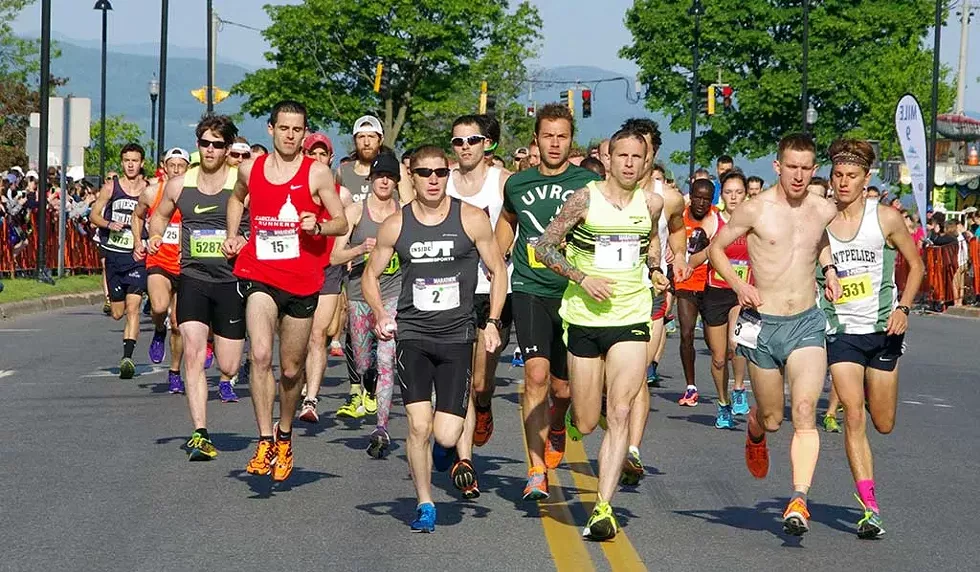 Kristin Fletcher is up by 3 a.m. on the day of the People's United Bank Vermont City Marathon. She's what's called a "course captain" for the first leg of the race, in charge of leading volunteers who block off that section and do crowd control to keep the runners safe. The roads close at 6 a.m., and everything needs to be ready to go by then.
Fletcher's section is on a busy road and needs a lot of volunteer help, since they need to make sure it's totally blocked off. "The roads actually don't close until an hour before the race starts, so that's the most nerve-racking part. I get so anxious about making sure the roads are clear for the runners."
This year will be Fletcher's fifth volunteering, and she said the entire effort is very organized. "Everything is always spelled out; everyone's in communication a lot to let them know about everything going on, so it's really a nice gig," Fletcher explained. She's never run the marathon herself, but she keeps coming back because she loves the community of volunteers and finds the runners inspiring.
Fletcher first heard about the opportunity to volunteer through her friend Renée Ross, a 15-year veteran volunteer. Ross' husband, Jon, is one of the organizers of the race. As a course captain, Ross does a lot to recruit volunteers in advance. But her favorite day is, of course, race day.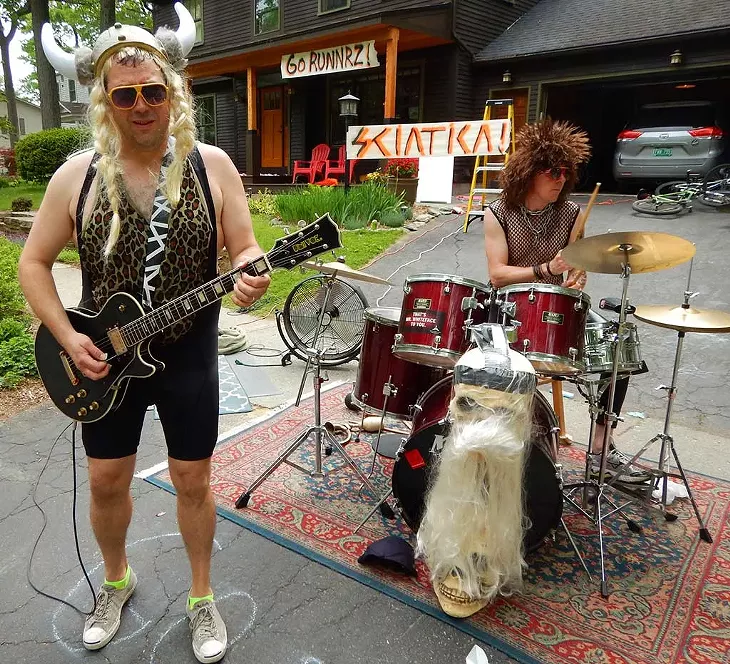 RunVermont
Neighborhood band Sciatica serenading the runners
"I love meeting all the volunteers and cheering on the racers," she said. "It's such a fun, high-energy event."
Of course, race day doesn't come without its challenges. Over her years of work, Ross has navigated problems such as roadkill on the route, as well as fire trucks and ambulances on tiny streets minutes before 8,000 runners are about to come through. But, she said, "everyone has a great attitude; you just put on a big smile and deal with it." It's hard work, but they are usually able to finish up early in the morning and go watch everyone cross the finish line — just in time to grab breakfast afterward.
"It's such a privilege to help the runners have this experience after they've been working so hard," Fletcher added. "It's an inspiring day to see everyone being part of it, and it's rewarding to know you helped make it all happen."
Sound exciting?
RunVermont is currently recruiting volunteers for the 2020 People's United Bank Vermont City Marathon. For more information, email volunteer@runvermont.org, call 802-863-8412 or...
This article was commissioned and paid for by Run Vermont.