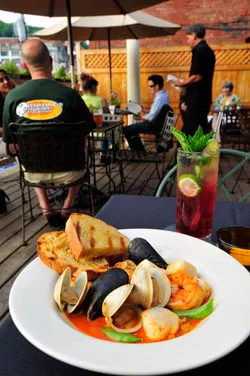 Jeb Wallace-Brodeur
The Black Door
Diners can be pushovers when it comes to ambience. Just as taste is actually 90 percent smell, visuals — whether artful décor or an enchanting terrace — can pique our senses and soften our attitude toward a meal. Glaring lights are fine if the food is worth it, but some evenings call for ambience that engages the senses.
The seductively lush, art-nouveau interior of Montpelier's Black Door has probably played a role in the restaurant's enduring appeal. Perhaps it helped draw chef Ignacio Ruiz here from Plainfield's Tasca. He closed that eatery this spring and hoofed it into the bigger burg of Montpelier with most of his staff. Who wouldn't want to take over a place with exquisite 1930s details and a killer deck that's one of the most relaxing spaces to chill in the capital city? The kitchen serves until midnight, and there's live music in the lounge on the third floor.
Former owner Phil Gentile closed the Black Door Bar & Bistro on New Year's Eve; ostensible new stewards Michael and Laura Kloeti — owners of Michael's on the Hill in Waterbury — planned to reopen it in late January. But that deal fell through, and the Kloetis walked away.
Three months later, Ruiz reintroduced the Black Door to Montpelier's dining scene with a Spanish-influenced menu resembling that of Tasca. The roster of tapas, large plates and sides allows diners to construct their meals in myriad ways. But they'll want to head to the Black Door with a sense of adventure, because the dishes can be uneven: Some are subtle and delicious, while others are a confusion of textures or lack flavor.
My companion and I started by trying the Sunday brunch — the only afternoon meal served here. By day, the restaurant's brick walls, stained glass and teardrop lamps seem frozen in time. Pots of petunias adorn each table, the menus are leather bound, and the cream and sugar accompanying the dark, delicious coffee come in ornate ceramic dishes. By the time the waitress delivered a tall, tangy, peppery Bloody Mary, we felt cosseted.
The brunch menu is full of standards such as eggs, French toast and buttermilk pancakes, some with Spanish inflections and all in generous portions. A plate of steak and eggs ($12) arrived with a sizable hunk of juicy, faintly piquant flank steak nestled alongside perfectly over-easy eggs with shimmering, deep-yellow yolks.
My dish of scrambled eggs with sofrito and chorizo sausage ($8) was less appealing: The eggs were a mottled deep red and quite acidic, which I didn't expect. The rich sofrito overwhelmed the eggs; after a few bites, I resorted to fishing out the peppery, fatty chunks of chorizo that were the best part of the plate. The home fries — actually salty, crispy roasted potatoes — were dry, but a few spears of steamed, bright-green asparagus and Red Hen toast dressed up each of our plates. We left with bellies full.
During a dinner visit a few nights later, the blood-hued interior and its long, wooden bar had a more inviting, almost illicit feel — a sexy place for drinks or a late-night meal.
While waiting for a table on the deck, we spent a long time trying to choose from the exhaustive drink menu. The bar has 20-odd beers on tap (many local); a creative cocktail list with drinks such as a ginger margarita and a mojito made with blackberries; and an eclectic assortment of wines by the glass. The house sangria was perfect for a steamy night — fruity, herbaceous and subtly spicy, with whiffs of anise, plum, pear and cherry.
The service was initially prompt and friendly, and our waitress guided us through the numerous tapas and specials. However, at 7 p.m., the kitchen was already out of a few things we hungered for, such as minced-seafood canapés topped with avocado and aioli. There was plenty else to choose from, but it was our first disappointment.
The tapas items we ordered arrived at a relaxed pace, in keeping with the laid-back vibe on the deck. But it gradually became clear that the kitchen sometimes underseasons and overcooks. A white-bean soup ($3.50), filled with chunks of tomato and zucchini, was somewhat bland. A trio of rich pork and beef Spanish meatballs ($6) was smothered in a luscious, thick tomato-wine reduction, but the meat was unexpectedly tough, as if it had been sitting under hot lights.
With their lack of spice and reliance on tomatoes, the dishes seemed rather more Italian than Spanish. Some of that missing heat appeared in a dish of diced, spicy potatoes ($4), but their fiery punch was nearly drowned in a cloying, pale-yellow aioli. The latter would be better served on the side, so diners could dip at will.
The garlic mushrooms ($9) were sufficiently garlicky and earthy, but because the accompanying slices of bread were barely toasted, the plate was too wet. The kitchen could easily halve this dish in price and portion size and serve it as a tasty topping for crostini.
The entrées saved the evening. The seafood stew ($16) was a generous heap of plump scallops, chunks of salmon, calamari, clams, shrimp and mussels, all resting in a fragrant puddle of golden-yellow fish broth that tasted of saffron, cream and a hint of white wine. It was zesty and lively, but also subtle and sweet; the sauce highlighted the fish's flavors without overwhelming them.
As the burgers at the previous Black Door were legendary, I couldn't resist ordering one. Oozing, juicy and enormous, the fist-sized hunk of grass-fed beef ($12) came more rare than I expected but was bursting with flavor. The Manchego cheese melted across the top added a creamy nuttiness, and the fluffy, garlicky aioli was an addictive dip for the crisp fries. The burger's size, however, was daunting; it was so towering and drippy that the brioche bun began to fall apart in my hands. Each large dish comes with a salad — in my case, wilted spinach studded with raisins and a generous helping of toasted pine nuts. The dressing was nondescript, but the greens tasted incredibly fresh.
We barely had room for dessert or coffee, which was fortunate, because the waitress, who became scarcer as the evening wore on, delivered the bill without offering either. When pressed, she told us the restaurant had already run out of all three desserts — a chocolate lava cake, a poached pear and a cheesecake. It was 9 p.m., and most of the tables on the terrace were full. It seemed we would all have a sweet-free evening.
When we drifted back onto the street, we felt only half satisfied. The produce at the Black Door is local and fresh, but it is sometimes prepared in ways that suggest indifference to texture and seasoning. I feel compelled to try the place again, though, if only because it offers a versatile menu, generous portions for the price, and a chance to nurse a sangria on the deck while also drinking in the view and the setting sun.