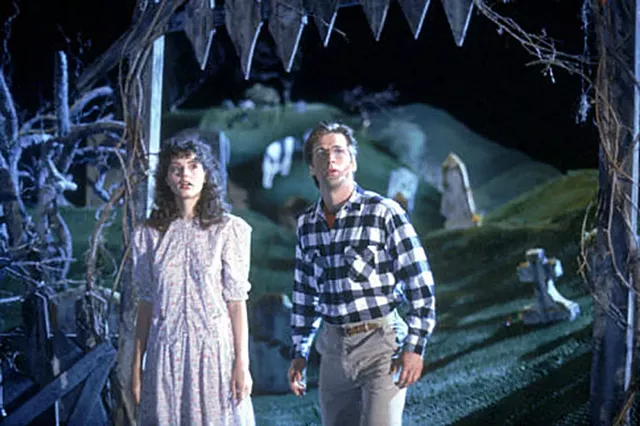 Back in the days when big Hollywood crews still came to Vermont, Tim Burton used the hamlet of East Corinth as the setting for Beetlejuice (1988). While plans for a sequel to the beloved horror comedy appear to have been scuttled, a special screening this July 20 aims to revive its bucolic creepiness at Box B Ranch, the East Corinth barn where the film's sets were built.
"The cemetery [set] was on my front lawn," says Lori Buik, who owns the barn, in a phone call. She wasn't there when Beetlejuice was shot but says her dad "told me how nice the crew was."
Decades later, Buik got a call from Kenny Caperton, creator of On Set Cinema, a North Carolina-based "film series that takes fandom a step further with rare movie screenings of cult favorites and horror classics at their actual filming locations," according to its website. Caperton, whose home is a replica of Michael Myers' house from Halloween, wanted to screen Beetlejuice in the town where it all began.
On Buik's suggestion, the screening became a fundraiser for the East Corinth Congregational Church, located across the street from Box B Ranch. Church volunteers will serve dinner and help run a tour of filming locations. On his website, Caperton invites fans to come in costume and watch from the barn's hayloft if they prefer.
While the July event requires advance tickets — and has been getting national publicity — the public will have another opportunity to check out Box B Ranch, Buik notes. On Saturday, May 25, the barn will host the church's Third Annual Flea and Art Market, which includes a lunch by donation.
Speaking of films shot in Vermont, the Middlebury New Filmmakers Festival recently announced a new $1,000 award to be presented at the conclusion of its fifth annual fest on August 25: the Shouldice Family Prize for Best Vermont-Made Film. In a press release, MNFF producer Lloyd Komesar writes, "creating a Vermont-centric prize like this is a major milestone in our development."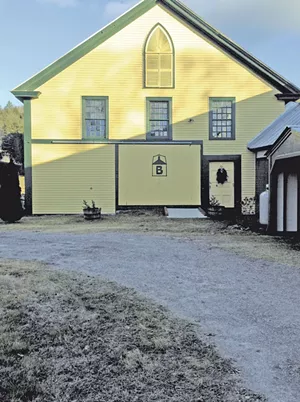 Courtesy Of Sarah Polli
Front entrance of Box B Ranch in East Corinth
Both shorts and features are eligible, provided they were created in Vermont. MNFF, which screens filmmakers' debut or second works, already presents an array of awards. The fest will accept submissions through May 21; for more info, see middfilmfest.org.
What does Burlington School District's Integrated Arts Academy have in common with musicians Kelis and Nick Cave and "Game of Thrones" cocreator D.B. Weiss? They're all showcased in Blink Films' documentary The Creative Brain, an exploration of human ingenuity based on The Runaway Species: How Human Creativity Remakes the World by Anthony Brandt and David Eagleman.
The documentary's narrator describes IAA as "a school on the poor side of the tracks" that was saved by "a radical new approach, to put creativity and the arts at the heart of every subject." Kids are shown learning geometry via abstract art in Aurie Thibault's fourth-grade classroom, while principal Bobby Riley opines, "The skills that are embedded in the artistic experiences are making them better people."
According to a press release, Brandt learned about IAA in 2015 and included it in the book, which led to the magnet school's involvement in the film. You can see The Creative Brain as part of IAA's 10-Year Magnet Celebration on May 30 — or stream it on Netflix now.
Speaking of documentaries, the Vermont International Film Foundation has plenty. In addition to its monthly Last Thursday series, which consists mostly of recent narrative features, VTIFF has launched a nonfiction series called Sunday Best, held on the second Sunday of every month at Main Street Landing Performing Arts Center.
Presented in collaboration with Vermont PBS, the docs are preceded by intros from VPBS director of programming Eric Ford and followed by discussion; they're free with a suggested $5 donation. On June 9, catch The Gospel of Eureka, the portrait of a small Southern town where two forms of elaborate performance — an evangelical Christian passion play and a drag show — somehow coexist. Richard Brody of the New Yorker praises the doc's "fervent embrace of community in the shift from hatred to acceptance."