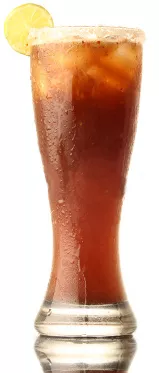 Restaurant Week ends on the eve of Cinco de Mayo, and in a saucy nod to Mexican descaro, one of the drinks that will flow at Red Square this Friday will be the Michelada, aka the 'Beer Bloody Mary.'
In hotter climes, this blend of beer, hot sauce, lime, salt and tequila is a common libation. The drink's name is a mashup of "mi chela helada," translated from Mexican Spanish as, literally, my + beer + ice-cold. The cocktail is rumored to have been modeled on a drink that Mexican Revolutionary General Augusto Michel used to order at his San Luis Potosí watering hole.
Spicy, peppery and refreshing, the Michelada may not be everybody's cup of chile, but half-samples will be on hand for the curious. For a local twist, Red Square will make their version with Otter Creek Spring Bock, as well as a splash of blanco tequila.
To try one, join us this Friday at 6 p.m. for Booze & Brews: Meet the Beer Cocktail.
Tomorrow, we'll take a closer look at a Black Velvet.