Stephen Mease
Award-winning brewer Chris Kesler
T
hinking about going back to school? Before signing up for an out-of-state program you find online, consider taking classes closer to home at the University of Vermont. Yep, the state's only research university is also home to an extensive
Continuing and Distance Education division
. It offers a surprisingly diverse array of more than 500 classes that serve career changers, experienced professionals and high school students hoping to get a head start on college. Its programs allow students to access a flexible yet rigorous learning environment that Vermonters know and trust — and one that's often more affordable than the traditional undergraduate setting.
There's no "typical" student in these classes, but here are three people whose stories illustrate the breadth of UVM's Continuing and Distance Education options.
---
Hoppy He Enrolled at UVM
Stephen Mease
Chris Kesler
When
Chris Kesler
turned 50 in February 2015, he decided to start brewing beer. A partly self-taught IT and web design entrepreneur, he initially learned to brew by searching for information online. "I went a little berserk watching YouTube videos," he recalled.
His first batch of beer turned out surprisingly well, so he made more. By 2016, he was brewing about 100 batches a year in the basement kitchen at his Essex Junction office, a former Baptist Church that's also home to his web design and digital marketing firm, Earthlogic.
Kesler's friends and family appreciated the fruits of his new hobby. But, he noted, they "almost have to say it is good." So Kesler entered competitions to test his talents. In 2017 he placed second in a statewide homebrewing competition sponsored by Beverage Warehouse, Farrell Distributing and 14th Star Brewing in St. Albans, which earned him a chance to make a batch of his beer in a professional setting.
"It felt like I was home," Kesler said.
Many blue ribbons later, and after he had been named Vermont Homebrewer of the Year, Kessler started thinking of opening a brewery. He learned as much as he could about making beer by becoming a certified beer judge and a certified cicerone (beer sommelier). But to learn more about the industry itself, he turned to
UVM's Business of Craft Beer program
, a new offering of UVM's division of Continuing and Distance Education.
As a graduate of UVM's School of Business, Kesler, '87, knew the value of a UVM education, and he was eager to get professional training to help him launch his new career. It's not enough just to make great beer, he said. "You need to be good at all the aspects of the business of craft beer making."
UVM, it turns out, is one of the only places that teaches the business part.
Kesler started UVM's Business of Craft Beer Program in the fall of 2017 and finished by the following spring. The program was "a great fit," he said. "It covered all the topics — operations, finance, legal, branding and marketing." And the classes took place entirely online, so he could keep working while he learned.
Tuition for the professional certification is $4,485, which covers three online courses plus the capstone project. Kesler says that it was worth the investment.
In fact, he credits the capstone project and access to expert instructors with helping him accelerate the development of the business plan for his Black Flannel Brewing and Black Flannel Distilling companies, scheduled to open in Essex in early 2020.
"The certificate program delivered on everything it promised," he said. "It gave me exactly what I was looking for and the tools I needed to make this happen."
The Business of Craft Beer is one of 40 programs run by the division of Continuing and Distance Education. Its team studies national markets and trends to find unmet needs, and then designs courses — such as the
Business of Craft Beer
and the
Cannabis Science and Medicine Professional Certificate
— that capitalize on the expertise of the university's faculty.
Dr. Cynthia Belliveau, dean of Continuing and Distance Education, says that seeking additional certification beyond a bachelor's degree is increasingly common. "In this day and age, you cannot be stagnant when it comes to your education," she said. "In order to advance, you'll have to continually increase your repertoire of new knowledge."
---


'I'm Always Learning'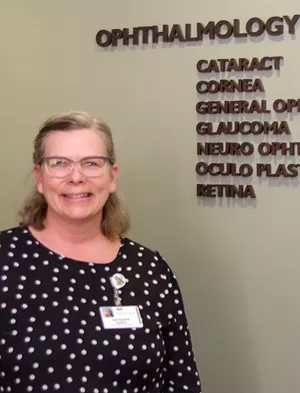 Stephen Mease
UVM CDE grad Kathleen Merrick
The number of certificate courses offered through Continuing and Distance Education is increasing quickly: It's "the area of fastest growth for us," Belliveau said. "There are many people who need to update their skills to stay current in their jobs, and there are many people who want to learn new ones to change jobs."
Kathleen Merrick
has switched careers many times over the past four decades. The 56-year-old Essex Junction resident initially earned a Bachelor of Fine Arts in painting from Daemen College near Buffalo, N.Y. After working in an art gallery and then as a graphic designer, she took a customer-service job with Verizon in 1990.
In 1999, Merrick decided to become a massage therapist. Over 17 years, she grew her solo practice to a wellness center with a staff of 20 that served an upstate New York farming community.
But owning a business left little time for herself and family, so in 2016 Merrick sold it. Her husband also quit his job. They bought a camper and traveled the country visiting national parks.
After six months on the road, the couple settled in Vermont to be near her husband's aging parents. To pay the bills, Merrick initially worked at Kountry Kart Deli in Burlington making sandwiches. "Why? Because I love to make sandwiches, and it was a great team to work with," she said.
Her husband's heart problems prompted Merrick to reevaluate yet again. Spending time with him at the UVM Medical Center, she rediscovered the difference that people in a hospital or medical practice can make in the lives of those they serve. It was time, she decided, for her to return to health care.
But working in the busy clinic, Merrick quickly realized that, despite her years of health care experience, she had much more to learn about this constantly changing field. An employee newsletter alerted her to the
UVM Healthcare Management and Leadership Professional Certificate
, offered through Continuing and Distance Education. It includes daylong seminars led by industry experts who discuss real-life project management, data-driven decision making, workplace strategies, adapting to change, and how to lead and develop employees.
Tuition for the program was $1,995. "I could have waited six months, and the medical center would have picked up the cost," Merrick said, "but I paid for it myself because I'm the kind of person who wants to learn right away." Her employer appreciated the benefit her continuing education would bring to the clinic, she said, and made it easy for her to take the time for the Friday seminars.
One of her favorites, Data-Driven Decision Making: Management by Fact, was taught by a woman from the Rutland Regional Medical Center. "The small size — about 12 to 16 people in the seminars — really let us get to know each other and cross-reference our experiences," Merrick said.
It was a transformational class for her. "In my whole lifetime experience, I've relied on my gut and intuition," she said. "Taking this leadership program helped me balance my intuition with fact-based decisions.
"Data-driven decision making extends beyond patient care," Merrick added. "It can include ... speaking to a colleague, checking with the provider, and asking for more information. Even though I know a lot about health care at this point in my career, I'm always learning and finding the right balance for best patient care."
---
Cutting College Costs
Stephen Mease
UVM Summer Academy student Makenzie Detch
Some students take classes through Continuing and Distance Education before receiving an undergraduate degree. That's what
Makenzie Detch
of Williston did. She's a self-professed nerd and overachiever who says she's always excited to go to class and loves reading her notes "for fun."
"Ever since I was a sixth grader, I've wanted to be a brain surgeon," she said. "I like understanding how things work, and I'm a perfectionist."
Detch graduated in June from Champlain Valley Union High School, but she took her first college class more than a year ago.
At the end of her junior year at CVU, Detch participated in Continuing and Distance Education's
UVM Summer Academy
, a four-week residential and online program. It offers high school juniors and seniors the chance to explore new areas of study and earn transferable college credits. Its offerings this summer included Adventures in Neuroscience, Drones for Environmental Mapping, Health and Medicine, and Journalism With Words and Photographs.
Last summer, Detch lived on campus, made new friends from across the country, and earned three credits in the course Biomedical Science & Human Disease. The experience also helped her decide to enroll at UVM full time after graduation, despite an earlier concern that it "was too close to home."
During her senior year at CVU, Detch took five advanced-placement courses while also working at Hannaford Supermarket & Pharmacy in Williston to save up for college. Because of those AP classes, she was able to take UVM's Intro to Biology 2 this summer, an upper-level, three-week class and lab that covers a new topic every day.
Stephen Mease
Continuing and Distance Ed dean Cynthia Belliveau
Thanks to the Summer Academy and
Vermont Dual Enrollment
, a state-sponsored program that allows eligible high school students to take two free college courses, Detch figured she shaved off about a year's worth of required credits. She hopes to graduate college in three years instead of four — important when you're splitting the tuition bill with your parents, she said.
It's stories like Detch's, Merrick's and Kesler's that keep Continuing and Distance Education dean Belliveau energized about the potential of higher education. "There is a spirit of 'if you can dream it, you can also learn to do it' that comes through in so many of the stories of people who have been part of our programs," she said.
She invites anyone interested in learning more to reach out to Continuing and Distance Education's enrollment counselors. "A big part of our team is dedicated to matching students with the program that's right for their needs," she said. "Through collaborations with UVM's various colleges and schools, we offer courses and programs to help you explore your options."
→ Want to find a degree or certificate program that's right for you? Explore all your options at
learn.uvm.edu
.