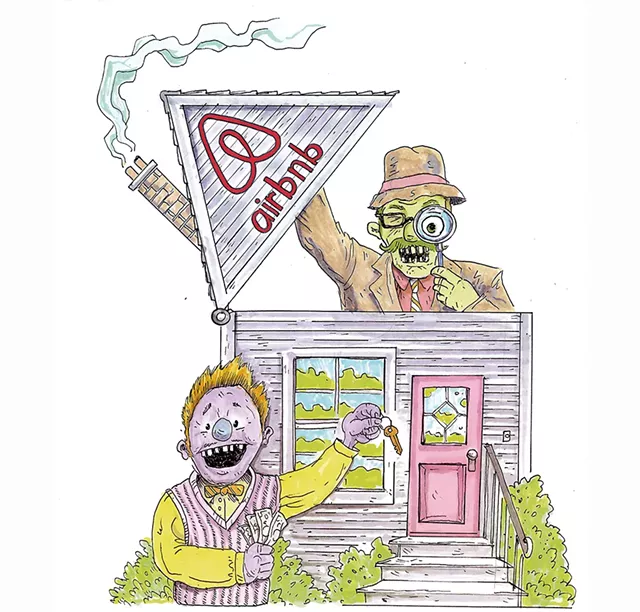 When Linda Provost first posted her Burlington home on Airbnb eight years ago, it was one of about a dozen local listings. "Now," she said last week, "there are hundreds." Indeed, the short-term-rental website listed 720 Queen City options as of June 1 — up from 430 listings in January 2017.
The rise in rentals is not the only sign of the company's surging popularity: Burlington received $61,000 in taxes from the platform during the first half of this year, compared to $27,000 during the same period in 2018, an indication that more people are using the service.
But aside from the tax revenue and raw numbers, Vermont's biggest city knows little about its Airbnbs. City regulations require that all of those who offer short-term rentals of less than a month — including just a room in a home — hold a bed-and-breakfast permit. The rules, though, are widely ignored: Burlington has issued permits for only 17 short-term rental properties.
"We know that there are a number of unpermitted short-term rentals out there," was the understated take from Burlington planning and zoning director David White. He noted that the company's numbers are likely inflated because it counts individual rooms for rent in a single house as separate listings, but he conceded that there are hundreds of unpermitted Airbnbs in the city.
With Airbnb showing no signs of slowing down, Burlington, like other cities across the country, is grappling with how to handle the increase in rooms, apartments, houses and cottages for rent by the night. Current listings in Burlington include a secluded lakeshore cabin on Apple Tree Point (starting at $150 per night), a College Street apartment with brick walls and bay windows overlooking bars and shops ($125), and a bedroom in a brightly painted Victorian ($60).
At the city-sponsored Burlington Housing Summit last month, Airbnb was a popular topic of discussion, both for its good and bad effects on neighborhoods. Those talks could form the foundation for new regulations on the rentals expected sometime this fall, according to White.
"We have to decide how heavy or light a touch we want to take," he said.
Current regulations for B&Bs are fairly light. They must meet parking requirements (generally one additional off-street spot per rented room), and conditions of approval can dictate hours of check-in, to reduce noise. As short-term rentals, they aren't even subject to minimum code inspections that include tests of smoke detectors and other safety equipment. The homeowner must live at the property, though, which means some of the Airbnbs currently listed might not be allowed, even if owners seek permits.
The city has done little to go after unpermitted short-term rentals, partly because it has no staff assigned to track the hundreds of listings on Airbnb and competing platforms such as Vrbo and HomeAway, White said. Until the city has a consensus on direction, there isn't much point in aggressively enforcing the current regulations, he added.
"It doesn't make sense for us to spend a tremendous amount of time and resources in chasing these things down," White said. "Let's first figure out what we want."
Neighbors' complaints, while fairly rare, have prompted the city's few enforcement actions, according to White and Burlington code enforcement director Bill Ward.
In one instance, New North End residents complained about an unpermitted Airbnb on Wildwood Drive, and the city code enforcement office filed a notice of zoning violation in 2017. The property owner, identified as Shouyan Li Gardiner in city records, then sought the proper permit. She did not respond to a request for comment from Seven Days. Several neighbors opposed the permit.
"What we have experienced on a regular basis is the sound of people coming and going next door late into the night, with doors slamming, people talking, phone calls being made," Daniel Frye and Anne Tewksbury-Frye wrote to the Burlington Development Review Board in August 2018. "We have been awakened many, many times due to this noise, and it feels as though it is literally right under our window."
The review board ultimately granted the permit, with conditions on parking.
Noise isn't the only worry in the Queen City.
In a community with a shortage of affordable housing, concerns are mounting that long-term rentals might be converted into more lucrative short-term ones in situations that are more hotel-like than home sharing, White said.
There's a flip side, though, according to White: Several hosts who attended June's housing summit said they couldn't own a home without the short-term rental income stream.
"It allows them to be a first-time homeowner," he explained. Hosts also said that they prefer choosing when to rent, versus signing on a long-term tenant, he said.
"The flexibility of being able to decide when you do, and when you don't, want to make your unit available was very attractive to them," White said.
His department will discuss new regulations on short-term rentals at a follow-up housing summit on September 4 with a range of those affected, including housing developers, short-term-rental hosts and low-income housing advocates. Recommendations would ultimately need city council approval.
For now, some hosts are doing their best to follow the rules. Provost, for instance, bought her North Winooski Avenue house, then a duplex, in 2003 and rented out the upstairs unit while she lived in the lower. But she wanted to renovate the place and realized that if she switched to a B&B, she could generate the income needed to pay back the costs.
So in 2011, she obtained a B&B zoning permit and experimented with Airbnb. In 2013, Provost put on an addition, and now she has two units that are almost exclusively booked through Airbnb at $165 a night, not including taxes. She makes about $55,000 annually from them.
The income helps the retired graphic designer stay in her house — albeit the job of cleaning, laundering and booking is time consuming, something all potential hosts should realize, Provost warned.
She's not interested in growing her short-term-rental biz by buying up additional properties. But the financial advantage over long-term renting is clear. "If you have a duplex, you make more money doing Airbnb," she said.
Newer hosts also say the math works for them. Andrew Raubvogel and his wife, Nancy Kaplan, obtained a B&B permit in February so they could rent out a room in their 1881 house on Mansfield Avenue. Their kids are mostly grown, and the upkeep and taxes on the five-bedroom house are significant, said Raubvogel, an attorney. Their room rents for $100 and up, depending on the day of week and time of year.
"I think it's a great thing," he said about Airbnb. "The city wants to keep people like us in the city, but the taxes are outrageous and the carrying costs are outrageous on these big houses."
The couple has had "zero" problems with guests, who are often parents visiting a college student, or professionals who need temporary digs near the University of Vermont Medical Center. "We live here," Raubvogel said. "We're super careful in terms of who we want to be here."
Airbnb collects and remits rooms taxes directly to the state and Burlington, and the company established a similar arrangement earlier this month with the City of Rutland. In other Vermont communities that have a local rooms tax, hosts are supposed to collect and forward the money to local government, but there's debate about how often that actually happens.
In Burlington, at least, Raubvogel feels the taxes on Airbnb are being collected fairly and appropriately. He also thinks there are plenty of guests to go around for traditional hotels and inns.
"I feel like we coexist well with the rest of the market, and I don't think we impose one iota on our neighbors," he said.
Meanwhile, hotelkeepers are increasingly aware of the competition from short-term rentals. "There's no doubt" that services such as Airbnb are siphoning off some customers, said Joe Carton, chief operating officer for Westport Hospitality, which owns Hotel Vermont and Courtyard Burlington Harbor in downtown Burlington.
Both properties used to be fully booked a month before busy weekends such as UVM graduation and the Vermont City Marathon, Carton said. Now there are openings on the day of those events.
"I don't think there's any less people coming," Carton said. "There are just more options."
The company has not resorted to price drops to compete; Hotel Vermont's rooms currently start at $299. Nor has it resorted to posting its own rooms on Airbnb, which some traditional lodgings have done.
But Westport has tried to offer more of the local personality perks that Airbnb guests seem to crave, such as free community yoga classes; local jazz, classical and folk performances; and how-to sessions on beer brewing.
Westport's biggest beef about short-term rentals is that the zoning is more lenient than for hotels, and he thinks there should be more consistency.
But he doesn't believe zoning should regulate Airbnb hosts out of business. "The market will dictate" which ones succeed, Carton said. "If they are good at it, God bless them.''