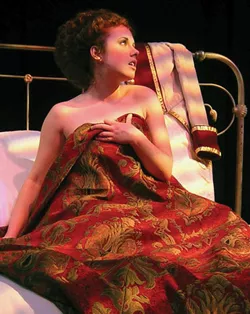 While Sigmund Freud was identifying sexual repression as a psychological problem, his contemporary Arthur Schnitzler was recommending a potent "cure." The dramatist's Der Reigen plays like a bedroom tour of turn-of-the-century Vienna, revealing a lusty populace eager to hop into the sack. The play sparked a scandal when it was first staged in 1921 for its depiction of marital infidelity, cross-class couplings and women who take charge of their sexual desires.
The fact that Schnitzler was Jewish also drew anti-Semitic criticism, leading to a fracas that included street riots and an obscenity trial. (The playwright was acquitted.) But the show went on, as shows must do, taking its best-known title, La Ronde, from the French-language film adaptation of the play directed by German-born Max Ophüls in 1950. Both Der Reigen and La Ronde refer to the children's game "Hands Around," in which players meet in a circle, then pair off, then repeatedly switch partners.
In the UVM Department of Theatre production of La Ronde currently playing at the Royall Tyler Theatre, what once provoked outrage in polite European culture now prompts laughs. In his UVM directorial debut, new theatre prof Gregory Ramos skillfully guides his cast in a lively, dramatic reflection on how love and sex commingle in the service of "the basic human need for intimacy," as Ramos puts it in a program note.
The show's treatment of this potentially risqué subject is artful by design. Department of Theatre Chair Jeff Modereger's scenery invites the audience into the most private of realms - essentially a series of bedrooms mounted on a small stage rising from the main one. Rear-wall projections of room interiors, mansion exteriors and city street scenes create the sense that the, er, action is taking place in diverse quarters of the city.
During moments when a player's romantic aspirations are finally physically fulfilled, the stage goes dark save for projections of erotic images by fin-de-siècle artists Gustav Klimt and Egon Schiele. Between scenes, all 10 actors in the ensemble take part in a formal dance to period music downstage of the riser. This inspired directorial choice wryly underscores the metaphor of sex as a ritual dance, while applying another coat of high culture to the play's refined veneer. Martin A. Thaler's lavish costume design further authenticates this theatrical world.
The contrast between refined public displays and carnal private release generates heat in La Ronde, but humor, not eroticism, is the dominant effect. Even scenes in which actors appear partially nude - fairly uncommon in the modern off-campus theater, never mind college productions - emphasize the absurd degrees of assurance one party sometimes requires from the other before giving up the goods. In one memorable scene involving the Young Wife, played by Catherine Durickas, and Calvin Utter's Young Gentleman, the act of disrobing in the heat of passion - an ordeal, given the cumbersome fashions of the times - lampoons the chill propriety casts on spontaneous sexual encounters.
Given that contemporary popular culture portrays college campuses as hotbeds of sexual activity, one might expect student actors to slip easily into the roles of bed-hopping bourgeoisie. La Ronde is more than a romp, though, and the play's staying power in this rendition owes much to the depth of acting talent among Ramos' cast. Each actor gets more or less equal stage time, thanks to the play's unique structure: Scenes play out with two characters each, and one of those characters carries over to the subsequent scene. This relay approach adds dynamism - and some semblance of progress - to a play otherwise lacking in plot.
In the role of the Prostitute, Jana Pollack anchors the work both structurally and emotionally. In her opening scene with the Soldier, played by Richard Hutchinson, she is a sexual object to be used and discarded. In the play's closing scene, when she appears opposite Timothy Fairley's Count, her degradation is cast in a more poignant light. As she dresses on the morning after sleeping with the Count, one reads in her affect - and that of her client - hints of the emotional toll of loveless sex.
Eight other scenes unfold in between, featuring a Maid (Alli Shapiro), Utter and Durickas' young couple, a Husband (Greg Perkins), a Girl (Annie Stauffer), a Poet (Adam Yeager Gould) and an Actress (Jess Hodge). The mood in these scenes is lighter than that of the ones that bookend the play, particularly in those pairing Gould and Hodge, and then Hodge and Fairley. Gould's poet and Hodge's Actress are equally vivid portraits of artistic self-absorption, which becomes comical the more Hodge's Actress reminds the Poet about her former lover. Hodge carries her outsized ego into her second scene, with Fairley; her comic sensibilities punctuate it with memorable mirth.
That energy propels the play forward at a fairly steady pace. Some scenes do languish, however, in too-ponderous language and performance. And the full-length work runs for nearly two hours without an intermission. Given the play's narrative structure, no between-act break presents itself, so the decision to execute the work in a single long breath is logical. But theater-goers are advised to hit the restrooms before the show.
Ultimately, the cast's full commitment to this stylish piece - including the nudity, which the drama department stresses is "partial but tasteful . . . not recommended for younger audiences" - engages the audience from scene to scene.
That bare breasts and butt cheeks on stage don't incite riots in the streets - in Burlington, at least - suggests the predominance of a more liberal attitude toward sex than once prevailed. That PR offices and reviewers, including this one, still find stage nudity noteworthy may be evidence of lingering prudishness in the culture. In the tradition of quality theater, UVM's production of La Ronde reanimates a bygone era on another continent in a manner that offers a poignant, often humorous reflection on how we relate to one another here and now.