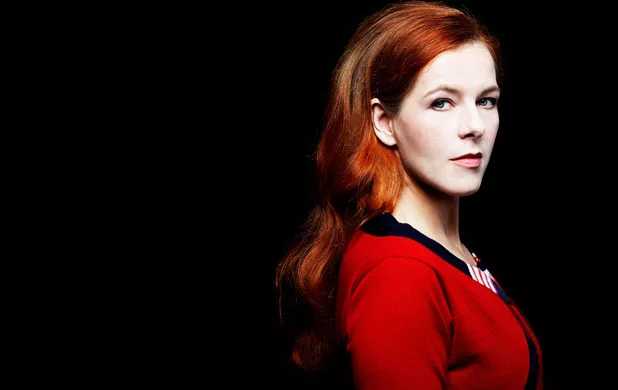 That Neko Case bought an old farmhouse in the Northeast Kingdom might have been the biggest local music news of 2009 not involving Phish. Not that you would have known it from reading local papers. While most Vermont media outlets made note, in some fashion, of the songwriter's arrival, none were actually able to contact her about it directly. Instead, we read of a barn full of pianos and idyllic pastures in rags like the New York Times and Paste magazine. And we waited.
Part of the issue is that Case is famously guarded about her personal life and prefers to keep publicity to a minimum. And with good reason. Her encounters with stalkers in recent years have been well documented.
The other thing is simply that Neko Case is one busy lady. Last year saw the release of her most widely acclaimed record to date, Middle Cyclone, her second for the Anti- label. The album debuted at number three on the Billboard charts and was nominated for two Grammy awards (Best Contemporary Folk Album and Best Album Packaging). Case toured extensively and reached the height of her professional visibility to date. Somehow, she also found time to work on a new record with her "old" band, legendary Canadian rockers The New Pornographers, set for release this spring. No wonder Case is tough to get ahold of.
But get ahold of her we did, after considerable effort. In advance of her upcoming benefit show in St. Johnsbury for Catamount Arts, Seven Days chatted with Case by phone from her home in the Northeast Kingdom … where she was fixing her cabinets.
SEVEN DAYS: After you moved, you said in several interviews that Vermont was one of the only places you ever truly felt like you fit in. After living here for a year, do you still feel that way?
NEKO CASE: I still feel that I made the greatest decision ever. I mean, it was a decision I would have made a lot earlier in my life if I had more financial freedom. But now that I'm an adult, I can do things like move, which is kinda nice. But I can actually move to where I want to live. But I'm lucky that where I wanted to live wasn't San Francisco or something. I wouldn't have been able to afford that. Or New York City. That would have been a real bummer.
SD: But you've moved around quite a bit. What was it about Vermont that spoke to you?
NC: It was just a very unique kind of kindness that people have. You're very inclusive, Vermonters. So even if you meet super-diehard locals who view you as a total flatlander, they are still kind. I think the worst you'll get as far as "state-ism," or whatever you want to call it, is that people might have a good joke at your expense, which I'm pretty into. Vermonters have a great sense of humor.
SD: That we do. So the upcoming show is a benefit for Catamount Arts. How did you become involved with them?
NC: It's kind of the hub of the Northeast Kingdom, as far as arts and entertainment go. And they pretty much run the gamut, from movies, art, music — all kinds of different media. So they're the go-to folks if you want to learn about art here. They were the first people I went to when I came here, because it seemed like the obvious place to go. And they couldn't have been more friendly or helpful, especially with advice on how to get settled — what to do with what, who to talk to. They've just been so friendly.
SD: OK. Enough Vermont-y stuff. You were nominated for two Grammys this year. Is it true what you always hear, that it's an honor just to be nominated? Or were you bummed that you didn't win?
NC: I was not at all bummed that I didn't win. It was pretty hilarious to be nominated. What people don't know about the Grammys is, the reason you're nominated is because your record company petitions for you to be nominated. So it's not like the academy just went, like, "She is the shit!" You know what I mean? My record company asked me if it was OK to petition and I said, "Sure. I just don't want to know anything about it. It would make me too nervous." … It was an experience. And I'm glad that I went. In my band, we do a lot of joking that I can now be called "two-time Grammy loser, Neko Case."
SD: [Laughing] I like that.
NC: Me, too! But just going to the thing was so weird, the thought of winning was the last thing on my mind. Especially because, in the categories I was in, like the art category, I thought the David Byrne album cover was so beautiful, ever since I bought it. So I kinda thought he and the fella who designed it deserved to win. I didn't lose to anyone that I thought, like, What?! 'My Humps'? What the fuck? How could I lose to 'My Humps'? And I have a friend who has a very similar story to that. But I wasn't disappointed. I'm just glad I got to see the spectacle of it all.
And you know, I was part of the Grammys that are earlier in the day, that are not exciting to the public. So it was pretty amazing how few people actually show up to collect their Grammys. I definitely didn't lose to anybody who showed up. So I thought I should at least get an honorary one for showing up.
SD: Absolutely! The Grammy for perfect attendance goes to…
NC: Yeah. A Grammy attendance card. Well, I guess I have that. But it was odd. I felt like Margaret Mead.
SD: [Laughing] I never realized there was an actual ceremony for those awards.
NC: Oh, that stuff starts at, like, one in the afternoon! And the place is only, like, a third full, if that. And you could kinda tell that some of the presenters were miffed about that, actually. And I was, like, "Lady, I feel ya. Where is everybody?" But they were probably working, or saving orphans or something.
SD: Most likely. Now, the fact that you were nominated is perhaps indicative of you reaching a new level of fame. Is that something you're comfortable with?
NC: Well, I'm not the kind of person who gets recognized at the grocery store. And that's not something I want. So the fact that it was the low-key Grammys actually made me pretty happy. You know, it's the Grammys where you actually get your purse searched by a guy with a metal detector. It just seems like a different thing than what it really is. And not that what it is is bad, by any stretch of the imagination. It's just so … different. That's the only word I can think of to describe it. Different.
SD: Let's switch gears. How did you become involved with [Cartoon Network series] "Aqua Teen Hunger Force"?
NC: A few years ago, The New Pornographers were touring for our last record. And we were on tour with our friend Jon Wurster, who was filling in for our drummer. Jon is the drummer from Superchunk. But he is also a comedy writer. And he had worked with "Aqua Teen Hunger Force" and was telling me about it. And I was, like, "Oh, my God! Really? I'm so in love with that milkshake [Master Shake] and I don't even know why!" And then I said, "But don't tell them that, because that's probably really weird." [Laughs] And sure enough, the next thing he did…
Anyway, they thought it was kind of funny and asked if I wanted to be on the show. That felt like what winning a Grammy would be.
SD: Indeed. Well, you may have lost the Grammys, but you did have Elvis Costello feature one of your songs on his TV show "Spectacle."
NC: Yeah. That was just plain terrifying, basically. Elvis Costello could not have been a more gracious, kind person. He came in my dressing room before the show and just talked about music for, like, two hours. The guy is just such a huge music fan and such a welcoming person. So that was really helpful. I can't imagine how completely pants-shitting I would have been if he hadn't done that. So, thank goodness he's such a kind host.
It was the first time I'd really done anything like that, and I'll tell you, it's not for the faint of heart. But it's fun. It's kind of like being in a movie. Like you're going through the wardrobe into Narnia and you've gotta not fuck it up. And you've gotta not fuck it up pretty much with no rehearsal. Woo-hoo!
And that's where folks like Sheryl Crow come in and they're, like, "Accordion? No problem. What key?" And you're like, "You are a badass. And you're wearing a leather vest. A tiny leather vest." But she's gonna just whip out an accordion. Oh, and then maybe play the bass. On the same song. No big whoop. Hasn't really heard it yet? No problem. I was so in awe of them all.
It's funny. You can make snide comments about rock stars all you want. But there are really ones out there who can really fucking play like maniacs. And then they're really nice people, too. I don't know what the word is. It's like when what you hope is true is really true. It's like Glinda the Good Witch just comes down and makes it all cool. Because sometimes meeting people who are really your idols can turn out to be one of the most disappointing things ever. There are some really mean people out there. But that was not one of those times. It was jolly.