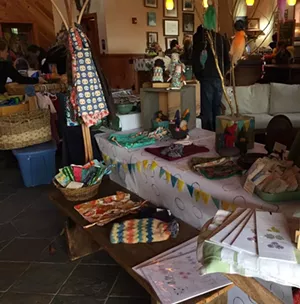 Orchard Valley Holiday Market
'Tis the giving season, and Vermont artisans offer an impressive array of gift options, from hand-turned wooden toys to woven scarves. As a former farmers market vendor, I visit holiday fairs every year for their high-quality goods — but also to chat with the crafters. The folks selling their wares are usually happy to talk to customers about the materials they use and their crafting process. Whether you're looking for hand-knit mittens, a special necklace or just something one-of-a-kind, chances are you'll find it at one of these fairs. Admission is free unless otherwise noted.
Craft Vermont
hosts their annual juried show, with a selection of fine art, jewelry, wood crafts and body-care products. Friday, November 18, 10 a.m.-8 p.m.; Saturday, November 19, 10 a.m.-6 p.m.; Sunday, November 20, 10 a.m.-5 p.m., at the Sheraton Conference Center in Burlington; $8 for a 3-day pass; free for children under 12. Bring a non-perishable item for the food shelf. Info, 872-8600. vermonthandcrafters.com
Local artisans and specialty food producers display handcrafted gifts, including pottery, scarves, stained glass, maple syrup and chocolates at the
Chandler Holiday Artisans Market
. Friday, November 18, 5-7 p.m.; Saturdays, November 19-December 17, 9 a.m.-3 p.m.; Sundays, November 20-December 18, 11 a.m.-3 p.m.; Wednesdays, November 23-December 14, 5-7 p.m.; Thursdays and Fridays, November 25-December 16, 11 a.m.-5 p.m.; and Monday, December 19-Wednesday, December 21, 9 a.m.-3 pm, at the Chandler Center for the Arts in Randolph. Info, 728-6464. chandler-arts.org
The
Capital City Thanksgiving Farmers Market
offers fresh greens, local produce and meat, artisan cheese, honey and maple syrup, wool and other crafts, along with festive music and lunch fare. Saturday, November 19, 10 a.m.-2 pm., at Montpelier High School in Montpelier. Info, 223-2958. montpelierfarmersmarket.com
Pottery, jewelry, yarn creations and more grace the tables at the
Pittsford Craft Show.
Saturday, November 19, 10 a.m.-3 p.m. at Lothrop Elementary School in Pittsford. Info, 483-6351.
The Waldorf-inspired
Orchard Valley Holiday Market
boasts body-care products, fine crafts, children's books and hand-made gifts, with savory soup and healthy snacks for sustenance. Saturday, November 19, 10:30 a.m.-3:30 p.m., at the Vermont College of Fine Arts in Montpelier. Info, 456-7400. ovws.org
The
Women's Festival of Crafts
features more than 80 female artisans selling an array of gift items, including cards, pottery, jewelry, origami and glass. Saturday, November 26, 10 a.m.-5 p.m. and Sunday, November 27, 10 a.m.-4 p.m., at the Burlington Town Center on Church St. in Burlington. womensfestivalofcrafts.com.
Local crafters come out to showcase their wares at the
Swanton Arts Council Craft Fair
, while shoppers savor lunch and a bake sale. Saturday, November 26, 9 a.m.-3 p.m. at the Holy Trinity Episcopal Church in Swanton. Info, 868-6258. facebook.com/swantonartscouncil/
Locavore lovers return to the
Middlebury Farmers Holiday Market
for regional produce, handmade crafts, lively music and lunch fare. Saturday, December 3, 9:30 a.m.-2 p.m., at Mary Hogan Elementary School in Middlebury. Info, middleburyfarmersmkt@yahoo.com. middleburyfarmersmarket.org
The
Lake Champlain Waldorf School Holiday Fair
features handcrafted gifts and children's activities, including candle dipping, African drumming and a visit to the Snow Queen's cave. Free admission; Small fee for some activities. Saturday, December 3, 10 a.m.-3 p.m., at the Lake Champlain Waldorf School in Shelburne. Info, 985-2827. lakechamplainwaldorfschool.org