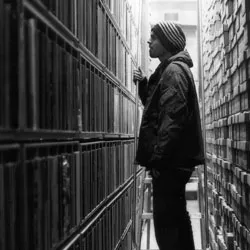 In 1996, DJ Shadow altered the landscape of hip-hop forever with his groundbreaking debut album, Endtroducing. That record, credited as the first album ever composed entirely from samples, triggered a Renaissance in hip-hop production and cast DJ Shadow as one of the most forward-thinking musical minds of his generation. In the years since, he's continued to be a provocateur, whether solo or collaborating with the likes of Cut Chemist, Cool Keith or Mos Def, and a singular artist who consistently challenges audiences to keep up.
In advance of his DJ set at the Higher Ground Ballroom this Thursday, October 4, Seven Days caught up with DJ Shadow by phone, following a show in Winnipeg.
SEVEN DAYS: How was the show last night?
DJ SHADOW: It was … interesting.
SD: How so?
DS: Well, I've never played Winnipeg. I played the main live venue in town, but it's pretty small — a lot smaller than I'm used to. And the sound system was appropriately sized. But when you're playing music with a lot of bass…
SD: You need a lot of bass.
DS: Right. I was laughing a few times up there, because there are a few tunes that drop really hard and … well, I've never heard them sound like that before. But the crowd was great. It was just different from my perspective.
SD: Unlike your last tour, this time around you're playing strictly DJ sets. What makes a good DJ set?
DS: To me, a good DJ set is an artistic statement, just like making a song is. When I played in Calgary, it dawned on me that it was very similar … the way I choose the songs, and the reasons why and what the final results end up sounding like is similar to the aesthetic I had in the old Mo' Wax days, when I was starting out overseas. There were no rules. There was a little bit of this, a little of that. Mostly new stuff, but occasionally you throw in something from the past to switch it up. It's the same kind of approach now, but it's a lot of fun because I haven't done it in 15 years. And it's good right now, because there is a lot of good music out.
SD: You've been a vocal critic of music, and hip-hop particularly, over the years. But I take it you're cool with the current state of things?
DS: I think the whole criticism of hip-hop thing has been blown a little bit out of proportion. People seize on the ironic title from Endtroducing, "Why Hip-Hop Sucks in '96." I love hip-hop of that era. But because the song that I sampled had a synthesizer in it, people made this quantum leap that it was some kind of Dr. Dre dis, a dis of G-Funk, which wasn't the case at all. I think a lot of it people are writing their own story lines from that.
SD: But you have made some pointed critiques in interviews, too.
DS: At times, I've felt that rap was boring or that hip-hop culture itself was on the wane, which I think is a pretty obvious thing to say. Hip-hop culture as a movement has sort of ceased to exist at this point. I think it's OK to say that and not be a rap critic.
SD: So what do you enjoy in current hip-hop?
DS: In general, I think beats are winning. There have been various times when it was all about the DJ, the turntablist movement. Then, for a while, MCs were doing new things. But right now, I think it's beats that are exciting, more than MCs. And that's part of what I like to play right now, the sickest beats I can find.
SD: Speaking of which, what else are you playing?
DS: There's a little bit of trap stuff, some UK dubstep — not so much the Skrillex type of dubstep people are familiar with in the States. There's some glitch-y stuff. And there's some rap by the likes of Aesop Rock, Juicy J, stuff like that.
SD: And your own stuff?
DS: And my own stuff. I was actually surprised by how much of my own stuff was in there. In my mind, I only play a couple of my songs all the way through. But there are references and moments where I play almost a dozen songs of my own. But I chose a lot of stuff that most people won't know. I know a lot of people only know Endtroducing, so, in a way, I hope it challenges people to go a bit deeper.
SD: Your latest release, Reconstructed, is a career retrospective. Is it surreal to have a greatest-hits collection out while you're still actively touring and making music?
DS: Well, first of all, it's a "best of." I don't have any hits. But it is surreal, and I think that's part of the reason why I'm going out now and playing new stuff, some unreleased stuff, rather than playing my old stuff. I don't know if "antidote" is the right word, but it's a different look than going out and saying, "Here are my hits from yesteryear! I know this is what you want." I've never really operated that way, because it doesn't seem interesting or fun. I'll still play my own stuff. But at the same time, there is a lot of good new stuff out there. So hopefully my set is a sweet spot between the two.
SD: How has changing technology affected the way you approach making music?
DS: I've tried to embrace anything new. After the turntablist movement of the late 1990s, and, really, only the first few months of the 2000s, I think for about a year or so DJs were floating like, We've kind of done everything you can do with turntables. Then CDJs came out and a lot of people were suspicious: Is this the end of vinyl? Is it cool? Is it not cool? I was asking those questions as well until I tried one on my 2002 tour and realized I had done 150 hours onstage without a single hiccup. Then I used Serato, and on my last tour I used Ableton, and that's in addition to other tools at my disposal, which is really good. Technology doesn't make good DJs worse. You can be a lazy DJ with whatever tools you choose to use. As long as you're creative with those tools, you can rise above. And I think people can tell the difference.
SD: So are there tools you won't use?
DS: Not really. Though at the moment I'm not touring with a laptop, because I'm so sick of seeing them at every gig that I go to. I always like to do something that's a little against the grain of what everyone else is up to.
DJ Shadow plays a DJ set at the Higher Ground Ballroom this Thursday, October 4, with Sharkat, Mushpost Social Club, A-Dog, the Lynguistic Civilians and Jacob Es, 8:30 p.m. $27/33. highergroundmusic.com