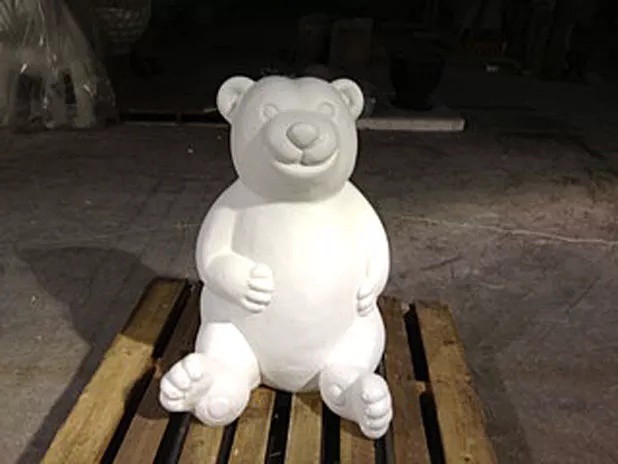 An undecorated bear for "Burlington Bears Its Art"
Last month, Citizens Bank, the Church Street Marketplace Foundation and the Lake Champlain Regional Chamber of Commerce unveiled their 2012 community art project, "Burlington Bears Its Art." Local artists and businesses will be teaming up to plant grinning bear sculptures all over the Queen City this summer, just as they gave us cows in 2010.
But, let's face it: The undecorated bear is kind of ugly. And a little freaky: Paws on its full belly, its eyes staring blankly, the fiberglass animal appears to have been lulled into a gluttonous stupor after devouring, say, an entire pot of honey.
True, local artists haven't had their way with the creatures yet. And when they do, in March, they're sure to transform these zombie Care Bears into spiffier specimens. At the end of the summer, the decorated bears will be auctioned off to benefit Burlington's Committee on Temporary Shelter. The cow project raised $10,000 for the Vermont Campaign to End Childhood Hunger. Can't argue with that.
Still, as public art goes, the animal-sculpture thing strikes us as a little uninspired.
A much cooler idea? "Hands on Pianos," the public-art project unfolding in the Upper Valley, in which 50 donated pianos, painted and bedazzled by area artists, will be placed in parks and general stores, at bus stops and farmstands, for passersby to play during the month of July.
The musical installation comes courtesy of Dartmouth College's Hopkins Center for the Arts, which is celebrating its 50th anniversary season. While it isn't fundraising for a nonprofit, the project — modeled after similar endeavors in New York City and London — will benefit the community in other ways.
First off, pianos are a bitch to get rid of. If you've ever cruised the Craigslist "free stuff" section, you've no doubt seen pleas from piano owners desperate to offload a clunker.
"We figured if we provided a licensed professional mover, and some glory, perhaps people would donate their pianos," says Margaret Lawrence, the Hop's director of programming. She concedes that 50 is a lofty goal, but notes that some half-dozen pianos already exist in sites such as Lebanon's AVA Gallery and the White River Junction VA Medical Center.
The rest will be donated. They may be in rough shape, but they'll be playable. "Pianos have a finite life," says Lawrence, who notes that after many years, the instruments just can't stay in tune. After the project wraps up, the pianos will be mined for usable and recyclable parts before they "go to the great Steinway store in the sky."
Placed in a roughly 15-mile radius around Hanover, N.H., the instruments will be secured with cables — as if someone could run off with one — and equipped with tarps, in case of rain. Each piano will be assigned a volunteer "angel," who will check on it daily and report any damage.
According to Lawrence, the donation submission forms are beginning to trickle in. "We just got a baby grand this morning, which we don't want," she says. Why? "It's really hard to transport. We're looking for uprights."
Still, an exception might be made for this one, which belongs to former Vermont legislator Matt Dunne.
After all, it would make a good story, and donors are encouraged to include their personal history with their piano. The stories will be uploaded to the project website, along with videos and photos of people playing the instruments outdoors.
"We love the idea of making music so accessible to people," offers Lawrence, who says she can imagine someone playing the piano ("Chopsticks"?) on the Dartmouth green on a hot summer night.
"Hands on Pianos," sponsored by the Hopkins Center for the Arts in Hanover, N.H. Accepting artist submission forms until February 20 and piano donation forms through March 1. hop.dartmouth.edu/featured/piano-project
"Burlington Bears Its Art," sponsored by Citizens Bank. Accepting artist submission forms until February 10. Auction in October benefits Burlington Committee on Temporary Shelter. Info, Matt McMahon at 863-3489, ext. 208, or matt@vermont.org. Applications at vermont.org/bears.