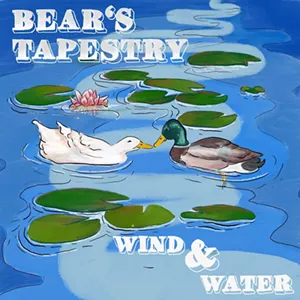 Bear's Tapestry, Wind & Water
(Self-released, digital)
Wind & Water, the debut record from Bear's Tapestry, is the latest offering in what has been a banner couple of years for Vermont's indie-folk scene. A project of Burlington singer-songwriter Bear Borges, this is a gorgeous, lush EP. It's played brilliantly and recorded adroitly with equal parts movement and theme.
In fact, the record is so good, I wonder if I've been taking for granted the evolution of local indie folk. Every few months it seems like another Vermont folk act drops a fabulous release and I duly react with mild surprise. Why? At this point, it's clear a definite thing is happening here: an onslaught of talented and distinctive acts.
Bear's Tapestry have what it takes to stand out in an increasingly strong pack. Borges excels at both ends of the singer-songwriter spectrum. Their songs are colorful, their lyrics imbued with a sense of nature — a link between love and the ocean, the moon, the tangible world. The title track particularly showcases Borges' ability to ground an ethereal composition, as if wrapping it in wood and vine.
Producer Dan Kruglak, who doubles as the band's bassist, contributes to the defined sonic identity that Bear's Tapestry achieve on their debut. Wind & Water wafts out of the speakers like a softly spoken tale. The entire EP seems to pulsate with gentle intensity.
"Death's Bird" is an especially arresting song. As their acoustic guitar chimes like a dulcimer, Borges sings of regret, love and learning from mistakes. "How unfair of me to dare to be entirely dependent upon just you," they croon. They vow later, "I want to be by your side until your death's bird comes to call."
The Dead Shakers' Kevin Bloom engineered the track, and he plays a mean wine glass on the EP, as well.
So maybe I'm slow to realize how good indie-folk music is around these parts. But a thriving scene keeps sending out beautiful reminders. Wind & Water is one of them, even if it barely tops 20 minutes in length.
Check out Wind & Water at bearstapestry.bandcamp.com. Then head over to ArtsRiot in Burlington on Friday, January 24, to see the band play "How About Some Hygge?!" That's a candlelit night of mellow music, dedicated to getting cozy in the winter. Once you listen to this EP, you'll understand why Bear's Tapestry will fit right in.
Correction, January 22, 2020: An earlier version of this story misgendered front person Bear Borges, who uses they/them pronouns.