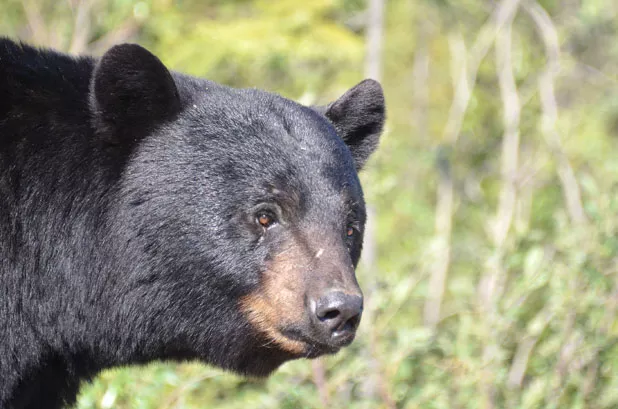 The Vermont Legislature went hog wild on animal-related laws in 2013. Or maybe it was wild hog. The Sportsmen's Act of 2013, a sweeping fish-and-wildlife law that takes effect July 1, bans the importation of feral hogs, a nonnative species that is wreaking havoc in the wilds of New Hampshire, New York and other states.
Also in that bill: provisions to protect so-called "nuisance" bears that roam into neighborhoods to dine on garbage cans, beehives or chicken coops.
Lawmakers also passed a pet-dealer bill that has come up every biennium for at least a decade but never before had the votes to pass.
Here's a brief rundown on some of the animal-themed bills that become law next week:
Hogs
Feral hogs aren't a problem in Vermont — yet. But they have proved incredibly destructive to property and wildlife habitat in states where they've proliferated. Part of the Sportsmen's Act of 2013 would ban the importation and possession of feral hogs in Vermont.
"They outcompete other species," says Fish and Wildlife Commissioner Patrick Berry. "They can thrive in almost any environment. So once they take hold in the wild, they can be extremely difficult to get rid of."
Only one facility in Vermont is known to have feral hogs: Wild Hill Preserve, a captive-hunting park in West Fairlee, where hunters pay $750 to hunt Russian boars imported from Canada. Wild Hill co-owner Marlene Richter says she believes her husband, Bill, has already killed off all of the hogs in compliance with the new law. But she calls the situation "completely absurd."
"Our boars have never gotten out in 52 years," she says, adding, "There's a bigger danger from farm pigs. Any farmer's pig that gets out in a very short time will become feral."
Marlene Richter says she's not sure the hunting park will remain open without big pigs.
"The boar is basically our biggest thing. We have people coming from different countries to hunt here," she says. "So I don't know if it pays for us to operate."
Dogs
Dog-breeding businesses are supposed to be licensed by the state. For years, however, Vermont law has had a loophole that allows breeders to avoid regulation if they claim the animals are for personal use.
H.50, a pet-dealer bill passed this session, closes that loophole by subjecting to inspections anyone who sells or exchanges animals from three or more litters. Dealers would need a permit from the town and to allow entry to its animal-control officers.
Joanne Bourbeau, northeast regional director for the Humane Society of the United States, says the bill is aimed at "the backyard commercial breeder" selling animals from a home-based business. The problem, Bourbeau explains, is that a lot of home breeders aren't properly vaccinating animals or otherwise caring for them, but the old law didn't allow for inspection of the premises unless abuse or neglect was suspected.
Animal-welfare advocates hope the new authority empowers towns to spot potential problems before they escalate into situations like the 2011 Bakersfield puppy-mill case, in which humane society agents seized 60 Labrador retriever puppies living in unsanitary conditions from a home breeder.
After numerous failed attempts to find common ground on the pet-dealer bill, state Rep. John Bartholomew (D-Hartland) was tapped last year to broker a compromise that could win support of the three main interest groups: the Vermont Federation of Dog Clubs, which represents breeders; the Humane Society; and the Vermont Veterinary Medical Association. Bartholomew is a retired veterinarian — he worked at a National Institutes of Health animal lab — and says he spent the summer and fall of 2012 moderating peace talks between the stakeholders. By the time a bill emerged in 2013, it had enough buy-in to pass with unanimous support.
At the bill signing on June 14, Gov. Peter Shumlin used a poodle-shaped pen.
"A couple of dogs showed up," Bartholomew adds.
Bears
"Nuisance bears" are a growing problem in Vermont as bruins venture further into human-occupied territory. But so is one surprisingly popular human response: shooting them.
Commissioner Berry says 36 nuisance bears were killed in 2012 — and most of those deaths were preventable. When the Sportsmen's Act takes effect July 1, it'll be illegal to kill a nuisance bear without first attempting "reasonable" nonlethal measures to protect property. That includes simple fixes such as taking down bird feeders and more costly ones such as installing electric or chain-link fences.
"We don't have a bear-management problem; we have a people-management problem," is Berry's favorite line. "They wouldn't come around if there wasn't an available source of food."
The new law does have exceptions if a bear poses an imminent physical threat. As Berry puts it, if a bear comes charging through your screen door, you can shoot it. That might have protected Shumlin in his infamous naked encounter with a bear last year, when he discovered one going after his bird feeders at home in East Montpelier.
A related provision of the new law prohibits the intentional feeding of black bears, which to date has not been illegal. Berry says the practice is more common than one might think, noting that a Cabot woman was hospitalized a couple of years ago after getting between a mother and her cub.
"They think they're doing these animals a favor," Berry says of bear feeders. "These animals evolved living in this climate and this landscape, and they do just fine."
Finally, the Sportsmen's Act repeals state-funded reimbursement for property damage caused by bears and deer. Historically, Berry says, a property owner could take no precautions to ward off bears, but when the animals damaged their property, they could send the Department of Fish & Wildlife the bill. Some years, Berry says, that tab has been as much as