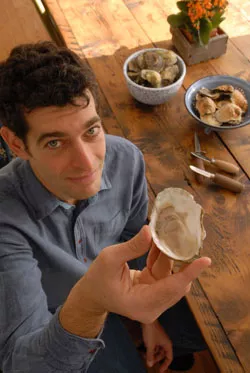 On June 8, the James Beard Foundation announced the winners of its annual gastronomically themed awards. As they did last year, Vermont publications and authors took home prizes at the ceremony hosted by Bobby Flay and "Sex and the City" siren Kim Cattrall.
EatingWell was doubly honored, winning a "Healthy Focus" award for The EatingWell Diet, by Jean Harvey-Berino with Joyce Hendley and the editors of EatingWell. It also scored a prize in the category of "Reporting on Nutrition or Food-Related Consumer Issues" for an article entitled "The Search for the Anti-Aging Diet," by California-based Peter Jaret.
Mollusk master Rowan Jacobsen of Calais took home a JB for his tome A Geography of Oysters: The Connoisseur's Guide to Oyster Eating in North America. Jacobsen didn't attend the ceremony due to an impending trip to Alaska. His comment: "I hope Kim Cattrall missed me."
NECI grad Gavin Kaysen — formerly a competitor on "The Next Iron Chef," one of Food & Wine's "Best New Chefs" of 2007 and the current chef de cuisine at NYC's Café Boulud — won this year's "Rising Star Chef of the Year" award. Congrats to all!
******
Eric Warnstedt of Waterbury's Hen of the Wood hasn't been nominated for a JB . . . yet, but he and co-owner Craig Tresser were invited to cook at the award ceremony gala on Sunday night.
"It was by far the coolest event we've ever participated in," Warnstedt dishes. "We pretty much met everybody we'd ever want to meet in this country's restaurant scene." He particularly appreciated the company of localvore hero Sam Hayward, of Fore Street in Portland, Maine. "We talked his ear off," Warnstedt reports.
When they weren't working, the HOTW team was eating. "On Saturday we had the whole day off from 2 p.m. on, and we were eating until 2 or 3 in the morning," Warnstedt says. "On Sunday we ended up at the Blue Ribbon at 3 o'clock in the morning, and ate bone marrow on toast and oysters."