Matthew Thorsen
Jason Gross
If it seems like every dude and his brother have a beard at the moment, that's because they probably do. Beards have exploded in popularity in recent years, as evidenced by the reams of trend-analysis pieces published on the subject in major media outlets, and by every male barista at your local coffee shop. Explanations for this reemergence of hirsute hipness range from the general mainstreaming of hipster fashion trends to, get this, evolutionary necessity.
In a 2015 study commissioned by the University of Western Australia, researchers studied 154 species of primates and discovered that many males developed "badges" — ostentatious physical traits that both heighten their sex appeal to females and aid in asserting dominance over other males. Examples of this Darwinian Spanish fly include elongated noses of proboscis monkeys and — rather disgustingly — the upper lip warts of golden-nosed snub monkeys. Also included: human beards.
As beards have become increasingly fashionable — and vital to the continued survival of humanity, apparently — grooming products geared toward helping lumberjacks and lumbersexuals alike keep their crumb catchers healthy, handsome and touchably soft have begun to hit the market. In Vermont, two local companies cater specifically to this niche: Vermont Beard & Mustache and Feared Beard VT.
"I tried a bunch of different products and could never find quite what I wanted," says Jason Gross, 32, owner of Vermont Beard & Mustache, which he founded in 2014. Leaning on his manufacturing background — Gross is a plastics and polymers engineer who currently works for Keurig Green Mountain — he began experimenting with a variety of all-natural beard-oil formulas on his own bushy growth. Gross' current product line includes two varieties of beard oil and two types of pre-shave oil, all of which are available at seven locations locally, including Natural Provisions Market in Williston, Salon4Men in Stowe and Gentlemen's Top Option in Burlington.
Lackluster beard conditioning products also led Feared Beard owner Kyle Donovan, 30, to concoct his own brew. Specifically, a bearded friend in California challenged him to improve upon existing beard oils. So the chemist began experimenting with a variety of oily concoctions two years ago. Donovan, a University of Vermont grad who works as a bar-soap formulator at Twincraft Skincare in Winooski, currently offers all-natural beard oils in five different scents. He also has five varieties of scented beard balm — a beeswax-based putty that provides a firmer hold than oil.
"Most of the stuff that's out there now is really overpriced," says Donovan, whose products are available at City Market/Onion River Co-op in Burlington and Healthy Living Market and Café in South Burlington. "Even worse, a lot of it doesn't work."
Matthew Thorsen
Kyle Donovan
That raises an important question: What, exactly, is beard oil supposed to do?
Two things, Donovan and Gross say. First, it should soothe and moisturize the skin beneath facial hair. Growing a beard can be an itchy experience; beard oil nourishes dry skin and reduces inflammation.
"Beard oil mimics the natural sebum on your face, which your skin produces to help lessen irritation," Gross explains, adding that everyday activities — from shaving to simply rubbing your hands over your beard — can strip sebum from your face, leading to dry, flaky skin. "You definitely don't want beardruff," says Donovan.
The second thing beard oil helps with is moisturizing and conditioning the hair itself to make it more manageable. Facial hair is structurally different from the hair on the head — it's flat and crinkly, whereas head hair is more smooth and cylindrical. That means beard hair is comparatively more difficult to tame, as anyone with an unkempt Rip Van Winkle can attest.
"Your hair is basically like a sponge," says Gross. "So the oil penetrates to strengthen and rebuild hair."
"It really helps with shaping and hold," adds Donovan.
That sounds well and good. But do beard oils actually deliver, or are these new artisanal products just modern snake oil?
According to Nanci Bevilacqua, owner of Bugatti Barbers in Burlington, they really work. "Beard oil promotes growth and conditions, so that coarse, wiry, itchy beard becomes a more tamable, softer and flexible beard," she says. Bevilacqua carries Vermont Beard & Mustache's products in her shop and swears by them.
"His oils are everything I've been looking for in beard and shave oils," she says. "They simulate your skin's natural sebum to the T. It's amazing how his oils penetrate. And they're geared for skin health as well as conditioning, which I love."
This writer's unscientific tests on both companies' products confirms Bevilacqua's testimonial. After about a week using Vermont Beard & Mustache oil ($29) and a week following using oil and balm from Feared Beard ($16) — in both cases applied as directed after showering — I found my own beard to be softer and smoother. Both companies' products offered subtle, pleasant scents that didn't overpower, and did not leave greasy residue on my hands or beard.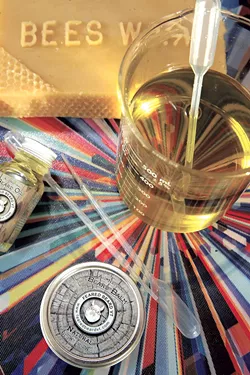 That their products seem to work as advertised bodes well for the viability of both local beard-oil purveyors. However, some evidence suggests that beard popularity is on the wane. In a 2014 study, University of Exeter historian Dr. Alun Withey declared that society has reached "peak beard," and that a correction in follicle fashion was overdue.
Fortunately for Gross and Donovan, Vermont is somewhat insulated from the inevitable trimming-of-the-beard trend. That's because, here in the frozen north, beards are grown for both form and function. In other words, they keep our faces warm.
"I don't think men are going to stop growing facial hair, especially in Vermont," says Donovan. He adds that the stigma surrounding male grooming has lessened in recent years and that male grooming products now make up a significant portion of the overall personal-care product market. Both companies are developing new products aimed at bearded and clean-shaven men alike, including aftershave oils, beard and mustache shampoos and shave soap.
"As people begin to realize that this is what you need to look and feel your best, it's only going to get bigger and bigger," Donovan says.