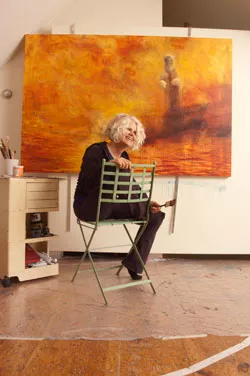 After the Deepwater Horizon oil rig exploded in the Gulf of Mexico in April 2010, Burlington artist Sally Linder started painting with tar. She'd recently begun a new series, an exploration of the effects of climate change on polar bears. Until the spill, the paintings were all red and blue oil pastels (red for the heating planet, blue for the melting ice); after, she began to smear and scar them with thick, black tar, gritty asphalt, charcoal and wax.
At her studio one recent afternoon, Linder's bears surround her — cool black eyes watching her from every wall. She pushes up her sleeve to reveal a scar on the side of her wrist. Linder had applied the tar with her bare hands, the same way she applies acrylics, and it burned right through her skin. "For three weeks, I could hardly touch anything," she says.
Another artist may have switched course. But Linder, 60, saw the unintended pain as a kind of research. What better way to understand the deadly effects of our addiction to oil than to feel it burn her skin?
This isn't the first time Linder has physically immersed herself in a series. In 1996, she traveled to Africa to bury in the earth her series of paintings "Re-Membering the Primates," a tribute to the 23 animals killed in an electrical fire at the Philadelphia Zoo the previous year. And in response to the terrorist attacks of September 11, 2001, Linder and hundreds of others walked her 500-pound "Ark of Hope" from Burlington to New York City over two months.
Her new series, "Approaching a Threshold" is also headed to the Big Apple — it will take up residence in the headquarters of the Natural Resources Defense Council. But first, the paintings will have a weeklong exhibit at the brand-new Gallery at Main Street Landing, accompanied by several climate-change-themed speakers and events.
The first painting Linder completed for the series is named for the date of the Deepwater Horizon disaster, "April 20, 2010." Instead of an oil rig, Linder, who is haunted by the threat of the polar bears' shrinking habitable land, painted a giant, water-filled vice. Bears walk along the top, as if on ice floes. They swim in a crowded space below, which looks as if it's about to get smaller as the vice turns. In the lowest level, beneath the vice's jaw, the bears — some of them ghostlike, scratched out in wax and charcoal — tumble and drown in a filthy, oily abyss.
In "Stena Don," named for an offshore-Greenland oil rig, a ball of blackened polar bears appears to be hurtling through space. The rig is just a smear of dripping black above them. In "Avarice," bears peer out from behind the heavy door of a bank vault.
Most of the paintings evoke a sense of desperation — though a few have a softer edge, such as "Gossamer," in which a mother bear cradles a human toddler, along with her own young. "Symbiotic" is the darkest: A human skull merges with a polar bear skull, the bear's long snout lending the hybrid face a gas-mask shape. Together, they're caught in a bear trap. "I thought I was going to destroy it," says Linder of the painting. "I thought I'd gone too far." At heart Linder is an optimist, and she feared the image was too apocalyptic. "I have children. I love the planet," she says. "I believe if we engage, we can overcome."
At the reassurance of her husband, Bob — and the clear, brave eye staring out of the bear-skull half — she kept the painting.
There's something childlike about Linder — and it's not just her appearance: She's about five-foot-two with short, bouncy white-blond curls and a smile so big it scrunches up her blue eyes. As she talks about the bears, which she considers "sentient beings," she exudes a deep sense of wonder. Despite everything human beings have done to harm the planet, she says, she still believes we're going to adapt — and survive.
Linder grew up in Boston and Princeton, the "right-brain child" of medical-researcher parents. They always expected she would come around to some such scientific field, as her siblings did. "The most artistic thing allowed in my family when I was in college was to get a writing degree," says Linder. So that's what she did at Maryland's Goucher College. Afterwards, she and her husband — whom she met and fell in love with at age 12 — moved to Montréal. He went to medical school; she studied art at Concordia University.
She's been painting ever since, though it wasn't until she hit 40, Linder says, that she came into her own creatively. "My first series was decorative," she admits. "It was to put my husband through med school."
Linder's work is now fully part of her. When she dug up the earth in Cameroon, Borneo and Madagascar to bury her primate paintings, it wasn't difficult to let them go forever. "It never is," she says. "My love is the process."
In the grim face of climate change, Linder says, she has wrestled with the fact that as a painter, she is creating more expendable objects, "and the world doesn't need more objects," she says. "But it's all I know."
"Approaching a Threshold," paintings by Sally Linder, November 4 through 12 at the Gallery at Main Street Landing in Burlington.
Reception with remarks by Gus Speth and a screening of David Wright's Realm of the Great White Bear on Friday, November 4, at 5 p.m.; Amy Seidl and Joe Roman lead a discussion on Friday, November 11, 7 to 9 p.m. Info, 734-7344. sallylinder.com