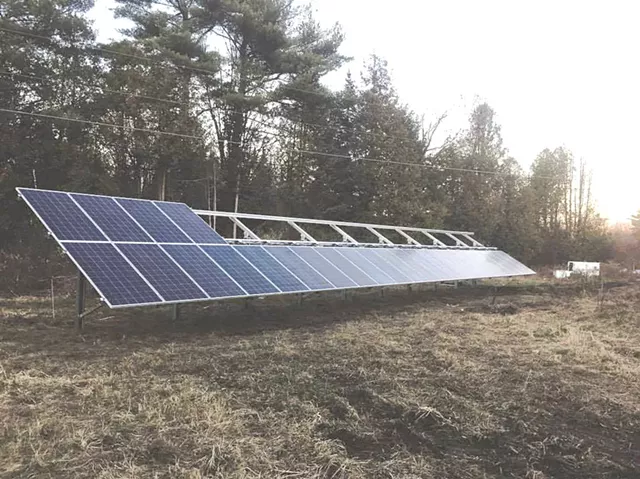 Courtesy of Bear Roots Farm
Solar panels at Bear Roots Farm
At Bear Roots Farm on Snowbridge Road in South Barre, owners Karin Bellemare and Jon Wagner operate a CSA in all seasons and sell at the summer and winter Burlington and Montpelier farmers markets. Now the biz is going solar.
Bear Roots started out with a mix of wholesale and direct sales, Bellemare said. But, after realizing bulk orders weren't particularly profitable at their scale, the couple homed in on direct sales. Wholesale used to make up 30 percent of their business; now, it's a mere 5 percent.
That shift meant changing up their mix of products to offer customers a well-rounded farm share.
Wagner and Bellemare began growing indoor greens and built new areas to store root crops through the winter. With coolers and greenhouse fans running year-round, their bill from Washington Electric Co-op was "really high," Bellemare said. "It's kind of painful for us."
With the help of Williston's Building Energy, a U.S. Department of Agriculture grant and a loan from the Farm Service Agency, the farmers put in a set of solar panels. In seven years, Bellemare said, they'll have paid back their investment. In sunny seasons, they may even make a bit extra by putting power into the grid.
With 96 percent sun exposure on their site, Bellemare said, their choice of renewable energy was a no-brainer: "We had a feeling that [it] would be our best option."