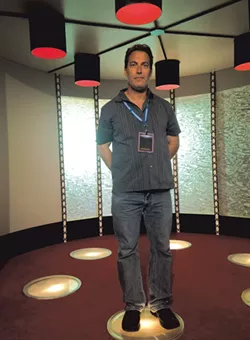 Ken Picard
Ken Picard
If I ever make a bucket list, there's one item I won't need to put on it: sitting in the captain's chair of the USS Enterprise as the warp engines engage. Last weekend, I was transported to this alternate reality inside a former Family Dollar store in a depressed Adirondack mill town — which itself sounds like the premise for a classic "Star Trek" episode.
On Friday, I made the 90-minute drive from Burlington to Ticonderoga, N.Y., for the first-ever Trekonderoga "Star Trek" convention. Held from September 4 to 6, the event was the brainchild of James Cawley, a 48-year-old Ticonderoga native who, for the past 27 years, has made his living as a traveling Elvis impersonator.
Trekonderoga was no ordinary convention of memorabilia dealers and cast and crew members, though some of those were present. It was also Cawley's opportunity to show off — and help fund — a complex, ongoing work of fan art.
In the 1990s, when Cawley was working in LA on the production of "Star Trek: The Next Generation," he befriended William Ware Theiss, costume designer on the original 1960s "Star Trek" series. As a gift, Theiss gave Cawley the original blueprints that Desilu Productions used to create the Enterprise sets: the bridge, transporter room, sick bay, conference room, captain's quarters, hallways and engine room.
Like me, Cawley grew up in the '70s watching "Star Trek" in syndication and dreamed of playing Captain James T. Kirk on the Enterprise. Those blueprints, he said, "were the keys to the playground. So we unlocked the gate."
In the early 2000s, Cawley and fellow Trek fans began devoting much of their free time and money to re-creating those original sets, with obsessive attention to detail. Then they started filming new "Star Trek" episodes featuring the classic characters, calling their series "Star Trek: New Voyages." (For a time, the show adopted the moniker "Phase II," which Cawley has since dropped.)
All the episodes are filmed in Cawley's Retro Film Studios, which he moved last year from Port Henry, N.Y., into a vacant supermarket in downtown Ticonderoga. The productions are almost entirely crowdfunded and use donated supplies and a volunteer cast and crew of more than 300, some of whom are industry professionals and fly in from as far as Australia. Once completed, the episodes are posted online and can be watched for free, which reduces their risk of legal action for copyright infringement.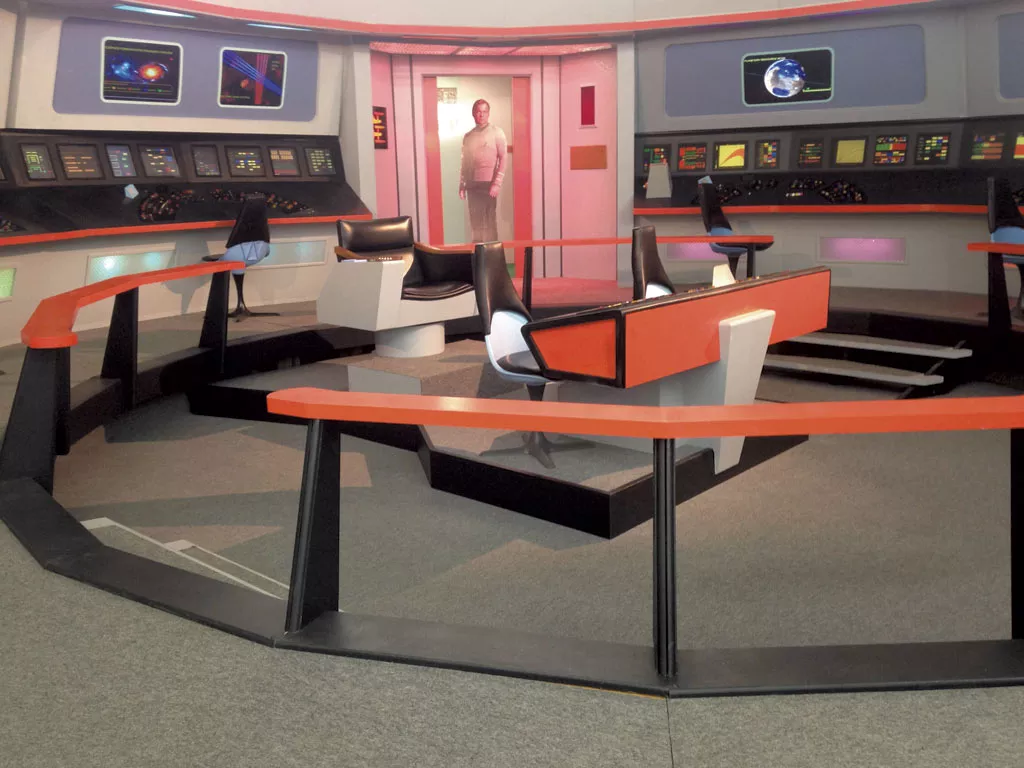 According to Dennis Hotston, who handles PR for "New Voyages," Cawley has a "very cordial relationship" with CBS, which owns the rights to "Star Trek." As he put it, "There's never been anything adversarial. If CBS says, 'Don't do this,' we don't do it."
Last weekend's Trekonderoga was conceived as a way to let Trekkies visit the sets while helping raise the $50,000 needed to create each episode of "New Voyages." In July, Cawley wrapped principal photography on the 13th episode, titled "Torment of Destiny," which comes out next year.
While registering for Trekonderoga at nearby North Country Community College, I met Lance Clark, co-executive director of the Ticonderoga Revitalization Alliance. The nonprofit partnered with Cawley in an effort to breathe new life into the downtown, which has struggled since International Paper moved its mill to the outskirts of Ticonderoga in 1969. Coincidentally, that's the same year NBC canceled "Star Trek" after just three seasons.
Clark expressed hope that the convention would be successful enough to spark future events and draw tourists beyond those who come to see Ticonderoga's historic fort. As he put it, "Being able to go from the 18th to 23rd century could really bring some life into downtown."
An hour later, I stood outside the studios and chatted with about a dozen Trekkies waiting in line, some of whom had traveled from Boston, Philadelphia or New Orleans. I saw a few in their twenties and a family from Albany, N.Y., including a father and daughter in Starfleet uniforms. Most, however, were older men flying solo.
Among them was Grant Thatcher of Bennington, who grew up in nearby Schroon Lake, N.Y., and taught at Ticonderoga High School when Cawley was a student there. Thatcher, 55, got to see "Star Trek" when it originally aired on NBC — that is, once his parents bought an antenna that picked up more than one channel. He said he decided to attend Trekonderoga after seeing "New Voyages" episodes online.
"I used to shop here with my mom at the old P&C [supermarket]," Thatcher remembered. "That someone could produce 'Star Trek' episodes here just blew me away."
The studio door opened to reveal Willie Yee, an older man in glasses and a Starfleet cap, who offered to show me around before the public tours began — but not before showing off his prized "shuttlecraft."
The 71-year-old retired psychiatrist from New Paltz, N.Y., works as health and safety coordinator on "New Voyages." He's a die-hard Trekkie, as was screamingly obvious from his Trekked-out Prius parked out front. The car, whose license plates read "ENTRPR A," sports United Federation of Planets insignia on the hood, Starfleet stripes and a bumper sticker that says, "If you can read this, my cloaking device is broken."
Yee climbed in and fired up the craft's sound effects, which played at traffic-stopping volume: the Enterprise red alert, phasers, photon torpedoes, transporter sounds, warp drive, bridge sensors, even the show's theme music. Some years ago, someone from "New Voyages" spotted the Prius at a car show and invited Yee to the studios. He's been on the production team ever since and no longer bothers to attend Trek conventions. As he put it, "I don't want to talk about 'Star Trek' episodes. I want to make them."
As Trekkies marveled at Yee's "ship," I realized it had been more than two decades since I ventured this deep into Federation space. In 1993, while working on my master's degree in writing, I wrote a speculative script for "Star Trek: The Next Generation." At the time, it was the only TV show in the world that accepted script submissions from its fans. For six months, I watched hours of episodes each day, learning to replicate the show's pacing and technobabble.
When the script was finished, my adviser at the University of Texas connected me with Jeri Taylor, who was then co-executive producer of "Star Trek: TNG." Taylor actually read my script — "How could I say no to someone named Picard?" she wrote back in a letter — and critiqued it. Ultimately, however, she passed on buying it, dashing my dreams of adding another Picard to the "Star Trek" franchise. I moved on to other careers and fantasies.
Before arriving at Trekonderoga, I reacquainted myself with "Star Trek" by watching a few "New Voyages" episodes. The pilot features Cawley playing Captain Kirk with Elvis-like swagger and accompanying pompadour and sideburns. The episode picks up where the classic Trek left off and includes a familiar but modified voice-over: "Space: the final frontier. These are the new voyages of the Starship Enterprise..." What follows is laden with campy nods to the original, including Kirk's 3D chess set, a contraband bottle of Romulan ale, Spock strumming a Vulcan lute and a lime-green, belly-dancing alien seductress.
Admittedly, the show's maiden voyage was a bit rough — though wasn't that always the case for NCC-1701? Still, it was an impressive first outing, right down to the Enterprise zipping by in the opening credits, the pitch-perfect shhtt sound of sliding doors, Uhura's miniskirt, Chekov's Monkees-mop hairdo and Spock's pointy ears.
By episode three, "World Enough and Time," released in 2007, "New Voyages" had seriously upped its game and production values. Gone were Cawley's Elvis pompadour and stiff acting. Uhura looked and acted hipper, and Chekov's Russian accent sounded convincing, as did Mr. Scott's Scottish brogue. Most importantly, the sets were spot-on.
As a testament to the series' growing clout, the third episode features a time-traveling guest appearance by actor George Takei, resurrecting his role as helmsman Hikaru Sulu. (Walter Koenig [Chekov], Nichelle Nichols [Uhura] and James Doohan [Scotty] have all contributed to "New Voyages," too.)
Takei delivers his best line as Spock grips Sulu's face for his signature Vulcan mind meld.
"Shouldn't you send me candy and flowers first?" Sulu jokes seductively. Priceless.
Yee led me inside the studio, and we "boarded" the Enterprise as is customary — through the transporter room. Later, some Trekonderoga attendees would pay an additional $195 to stand there and have their pictures taken. The photos would be sent to a special-effects lab in California to create the illusion of their dematerializing.
As I stood on the glowing transporter pad that looked as familiar as it did authentic, Yee moved the "slide thingies" and mouthed the sound effect. This alone was worth the trip.
Next, Yee led me into Dr. McCoy's sick bay. Any Trek fan would instantly recognize the bouncing white arrows on the medical monitors above each bed. From there, we headed down a curved hallway — lined with vintage '60s carpeting — to Kirk's personal quarters. The room is meticulously appointed with period-perfect knickknacks from the original show. They include Kirk's fertility god statue, which Cawley had specially carved.
"If something is off by even a half-inch, James will know it," Yee said.
We cut through engineering — enveloped in the vibratory hum of the warp engines — and reached the tour's highlight: the bridge.
As I descended the steps into the nearly 360-degree set, I marveled, with near-reverence, at the handiwork and attention to detail on display: the genuine midcentury-modern Burke chairs, the instrumentation, the backlit schematics, the dead-on sound effects, and, obviously, the big screen for viewing space and nemeses. The only liberty Cawley's team took was adding high-def screens, one of which displayed an image from the Hubble Space Telescope.
Occasionally, Yee noted, visitors arrive on the set through the turbo lift.
"The doors open, and people burst into tears," he said with a chuckle. "People say, 'I'm home!'"
I had to ask: Could I sit in the captain's chair? Yee hesitated, then told me to remove anything sharp from my pockets.
"That chair was one of the original ones, built for the pilot [episode]," he warned. "That's worth more than my house."
As I delicately lowered my butt to where William Shatner might have sat 50 years ago — though technically, he didn't, since Kirk wasn't even in the 1965 pilot — I knew I'd arrived at the final frontier. Later, Cawley said he hopes to open the studios to regular tours, perhaps even weddings. They'll be lining up around the block, I thought.
As I stepped off the bridge and back into the 21st century, I met David Gerrold, the novelist and screenwriter who wrote the classic episode "The Trouble With Tribbles." One of a handful of special guests at Trekonderoga, Gerrold was hawking his new book and Tribble four-packs.
Gerrold doesn't attend many conventions anymore, but he flew in for Cawley, who's an old friend, he said. The 71-year-old has even written scripts for "New Voyages." I asked how Cawley's productions compare with professional ones.
"In terms of commitment, enthusiasm, passion and dedication, I have not seen many professional productions come close [to this]," Gerrold said. Cawley, he added, is "just a big kid, which is exactly what you want from a production like this."
Driving home, that's how I felt, too — like a 10-year-old who got to drive the Enterprise.